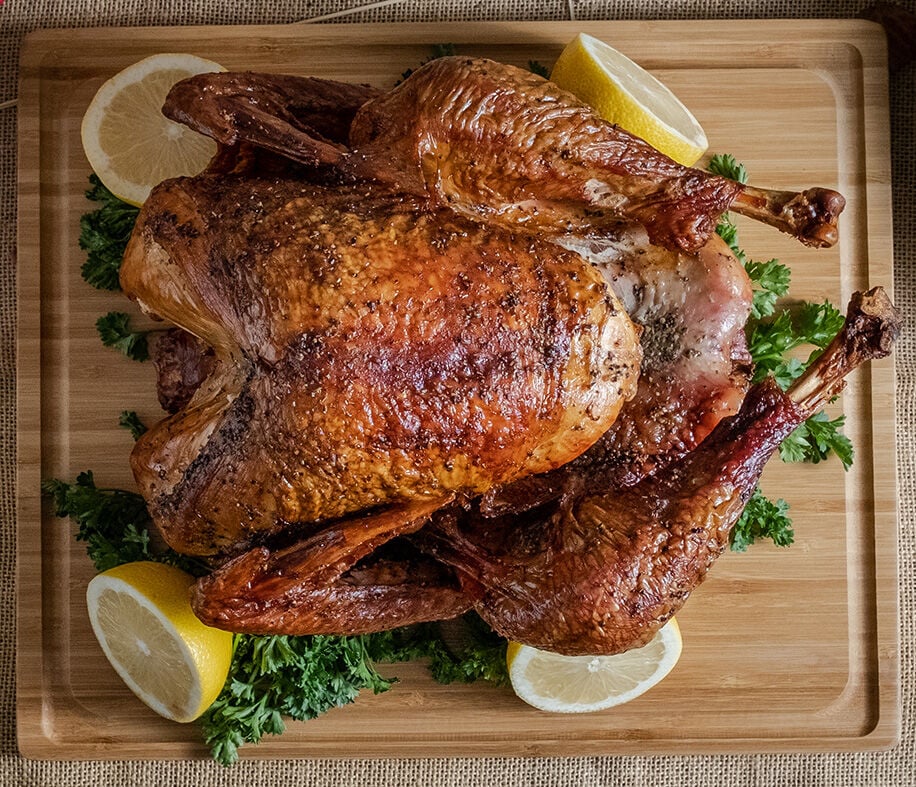 Ingredients
All Ingredients
1 whole turkey (ours was 12-14 lbs)
1 stick of butter, softened
2 tablespoons salt
2 tablespoons pepper
Coat with Camp Chef's Somethin' Southern Seasoning (or your favorite poultry rub)
1/2 cup of white wine, chicken broth or liquid of choice
1/2 lemon
Instructions
Smoked TURKEY
STEP 1
Preheat pellet grill to high smoke. If your pellet grill does not have a pre-set smoke setting set it to 225°F with the highest smoke setting the pellet grill or smoker offers.
Step 2
To prepare the turkey, remove giblets and neck. Rinse under water and pat dry with paper towels.
STEP 3
In a small bowl, mix the butter with salt and pepper.
Step 4
Using your hands, gently separate the skin from the breast and legs making sure to keep it attached and in one piece.
Step 5
Slip the butter mixture underneath the skin and spread in an even layer. Season the exterior of the turkey with Camp Chef's Citrus Herb Blend of your favorite poultry seasoning.
STEP 6
Fill Turkey Cannon Infusion Roaster with 1/2 cup of liquid and lemon. Place turkey on Turkey Cannon Infusion Roaster and Smoke for 1 hour on high smoke. Turn the pellet grill up to 350° F. and cook until internal temperature reaches 160° F.
Step 7
Let turkey rest for 20 minutes.
Recipes you might be interested in