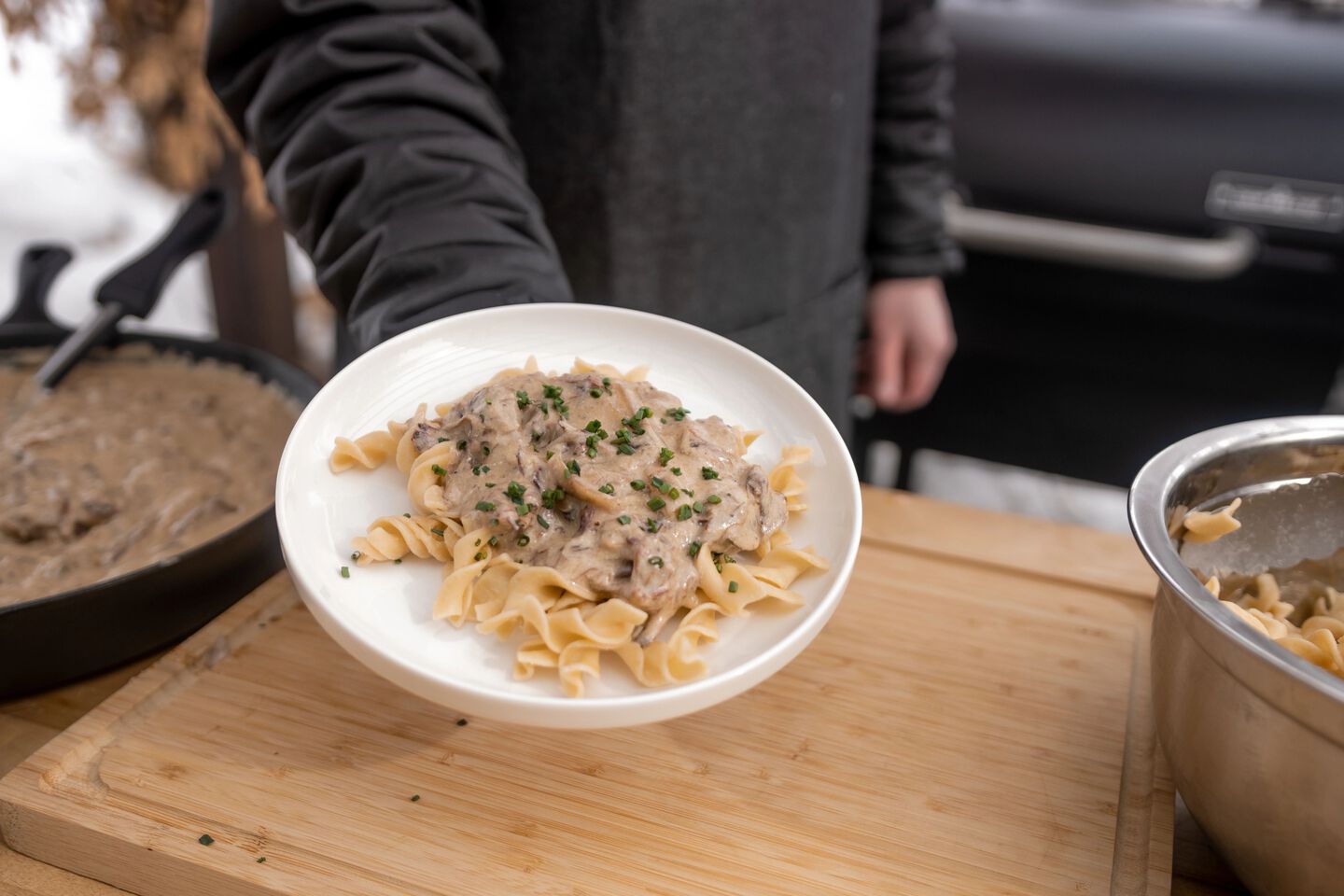 Ingredients
All Ingredients
2 1/2 pounds of beef chuck roast
4 - 10.5 ounce cans beef consommé
1 medium yellow onion, sliced
8 ounces mushrooms, sliced
5 tablespoons cornstarch
5 tablespoons cold water
16 ounces sour cream
16 ounces wide egg noodles
Coarse salt and pepper to taste
Chives, chopped for garnish
Instructions
Smoked Beef Stroganoff
Step 1
Preheat pellet grill to 220 degrees °F, smoke level 8 or desired smoke level.
Step 2
Salt and pepper both sides and edges of the roast. Smoke until the internal temperature reaches 180 degrees °F.
Step 3
Place the roast in a pan with beef consommé, onions, and mushrooms, then cover with foil. Increase grill temperature to 250 °F and cook until internal temperature reaches 203-205 °F.
Step 4
Remove the roast. Strain out onions and mushrooms, transferring broth to a 14" skillet or large saucepan on medium heat. Mix cornstarch and cold water. Whisk until smooth. Add to broth and heat until desired consistency. Season to taste.
Step 5
Begin cooking noodles per bag instructions.
Step 6
Transfer one cup of broth to a small bowl; add sour cream and whisk until smooth. Add back into the broth.
Step 8
Add beef sauce, onions, mushrooms and shredded roast over egg noodles. Garnish with chives and additional sour cream (optional).