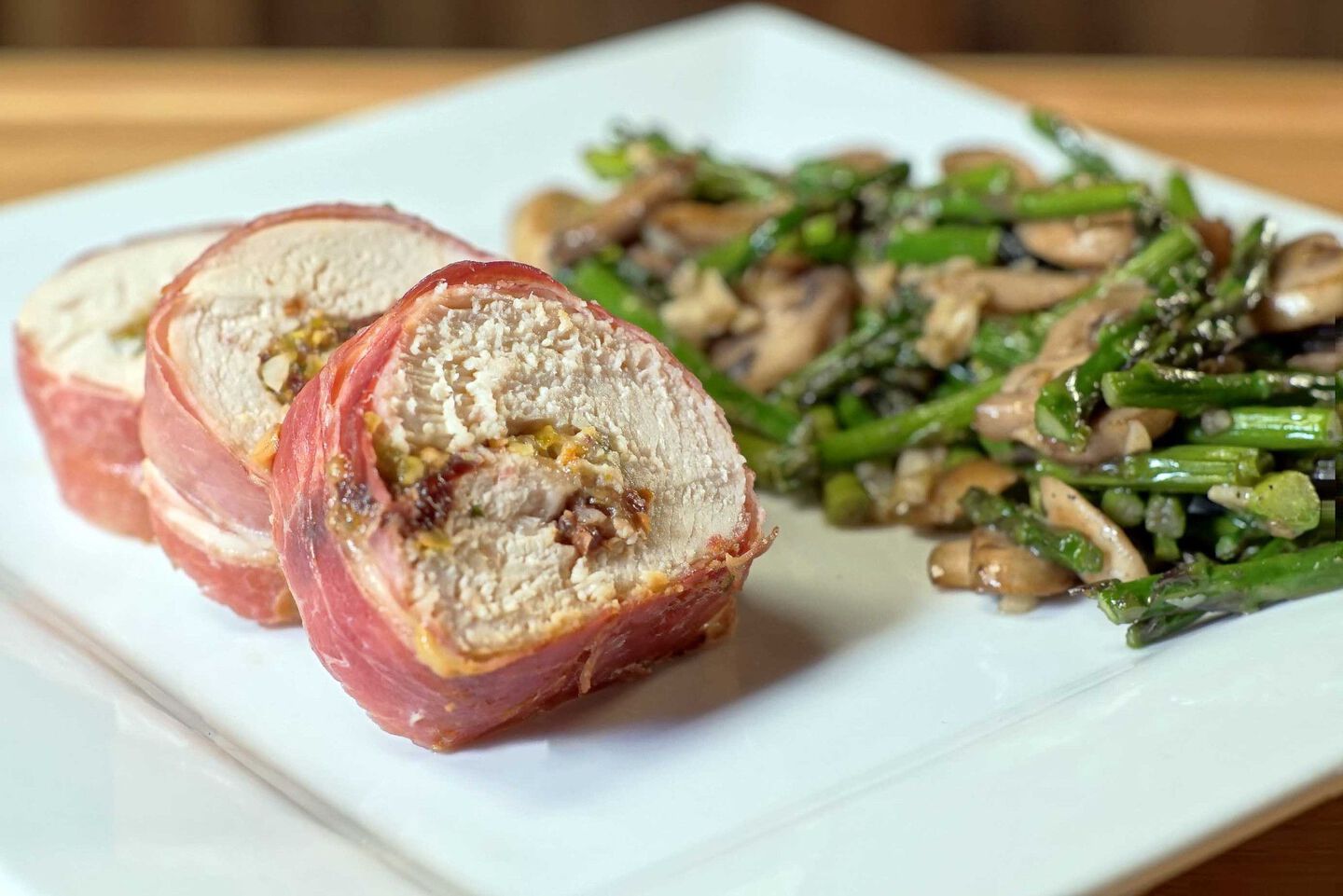 Ingredients
All Ingredients
1/2 cup pistachios, crushed
1/4 cup dried cherries, chopped
2 cloves garlic, minced
1 Tablespoon oregano
1 Tablespoon thyme
1 large egg
1/2 cup Parmesan cheese
3 chicken breasts
9 strips prosciutto
Instructions
Prosciutto Wrapped Chicken
Step 1
Preheat your oven or pellet grill to 400° F. If you're using a stove-top oven accessory, you can set the stove to low or medium-low.
Step 2
Mix all ingredients besides the chicken breast in a medium bowl until totally combined.
step 3
Slit each chicken breast to one side then the other so you can spread it out flat. Use a cast iron skillet, meat mallet, or another heavy object to pound the chicken breasts flat.
step 4
Spread about 1/3 of the mixture from the bowl on one side of each chicken breast. Using plastic wrap, roll the chicken breast up tightly.
step 5
Lay three strips of prosciutto side by side. Set your rolled chicken breast on one edge, then use plastic wrap again to roll the chicken up in the prosciutto. Repeat for the other chicken breasts. The plastic wrap will help you keep the rolls tight.
step 6
When you are ready to cook, remove the plastic wrap and set each rolled breast in a cast iron skillet or other baking dish. Bake at 400° F for 20-25 minutes, or until the internal temp reaches 165° F.
step 7
Serve with grilled veggies, and enjoy!