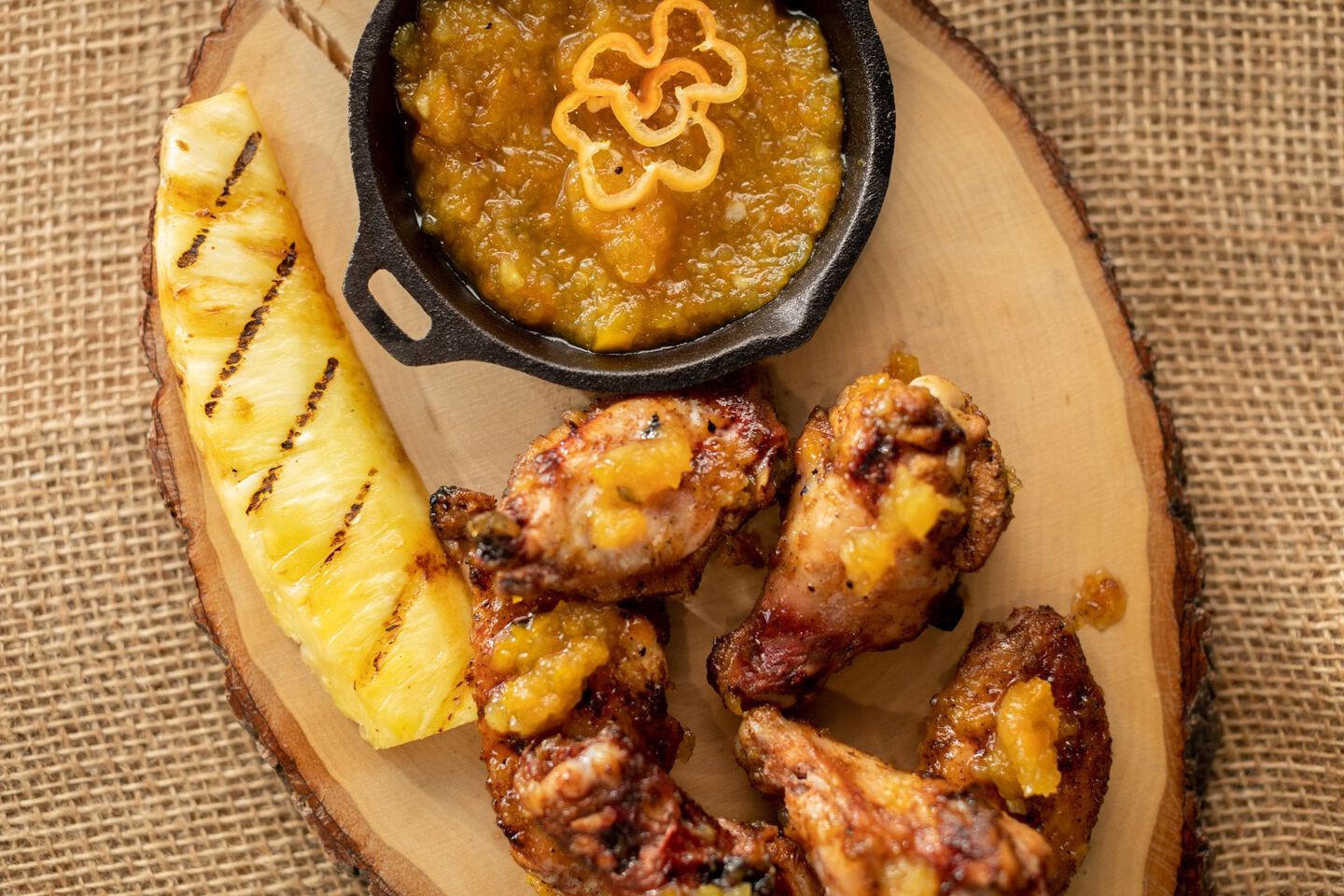 Ingredients
pinapple habanero sauce
1 bag Kettle style potato chips (sea salt or jalapeño)
1/2 cup roasted hatch green chilis, chopped
1/2 cup sour cream
1/2 cup pico de gallo
1/2 cup guacamole
1/2 cup cheddar cheese, shredded
1/2 cup Monterey Jack cheese
1/4 cup fresh cilantro, chopped
1/4 cup green onion, chopped
Wings
2-4 pounds of chicken wings
Jamaican flavored rub
2 limes, juiced
All Ingredients
2-4 pounds of chicken wings
Jamaican flavored rub
2 limes, juiced
1 pineapple, cut into spears and grilled until grill marks appear
1 habanero, seeded and diced
1/2 yellow pepper, diced
3 cloves of garlic, minced
1/2 cup brown sugar
1/3 cup white vinegar
Salt to taste
2 tablespoons of butter
Instructions
pineapple habanero Wings
Step 1
Cover the chicken wings in lime juice and season generously with Jamaican rub. Marinate overnight.
Step 2
Preheat pellet smoker to 225 °F.
step 3
Smoke wings for about 45 minutes. Flip the wings and turn temperature up to 350 °F. This allows the skin to get crispy.
Step 4
Allow them to cook until internal temperature reaches 175-180 °F.
Step 5
Remove from pellet grill and sauce each wing.
step 6
Increase temperature on pellet grill to 450 °F and then put them back on the grill for 5-7 minutes to allow the sauce to set. Remove from pellet grill when internal temperature reaches 190 °F.
Pineapple Habanero sauce
step 1
In a blender or food processor, blend all the ingredients except for butter. Pour mixture into a sauce pan with butter and simmer for 10-15 minutes on medium heat.
chef's notes
Use a cooling rack or jerky rack when making wings so you can remove the whole rack from the grill and flip them. This will help your pellet grill retain heat since you won't be opening the lid for very long.