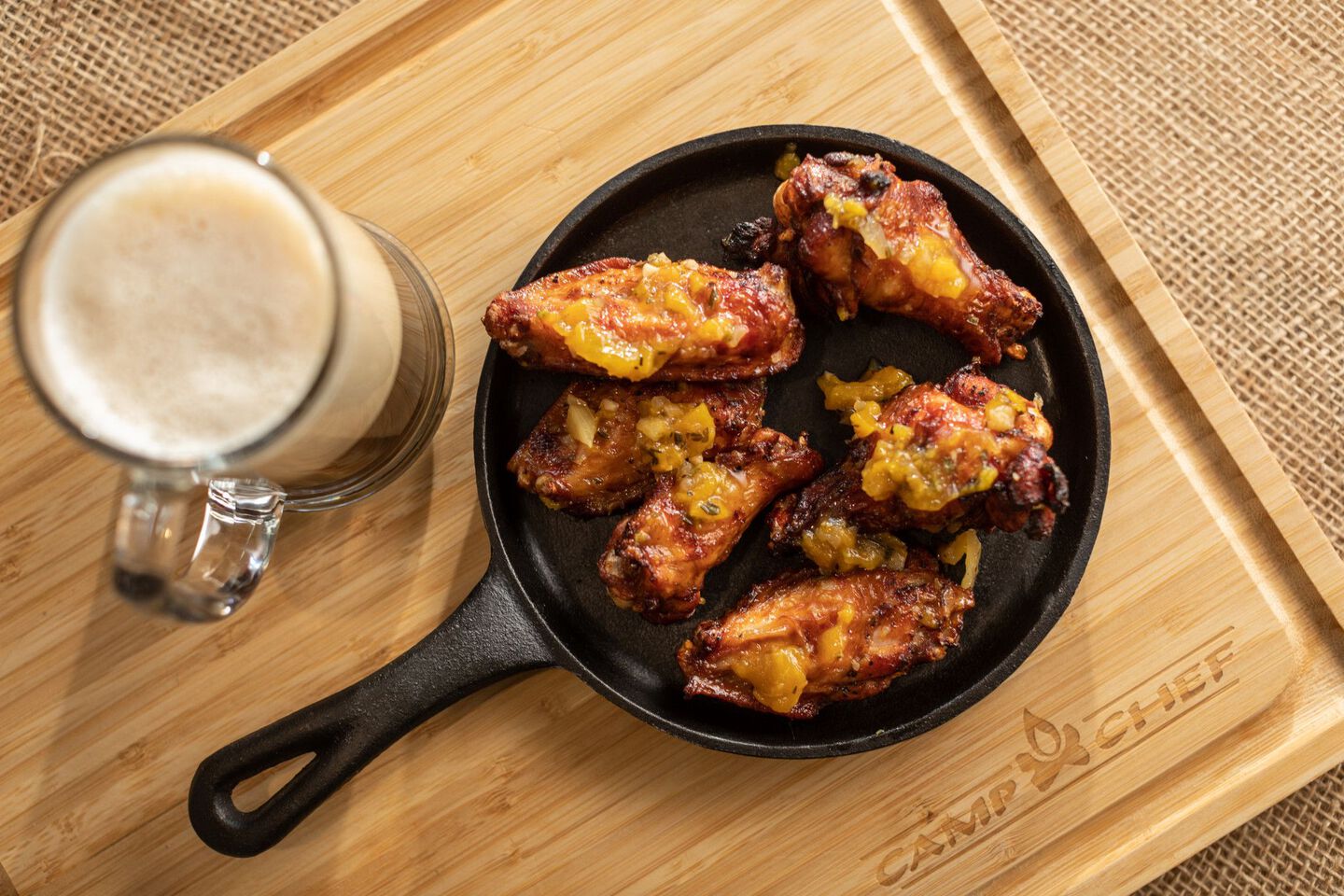 Ingredients
peach habanero beer sauce
1/2 cup of your favorite beer
1 can sliced peaches, no sugar added, 1/2 of can diced small, other 1/2 mashed
1/3 cup syrup from the can peaches
2 Tablespoons Rosemary, roughly chopped
1 Tablespoon shallot, minced
1 Tablespoon oil
2 teaspoon honey
1-2 teaspoon habanero hot sauce
1 teaspoon garlic, minced
1/2 teaspoon Kosher salt
1/4 teaspoon. black pepper
1 Tablespoon butter
Wings
2-4 pounds of chicken wings
12 ounce can of your favorite beer
1 Tablespoon Kosher salt
2 Tablespoons brown sugar
2 bay leaves
2 teaspoons black pepper
All Ingredients
2-4 pounds of chicken wings
12 ounce can of your favorite beer
1 Tablespoon Kosher salt
2 Tablespoons brown sugar
2 bay leaves
2 teaspoons black pepper
1/2 cup of your favorite beer
1 can sliced peaches, no sugar added, 1/2 of can diced small, other 1/2 mashed
1/3 cup syrup from the can peaches
2 Tablespoons Rosemary, roughly chopped
1 Tablespoon shallot, minced
1 Tablespoon oil
2 teaspoon honey
1-2 teaspoon habanero hot sauce
1 teaspoon garlic, minced
1/2 teaspoon Kosher salt
1/4 teaspoon. black pepper
1 Tablespoon butter
Instructions
peach habanero Wings
Step 1
Mix the brine ingredients together. Place wings in brine mixture overnight or at least 4-6 hours.
Step 2
Preheat pellet smoker to 225 °F.
step 3
Place wings in a single layer in a disposable pan or on a cooking rack with pan underneath to catch drippings.
Step 4
Cook for 45 minutes, then flip and cook for an additional 45 minutes.
Step 5
Fill a cast iron skillet or Dutch oven with about 3 inches of frying oil and place on stove or a direct heat source. Heat oil to 365 °F. Keep oil between 350-375 °F for frying.
step 6
Remove wings from smoker, let rest for 5-10 minutes.
step 7
When frying oil has reached temperature, fry for 3-4 minutes until crispy. Remove from oil and place on a rack or a paper towel lined baking sheet. Lightly season with salt. Be sure to cook the wings until internal temperature reaches 165 °F.
peach Habanero beer sauce
step 1
In a small saucepan, heat oil to medium high heat.
step 2
Add shallots, 1 Tablespoon rosemary, salt and pepper. Turn down heat to low, stirring gently and cook for about 3 minutes.
step 3
Bring heat up to high, add peaches, honey, habanero hot sauce and garlic. Stir gently and cook for about 4 minutes.
step 4
Add 1/4 cup of your favorite beer, bring to a simmer and reduce heat. Let reduce by half, stirring occasionally.
step 5
Once reduced, use an immersion blender and blend until slightly chunky. Add syrup from peaches, 1 Tablespoon rosemary and remaining beer. Stir to incorporate. Bring to a simmer and reduce by half, stirring occasionally.
step 6
Once reduced, remove from heat and stir in butter. Taste for seasoning and add Kosher salt if needed. Toss on wings.