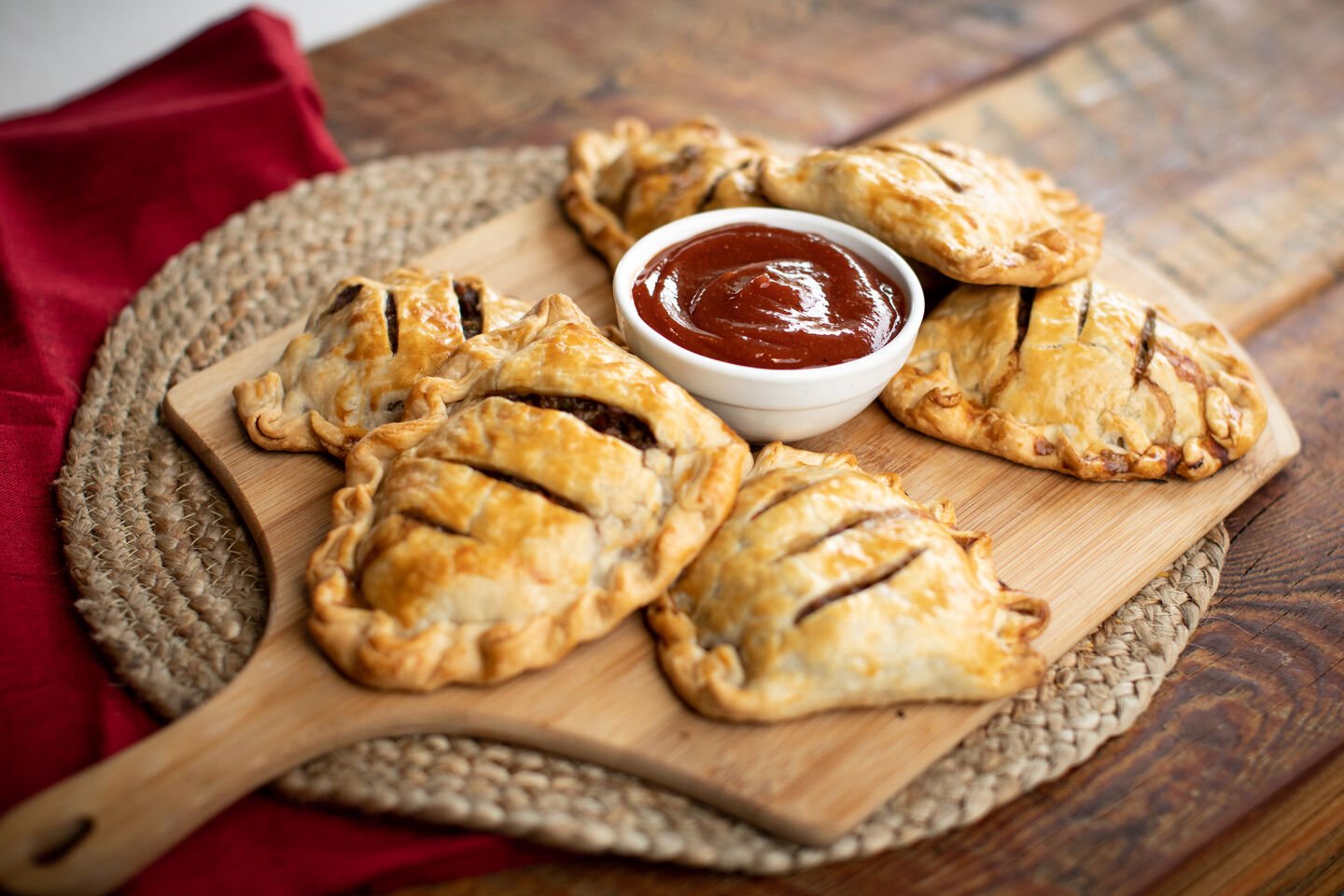 Ingredients
All Ingredients
32 ounces New York strip steaks
1 medium carrot, diced into 1/4 inch pieces
1 small yellow onion, finely chopped
1 small russet potato, diced into 1/4 inch pieces
1/4 cup fresh parsley leaves, chopped
3 Tablespoons Worcestershire sauce
1 Tablespoon all purpose flour
1/2 cup and 1/4 cup water, divided
1 large egg, whisked
2 Tablespoons olive oil
2 Tablespoons butter
Salt and pepper to taste
1 store bought pie crust
1/2 cup ketchup
1 Tablespoon Worcestershire Sauce
1 Tablespoon Camp Chef's Kickin' BBQ Rub or your favorite rub
Instructions
Pasty Pies
step 1
Preheat cast iron skillet to medium to high heat. Add butter and olive oil to skillet.
step 2
Season steaks with salt and pepper. Sear steaks until brown. Remove steaks and let rest.
step 3
Add onions, carrots and potatoes to the skillet and cook about 5 minutes. Add Worcestershire sauce and 1/4 cup of water to deglaze the pan. Let simmer.
step 4
While simmering, chop steaks into 1/4 inch cubes. Once steak is cubed, add flour to the carrot mixture and cook until raw flour flavor is gone. Add steak cubes and water to veggies and mix to combine. Add parsley and cook an additional few minutes then remove mixture to cool.
step 5
While cooling meat mixture, roll out pie crust into 6 inch circles. Add 1/8 of the cooled meat mixture to the crust and fold over. Crimp edges to seal and brush the top with egg. Repeat until all pies are filled. Cut small slits in the top of pies and bake for 45-60 minutes of until golden brown.