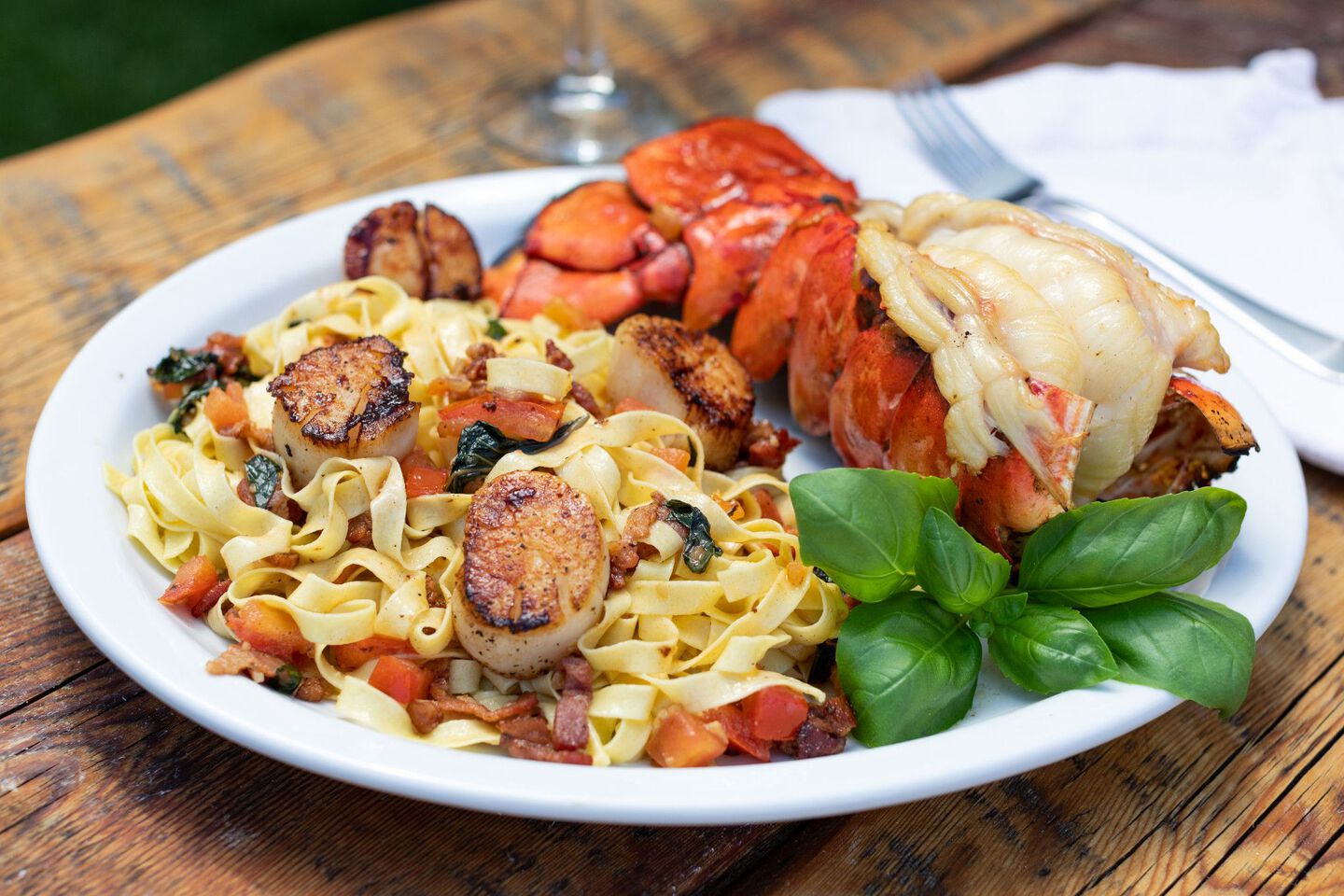 Ingredients
All Ingredients
1 lb. scallops, side muscle removed and pat dried
4 lobster tails, split, top shell exposing the meat
1 cup unsalted butter, divided (1/2 cup for the sauce, 1/2 cup melted for the lobster) -
2 cloves of garlic, minced
1 shallot, chopped
1 tomato, chopped
1 cup white wine
1/4 cup fresh basil, chopped
Salt and pepper to taste
Lemons for garnish
Instructions
Grilled Lobster and Sea Scallops
step 1
To prepare the lobster tail you can use a sharp pair of kitchen shears to cut down the top of the tail. Then, by sliding your thumbs inside and under the meat loosening it and pushing it out through the cut made on the dorsal area (upper side).
Step 2
Preheat pellet grill to high smoke. Rub exposed meat with melted butter and season with salt and pepper. Smoke until internal temperature reaches 105 °F. Turn grill up to 400 °F. Grilling lobster until internal temperature reaches 135 °F. Baste lobster with butter throughout the grilling process.
Step 3
Preheat sidekick or large cast iron skillet on medium high heat. Cook bacon to desired doneness and remove bacon but leave the fat. Season scallops with salt and pepper. In bacon fat, sauté scallops until scallops are caramelized and golden brown. Remove and set aside, keeping them warm.
Step 4
After scallops have been removed add 1/2 cup butter and shallots. Cook until shallots are translucent. Add garlic and cook until fragrant about 30-45 seconds. Add white wine and deglaze the pan. Add tomatoes, basil, bacon and scallops. Season to taste with salt, pepper and lemon.
Step 5
Serve immediately with grilled lobster over fresh pasta, rice, risotto or mashed potatoes.