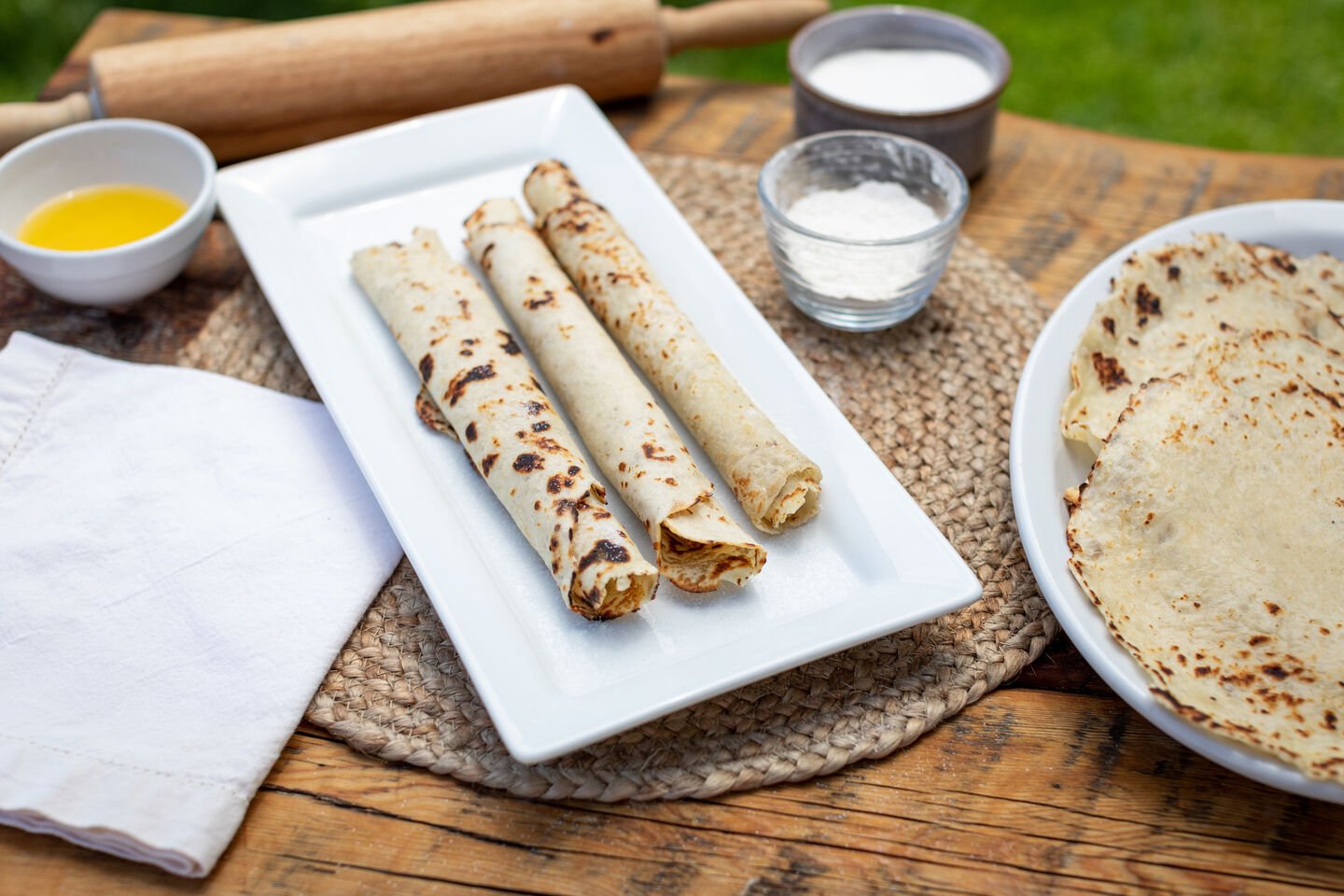 Ingredients
All Ingredients
1 3/4 lbs russet potatoes (4 cups when mashed) -
1/2 cup heavy cream
4 Tablespoons unsalted butter
2 teaspoons sugar
1 1/2 teaspoons Kosher salt
1 3/4 cups all purpose flour, plus more for rolling
Sugar and butter, for serving (optional)
Instructions
Lefse
step 1
Put the whole, unpeeled potatoes in a pot and cover with cold water by 2 inches. Bring to a boil and simmer gently until a fork goes through the potatoes with little resistance, about 40 minutes.
Step 2
Cut the potatoes into smaller chunks and press through ricer or mash the potatoes. Measure out 4 loosely packed cups of riced potatoes and put in a large bowl.
step 3
Heat the heavy cream, butter, sugar and salt in a small pot until the butter melts. Add the butter/cream mixture to the potatoes and mix gently. Put the mashed potatoes in the refrigerator to cool down, about 30 minutes. Once cooled completely, add the flour and work it gently into the potatoes. Do not overwork the dough. Allow to rest at room temperature for 10 minutes.
Step 4
Take 2 tablespoons of dough and form it into a ball. Sprinkle flour on a sheet of parchment or wax paper. Using a rolling pin, roll out the dough into a very thin circle about 1/16 inch thick and seven inches wide. Flour the dough as necessary to avoid sticking.
Step 5
Heat large cast iron skillet or griddle with the burner on medium heat. Turn the parchment or wax paper upside down and gently peel off the thin circle of dough onto your hand. Place the dough directly in the heated skillet or on the heated griddle. Cook on one side until some brown speckles start to form, about 1 minute, and then flip the dough and cook for an additional 30 seconds. Transfer lefse to a plate and keep covered with a clean kitchen towel. Repeat with the remaining dough.
Step 6
To serve, spread butter and sprinkle sugar on a warm lefse and roll it up. If the lefse is cold, you can warm it up quickly in a heated skillet.