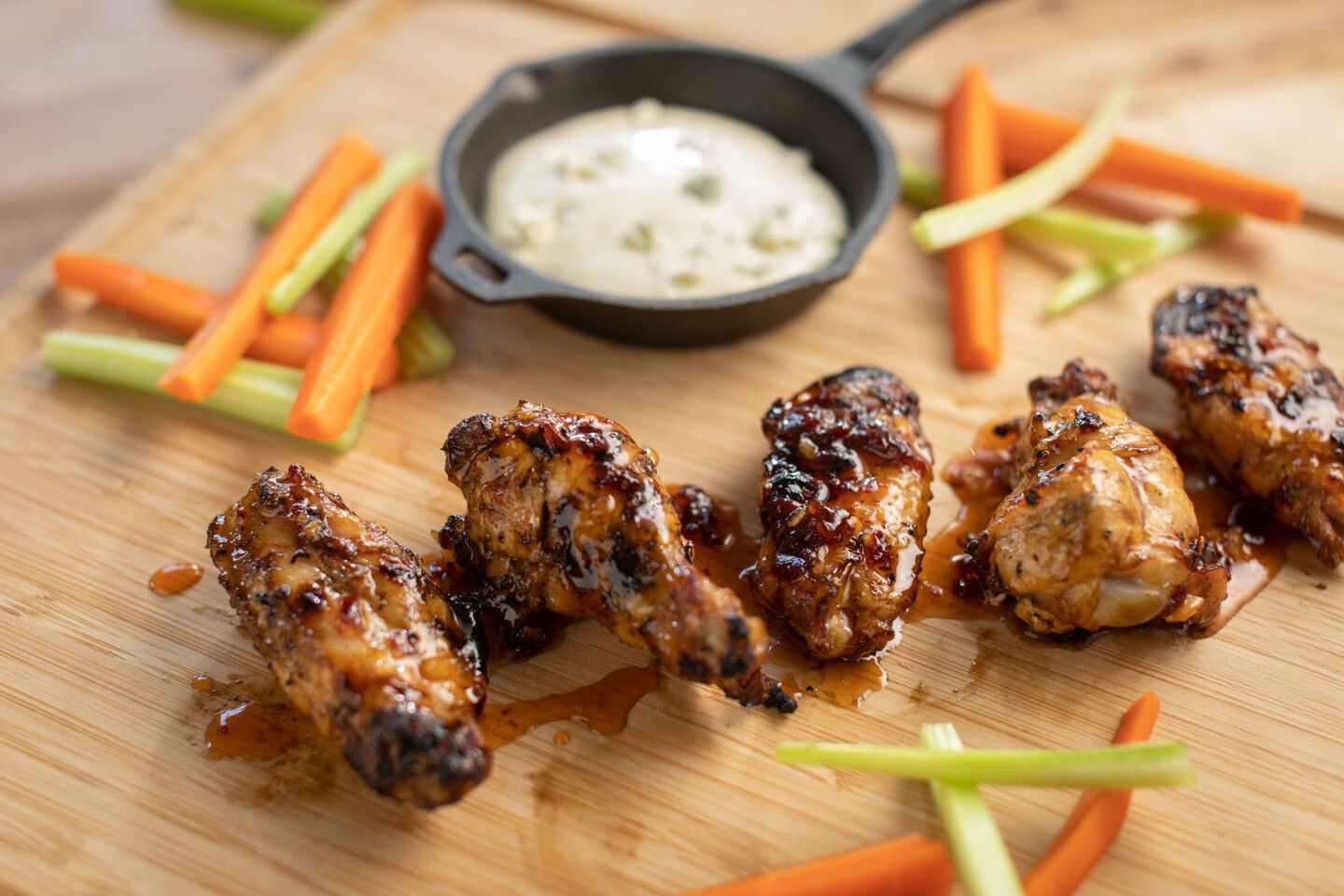 Ingredients
The Sauce
1 - 2 cups of honey
1 Anaheim pepper, chopped
1 jalapeño pepper, chopped
Chicken Wings
2 pounds of chicken wings
1 teaspoon garlic salt
1/2 teaspoon paprika
1/2 teaspoon chives
1/2 teaspoon ground pepper
1/2 teaspoon salt
2-4 pounds of chicken wings
6 Tablespoons Jerk seasoning
8 Tablespoon beer
6 Tablespoons vegetable oil
4 Tablespoons cider or white vinegar
All Ingredients
2 pounds of chicken wings
1 teaspoon garlic salt
1/2 teaspoon paprika
1/2 teaspoon chives
1/2 teaspoon ground pepper
1/2 teaspoon salt
2-4 pounds of chicken wings
6 Tablespoons Jerk seasoning
8 Tablespoon beer
6 Tablespoons vegetable oil
4 Tablespoons cider or white vinegar
1 - 2 cups of honey
1 Anaheim pepper, chopped
1 jalapeño pepper, chopped
Instructions
Hot Honey Wings
Step 1
Preheat pellet grill to 350 °F.
Step 2
In a small bowl, mix all the wing seasoning together. Season the wings.
step 3
Smoke the wings for 50 minutes using cherry and hickory pellets.
Step 4
While the wings are smoking, make the sauce. Place honey and peppers in a medium saucepan and simmer for 30 minutes. Strain the seeds and pepper pieces out of honey. Set aside.
Step 5
After 50 minutes of smoking, later the honey sauce on the wings, flip wings and repeat lathering honey on the other side. Smoke for an additional 15 minutes.