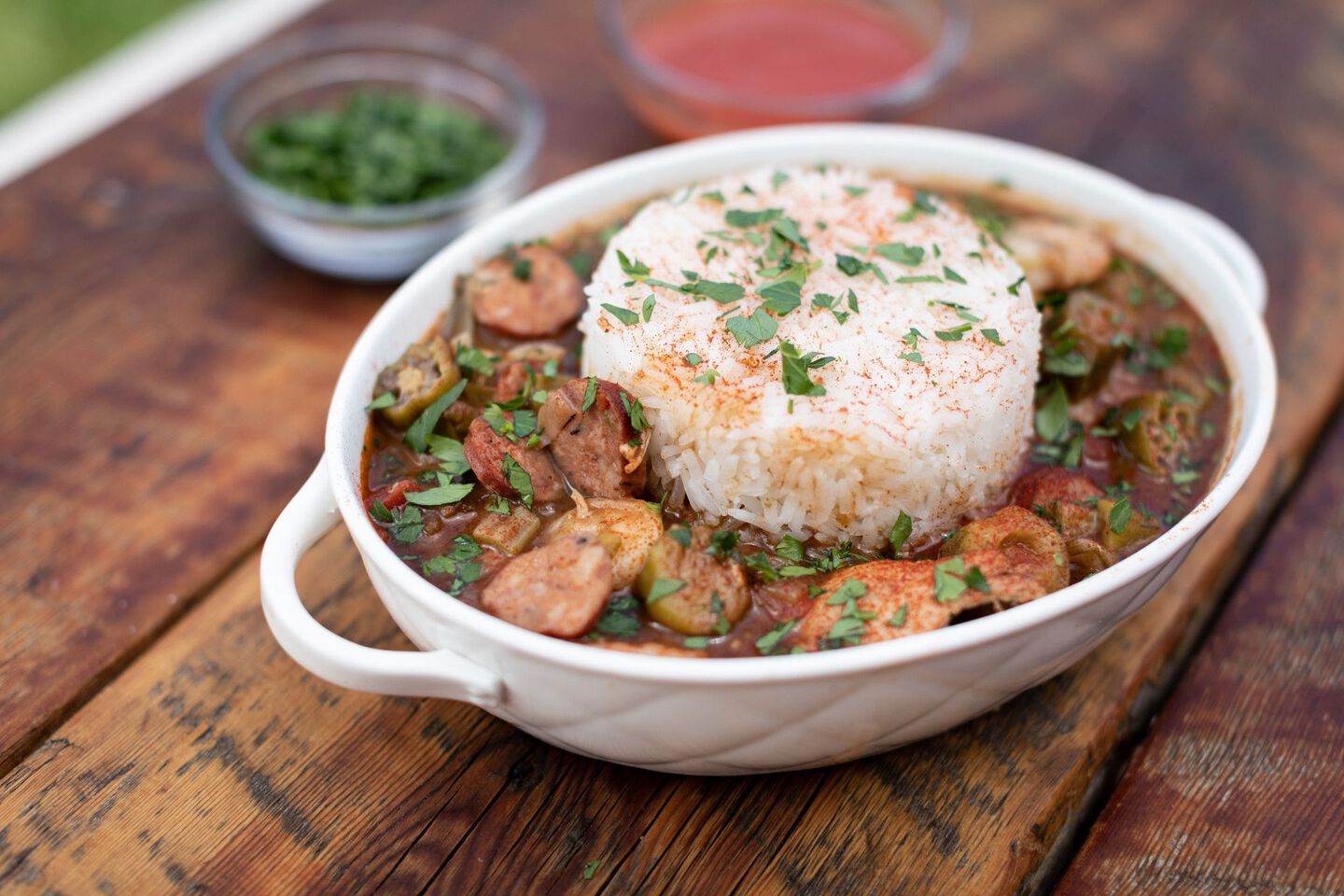 Ingredients
All Ingredients
1 lb chicken thighs, bone-in, skin on
1 lb Andouille sausage, cut into 1/2 inch pieces
2 lbs raw medium shrimp, peeled, deveined and tails removed
1/2 cup salted butter
1/2 cup all purpose flour
2 medium sized yellow onions, chopped
1 large green bell pepper, chopped
2 jalapeños
2 Anaheim or poblano peppers, chopped
3 large celery stalks, chopped
3 garlic cloves, minced
2 - 32 oz carton chicken broth
1 lb okra, trimmed and cut into 1/2 inch pieces
1 - 14.5 oz can petite diced tomatoes, undrained
3 bay leaves
2 teaspoons salt
2 teaspoons worchestershire sauce
3 teaspoons hot sauce
1 1/2 teaspoons dried thyme
1 teaspoon black pepper
1/4 cup fresh flat-leaf parsley
1/2 lemon, juiced
Instructions
Gumbo
step 1
In a large cast iron pot, sear chicken thighs on high heat until skin on all sides and fat is rendered. Remove chicken and set aside. Add butter and melt. Add flour and stir until combined. Continue stirring until a rich dark paste has formed. 45 minutes to 1 hour. Remove from heat and set aside.
step 2
In a sauté pan add onions, peppers and celery and cook until just soft. Add garlic and cook for 30 seconds. Add onion mixture to the roux and return to heat. Once the onion mixture is incorporated add the chicken stock to the pot, stirring constantly and bring to a simmer.
step 3
Remove skin and bones from the chicken and shred. Add chicken, sausage and tomatoes to the pot. Add bay leaves, salt, Worchestershire, hot sauce, thyme and black pepper to the pot and stir to combine. Bring to a boil and add the okra to the pot. Reduce to a simmer and add the lemon juice. Simmer on low for 1 hour. Return heat to high and add the shrimp. Cook until shrimp is done, about 3 min.
step 4
Serve over white rice.