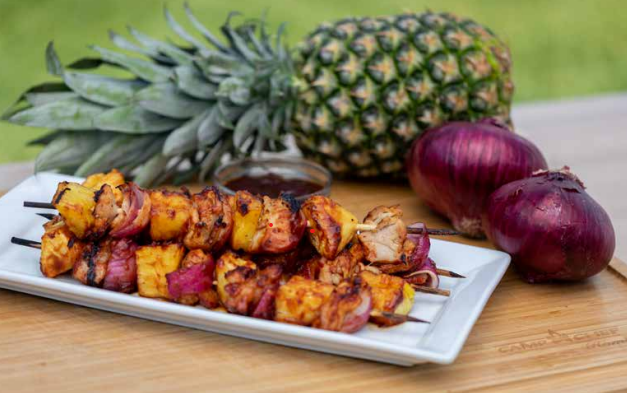 Ingredients
All Ingredients
2 1/2 pounds boneless, skinlees chicken thighs
Salt and pepper to taste
10-12 strips thick cut bacon
1 1/2 cups sweet BBQ sauce
1 pineapple, cut into chunks
2/3 cups apple butter
1 red onion, quartered
1-2 chipotle peppers in adobo sauce plus Camp Chef's Mango Chipotle Rub
1 Tablespoon of adobo sauce or your favorite poultry rub
8-10 wooden skewers
Instructions
chicken Kabobs
Step 1
Soak wooden skewers in water for at least 30 minutes. Preheat pellet grill to 400 °F.
Step 2
Cut chicken thighs into 1-inch bite sized pieces. Place the chicken chunks in a bowl and add salt, pepper and rub. Mix together until chicken is covered with seasonings.
Step 3
Cut bacon into 1-inch strips, pineapple into chunks, and cut onions into quarters. Peel the layers of onion into single slices. Alternate threading pineapple, onion, bacon, and chicken onto skewers.
Step 4
Place BBQ sauce, apple butter, chipotle peppers and adobo sauce in blender or food processor and blend until smooth.
step 5
Brush kabobs with BBQ sauce mixture and grill for about 10-15 minutes or until internal temperature of the chicken reaches 165 °F. Brush kabobs with BBQ sauce mixture again before turning kabobs over halfway through cooking time (5-7 minute mark).