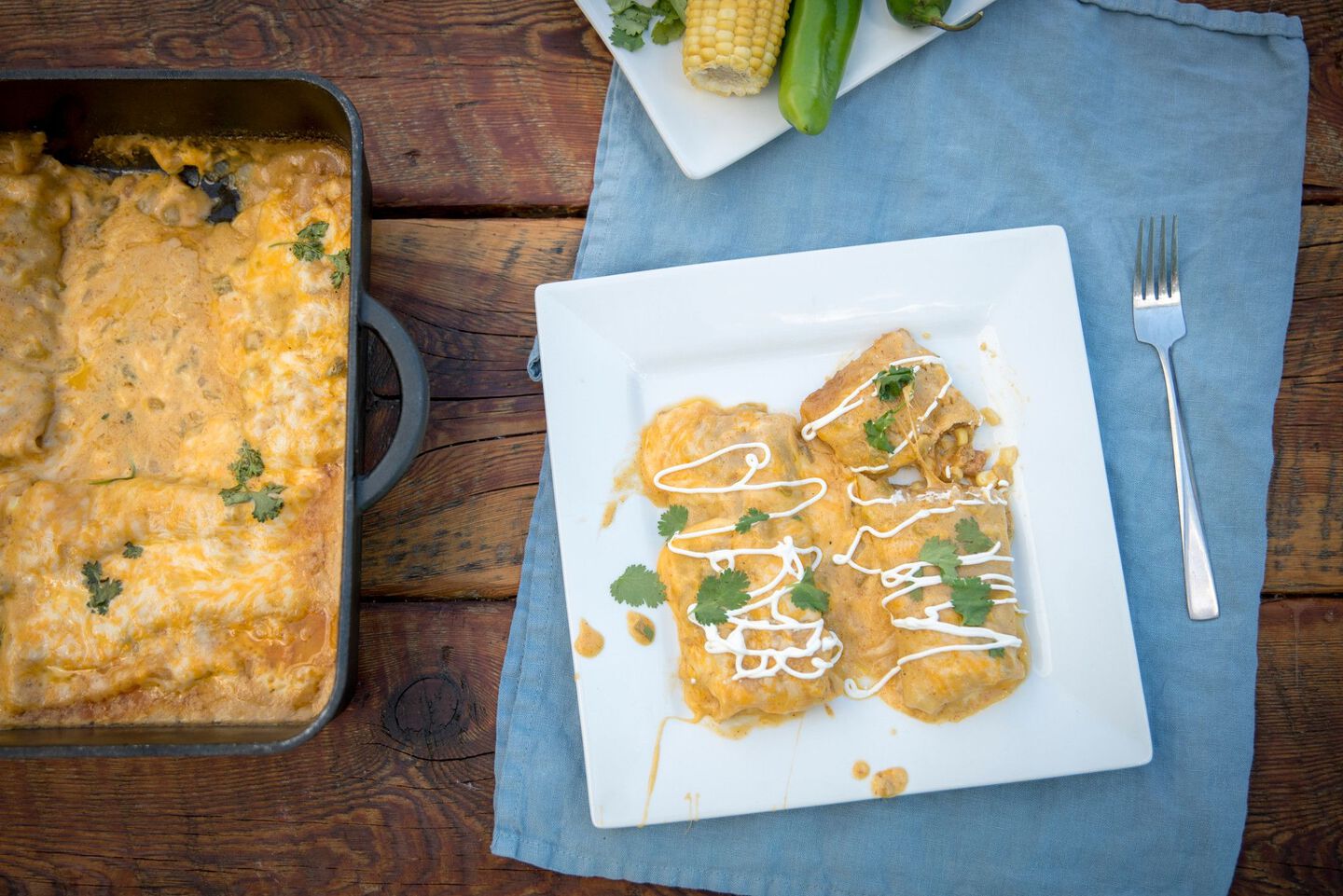 Ingredients
For the Sauce
3 Tablespoons butter
3 Tablespoons flour
2 cups chicken broth
1/2 cup heavy cream
1 - 4.5 oz can green chilies
3 cups monterey jack cheese, shredded
2 teaspoons chili powder
2 teaspoons garlic powder
For the Filling
1 1/2 lbs chicken thighs, boneless, skinless cut into bite sized pieces
2-3 Tablespoons olive oil
4 Tablespoons cream cheese
2 ears of corn on the cob, kernels removed from cob
1 - 14.5 oz can pinto beans
2 - 4.5 oz can green chilies
1/2 small yellow onion, chopped
1/4 teaspoon chili powder
1/4 teaspoon ground cumin
1/4 teaspoon garlic powder
1 cup monterey jack cheese, shredded
Salt to taste
10 flour tortillas, raw
All Ingredients
1 1/2 lbs. chicken thighs, boneless, skinless cut into bite sized pieces
2-3 Tablespoons olive oil
4 Tablespoons cream cheese
2 ears of corn on the cob, kernels removed from cob
1 - 14.5 oz. can pinto beans
2 - 4.5 oz. can green chilies
1/2 small yellow onion, chopped
1/4 teaspoon chili powder
1/4 teaspoon ground cumin
1/4 teaspoon garlic powder
1 cup Monterey jack cheese, shredded
Salt to taste
10 flour tortillas, raw
3 Tablespoons butter
3 Tablespoons flour
2 cups chicken broth
1/2 cup heavy cream
1 - 4.5 oz. can green chilies
3 cups Monterey jack cheese, shredded
2 teaspoons chili powder
2 teaspoons garlic powder
Instructions
Chicken Enchiladas
Step 1
Add olive oil to a large cast iron skillet. Heat to medium high heat. Add chicken. Season with salt, chili powder, cumin and garlic. Cook until halfway done. Add onion, corn and beans. Cook mixture until chicken reaches an internal temperature of 165 °F. Turn heat down to low and add green chilies and cream cheese. Mix until cream cheese has melted. Set aside.
Step 2
In a medium cast iron skillet, melt butter over medium high heat. Whisk in flour to form a paste and cook for about 2 minutes. Gradually whisk in the chicken broth, and bring to a gentle boil, whisking occasionally. When the sauce has thickened slightly, stir in heavy cream, green chilies, chili powder, garlic powder and 1/2 cup of the cheese. Stir until smooth. Remove from heat and set aside.
Step 3
Preheat pellet grill to 375 °F.
Step 4
Pour enough sauce to cover the bottom of a greased 9 x 13 baking dish. Divided the filling mixture between the 10 tortilla shells. Sprinkle cheese on top of filling and roll burrito style, placing them seam side down in baking dish.
Step 5
Pour remaining sauce over the filled enchiladas, and sprinkle remaining cheese on top.
Step 6
Bake in the pellet grill for 30 minutes uncovered, or until hot and bubbly and the cheese is beginning to brown.
recipes you might be interested in