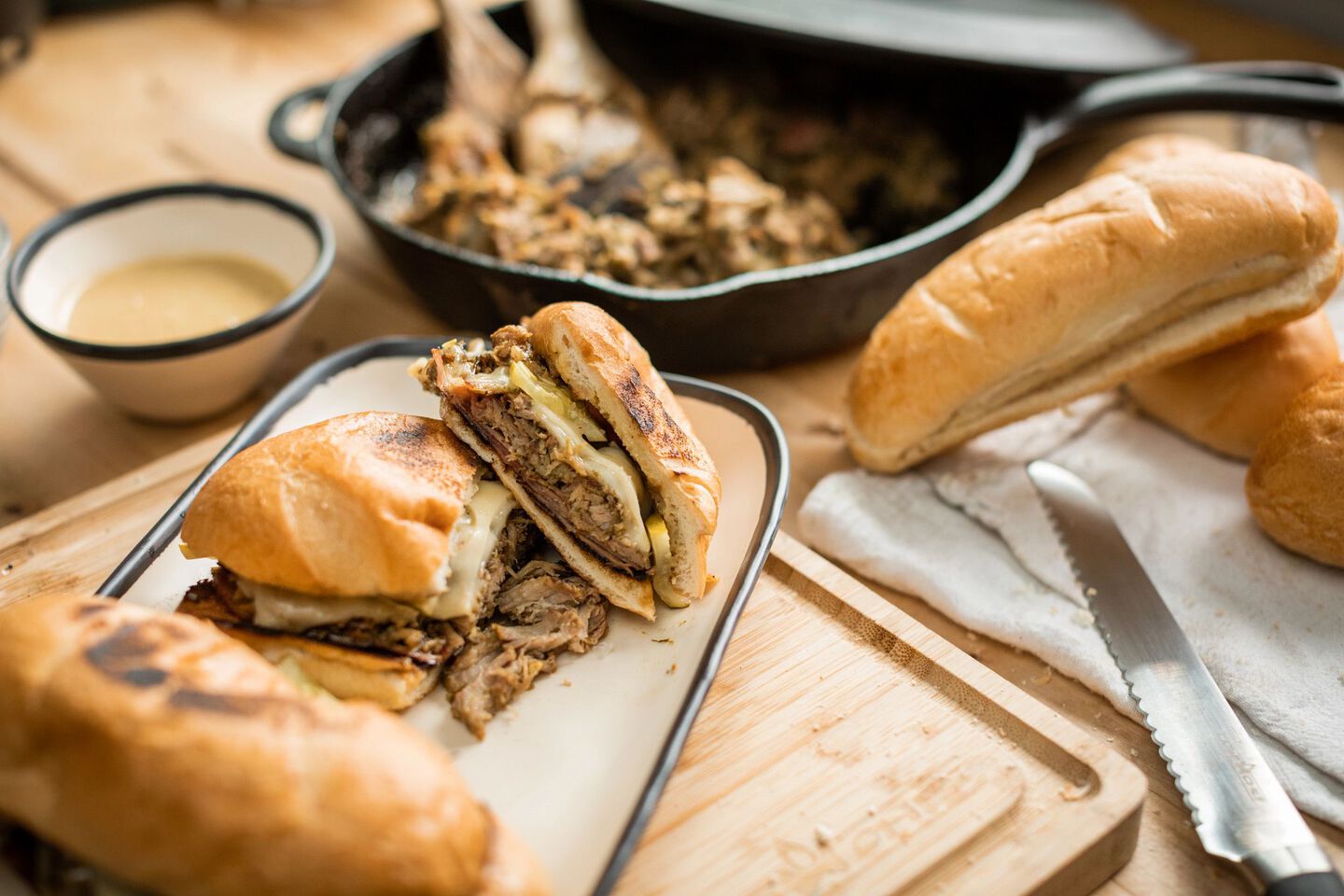 Ingredients
All Ingredients
2 pounds pork loin, chopped
5 garlic cloves, chopped
9 oranges
7 limes
1/2 cup olive oil
1 teaspoon cumin
1 loaf French bread
5-8 pickle slices
5-8 slices Swiss cheese
Yellow mustard to taste
5-8 slices ham
Instructions
Cuban Sandwich
Step 1
Juice 6 oranges and 4 limes, and reduce their juices to a syrup over medium heat. Rub a whole pork loin with this syrup, as well as salt and pepper, cumin to taste, chopped garlic, and orange/lime zest.
step 2
Smoke the pork according to these instructions. Then chop into bite-size pieces, and set aside 2 lbs.
step 2
Heat a large cast iron skillet with olive oil over medium heat. Add 1 garlic clove and cumin, and cook until garlic is fragrant (about 30-45 seconds). Do not brown garlic. Carefully add citrus juices and pepper, bring to a simmer, then turn off heat and let cool.
step 3
Begin heating the panini press on medium-high heat. Heat another skillet (or clean out the one with the mojo) over medium heat.
Step 4
Spread mustard on each piece of bread according to taste. Layer pickles, Swiss cheese, and ham on one piece of bread. Scoop some pork onto the sandwich. Then place the other half of the bread.
step 5
Place sandwich into the preheated skillet, and press the top with the preheated panini press. Let melt for a minute or two, making sure not to burn either side of the sandwich. If necessary, you may flip the sandwich to cook each side evenly.