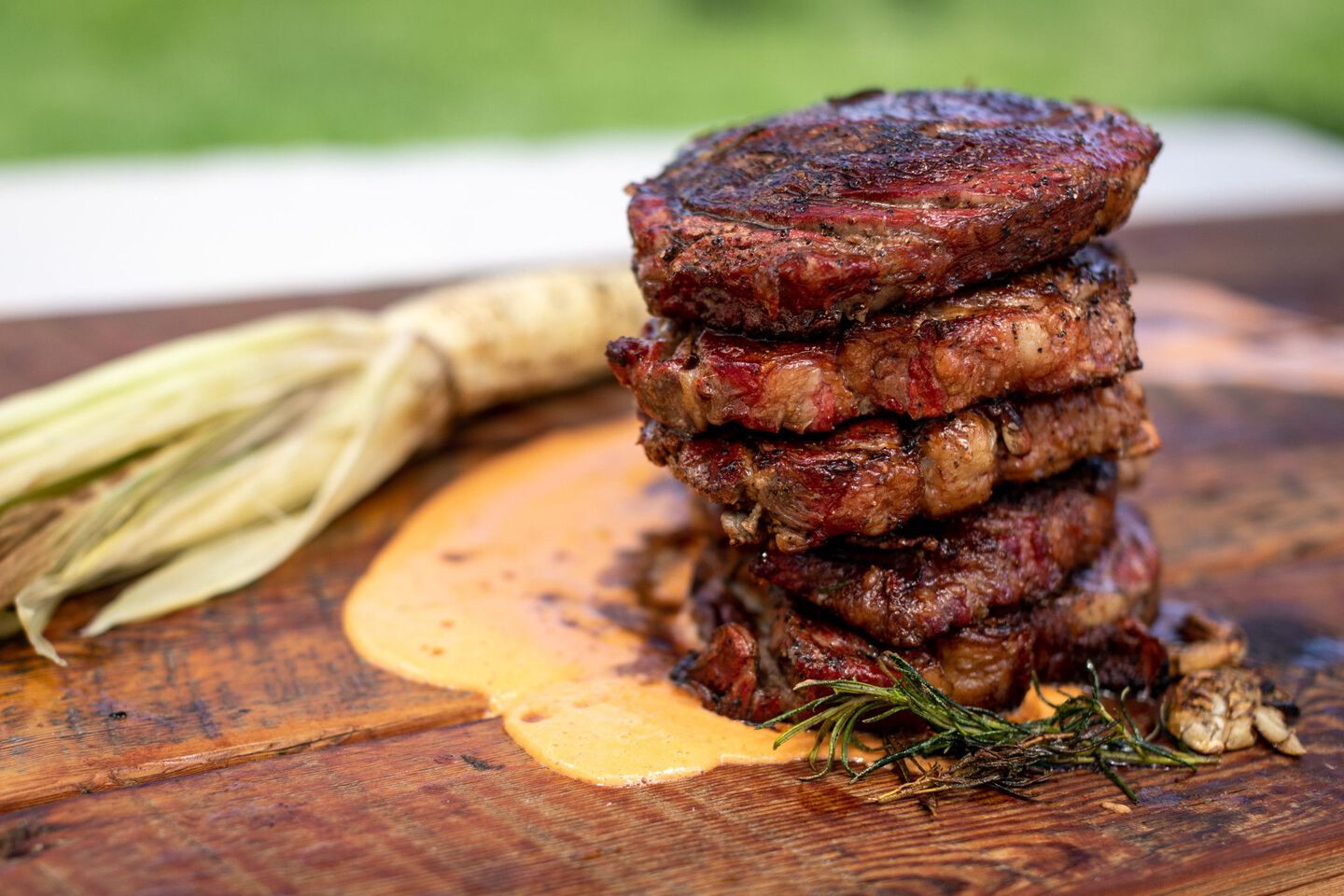 Ingredients
Cornhuskers Sauce
1 - 10.75 oz can of condensed tomato soup
1 cup vegetable oil
1/2 white sugar
1/2 cup vinegar
1 teaspoon dry mustard powder
1 teaspoon salt
1 teaspoon celery seeds
1/4 teaspoon course ground black pepper
1/4 teaspoon garlic powder
3 ears of corn on the cob, smoked and seared, kernels removed from cob
2 serrano peppers, tops removed and seeded
Steaks
2 thick cut Ribeye steaks
Salt and pepper to taste
4 Tablespoons Butter
6-8 garlic cloves
All Ingredients
2 thick cut Ribeye steaks
Salt and pepper to taste
4 Tablespoons Butter
6-8 garlic cloves
1 - 10.75 oz can of condensed tomato soup
1 cup vegetable oil
1/2 white sugar
1/2 cup vinegar
1 teaspoon dry mustard powder
1 teaspoon salt
1 teaspoon celery seeds
1/4 teaspoon course ground black pepper
1/4 teaspoon garlic powder
3 ears of corn on the cob, smoked and seared, kernels removed from cob
2 serrano peppers, tops removed and seeded
Instructions
Cornhuskers Sauce
step 1
Put all ingredients into a blender and blend until smooth. For best flavor refrigerate overnight. Adjust seasoning as needed.
Ribeye Steak
Step 1
Preheat pellet grill to high smoke.
Step 2
Wash and pat dry steaks. Then season them with salt and pepper to taste. Don't be afraid to add more salt than you think is necessary.
step 3
Place steaks on pellet grill and smoke until internal temperature is about 20 °F under desired finish temperature. When steaks get close to temperature on the pellet grill, preheat sidekick or cast iron skillet to high heat.
Step 4
Melt butter in skillet, add rosemary and garlic. Place each steak on skillet for about 30-60 seconds, infusing the steak with the butter and rosemary. Then turn the steaks and repeat the process. Use a meat probe thermometer to sear to the desired temperature.