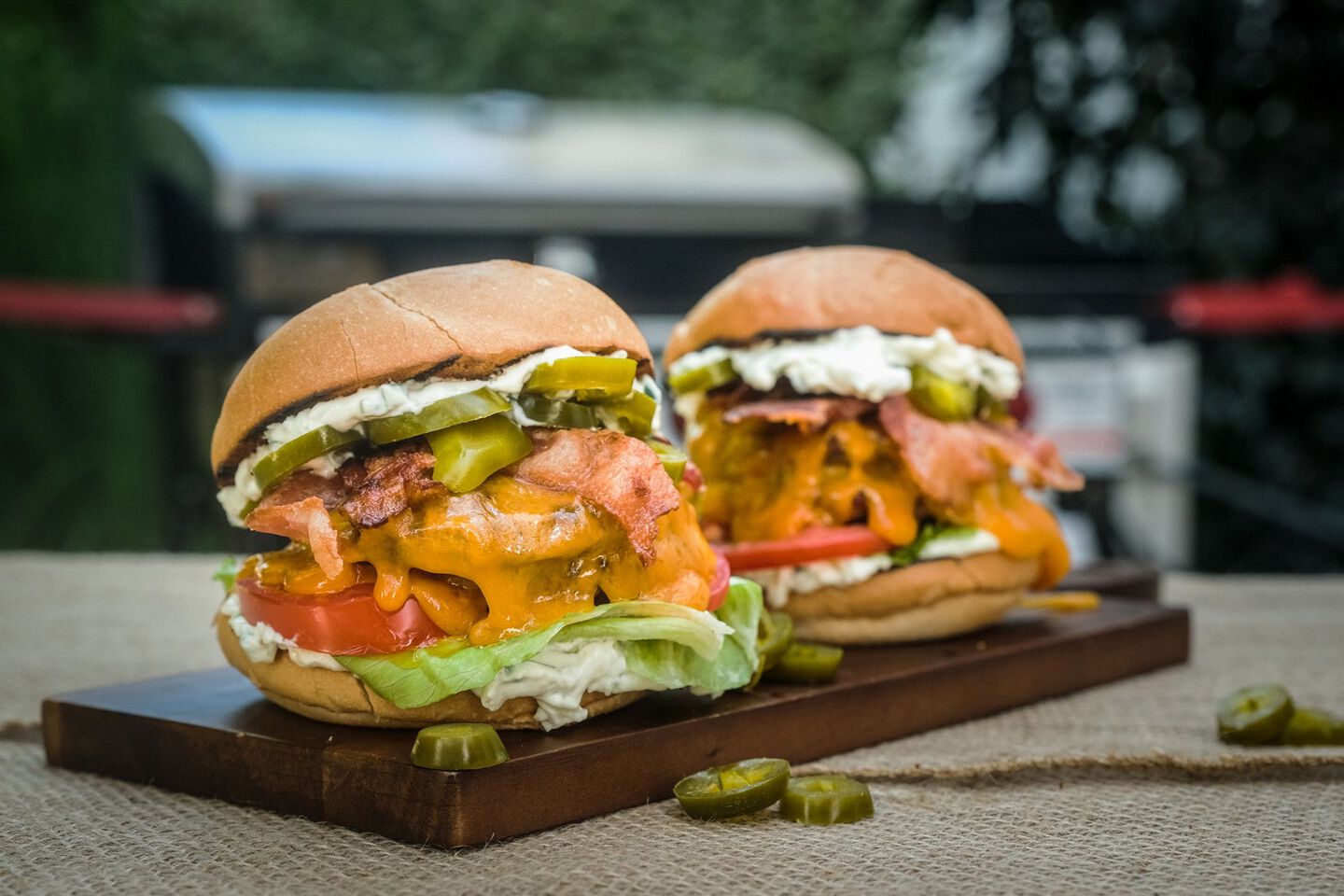 Ingredients
Cream Sauce
8 ounces cream cheese, room temperature
1/2 cup mayonnaise
1/2 cup sour cream
1 teaspoon garlic powder
1 teaspoon onion powder
1 teaspoon salt
1 cup mozzarella cheese, shredded
4-5 jalapeños, seeded and minced
Burgers
2 pounds ground beef
Salt and pepper to taste
12-16 slices of bacon, cooked
8 slices of cheddar cheese
2-3 tomatoes, sliced
Jar of pickled jalapeños
Lettuce
6-8 hamburger buns
All Ingredients
2 pounds ground beef
Salt and pepper to taste
12-16 slices of bacon, cooked
8 slices of cheddar cheese
2-3 tomatoes, sliced
Jar of pickled jalapeños
Lettuce
6-8 hamburger buns
8 ounces cream cheese, room temperature
1/2 cup mayonnaise
1/2 cup sour cream
1 teaspoon garlic powder
1 teaspoon onion powder
1 teaspoon salt
1 cup mozzarella cheese, shredded
4-5 jalapeños, seeded and minced
Instructions
Bacon Jalapeno popper Burger
Step 1
Preheat BBQ box or pellet grill to medium high heat.
Step 2
In a medium mixing bowl, add all the ingredients of the cream sauce and mix until well combined. Set aside.
Step 3
Form 6-8 patties and season with salt and pepper.
Step 4
Grill patties until internal temperature reaches 125 °F for rare, 135 °F for medium rare, 145 °F for medium and 160 °F for well done. Flip patties halfway through cook time. The last few minutes of cooking, add a slice of cheese to patties and let the cheese melt.
step 5
Toast buns on grill if desired.
Assembly
Start with cream sauce on the bottom bun then add lettuce, tomato, patty, bacon, pickled jalapeños and cream sauce on the top of bun.