Flat Top Grill
The Flat Top Grill is good at one thing above all else—feeding people fast. The large 600-sq. inch surface allows you to crank out food for 50-100 people every hour—your party will never go hungry. Many propane grills have hot spots, but our line of flat tops heat food evenly due to our large griddle and heat dispersing design. Customers love the cooking variety that the Flat Top Grill offers. For breakfast: use the griddle for pancakes, bacon, hash browns, veggies, and to boil water. Then for lunch and dinner: remove the griddle and utilize the massive grill grates to make hamburgers, chicken, steaks, shish kabobs, and more.
Multimedia
Features
Includes flat top griddle & grill grate
True Seasoned Surface, non-stick & ready to cook
Four 12,000 BTUs/Hr. stainless steel Burners
Matchless ignition system
Grease management system for easy clean up
Grease tray, catch bucket, and micro adjust griddle levelers
Propane tank holder
Adjustable leg levers
Cold rolled steel griddle
Specifications
Griddle Cooking Surface: 604 sq. in.
Grilling Cooking Surface: 501 sq. in.
Overall Unit Dimensions: 62.5 in. x 37 in. x 22 in.
Total Output: 48,000 BTUs/Hr. Burner
Warranty: 1 year
Downloads

FTG600 Instruction Manual
REVIEWS
Flat Top Grill 600
is rated out of
5
by
65
.
Rated

5

out of

5
by
JeffDeMent
from
Best thing since sliced bread.
This grill is awesome. I have dinner parties at my house and can easily cook for ten people. Tacos, burgers, bacon, eggs, veggies... It's one of the best purchases I have made. It would be nice if there was a viewing hole so you could see if the burners are lit.
Date published: 2018-06-29
Rated

5

out of

5
by
Anonymous
from
Awesome!
My family got me the four burner flat top grill for my birthday. I've used it four times so far and I'm loving how everything has turned out. I've done: pancakes, sausage, bacon, hash browns, o'brien potatoes, steak and chicken fajitas with peppers and onions, and steak fillets with mixed veggies. I've gotten really excited about outdoor cooking and I can't wait to try more. I highly recommend this grill!
Date published: 2017-11-23
Rated

5

out of

5
by
Dennis J
from
Best set up in the neighborhood!
I purchased the flat top and Woodwind at the same time and now have the best outdoor cooking set up in the neighborhood! Cooking is so easy and the nothing compares to the taste!
Date published: 2018-07-24
Rated

5

out of

5
by
Jeremy
from
Great addition to outdoor kitchen!
I debated between this and the Blackstone. After reading alot of bad reviews and complaints about cooking in the wind with the Blackstone, I got one of these. I'd buy it again every day of the week and twice on Sundays. It is a wonderful addition to anyone's outdoor cooking ensemble.
Date published: 2017-11-05
Rated

5

out of

5
by
Juggy
from
Awesome stove
Whether your a polygamist with a grip load of wives and kids or cooking for a large group this is the grill for you.
Date published: 2018-02-05
Rated

5

out of

5
by
Horsenheeler
from
Great!!! Just as I expected
I bought this a few weeks ago and love it. I did quite a bit of research between the Camp Chef and Blackstone. I went with the Camp Chef due to the grease drain/catch, the griddle lifts off to make a grill and the two shelves underneath. I have used it a few times and so far very happy with this purchase. This is my first griddle and I am sure as I use it more, I will learn to control the heat better.
Date published: 2018-07-06
Rated

5

out of

5
by
Chris2472
from
Great addition
Love it! It's a great addition to my outdoor kitchen!
Date published: 2018-02-07
Rated

5

out of

5
by
Kaleb T
from
I Cook on it nearly every day
Have had this for over a month now, and I use it for most dinners (5+/wk) and weekend breakfasts. Took a couple tries to get used to the temps, but well worth it. I built a cover for it from some 12 ga steel (made a 3" tall box that covers about 1/3 of the top) which works well when it's windy. No complaints, love this thing.
Date published: 2018-07-25
Rated

5

out of

5
by
Suncoastflausa
from
BEST THING I'VE BOUGHT
I bought my Camp Chef about 1 year now. It is terrific. We cook on it constantly. Never really into cooking or grilling much before but this griddle has turned me into a cooking monster. My entire experience with Camp Chef has been great. One of the knobs was printed backwards. I sent them an email and that same week I received 4 brand new (correct) knobs. Now, I'm looking at the 6 burner baby........just gotta think of a way to sneak it past the wife. Thanks Camp Chef. Great product.
Date published: 2018-07-04
Rated

5

out of

5
by
Nanaof7
from
My Husband Loves His Grill!
My Husband really wanted this grill, we found one that was somewhat like it but didn't have the features he wanted. He loves grilling, and now he can even start grilling breakfast!
Date published: 2018-07-18
Rated

4

out of

5
by
LEE73
from
GREAT FLAT TOP,
I BOUGHT MY CAMP CHEF JUST ABOUT 4 WEEKS AGO AND IT COOKS GREAT ,I ONLY WISH I PURCHASED THE SMALLER ONE INSTEAD OF THE 36' AS IT IS ONLY MY WIFE AND I, IT GRILLS GREAT STEAKS
Date published: 2018-08-13
Rated

5

out of

5
by
kygrillmaster
from
Great grill and griddle!
I purchased the Flat Top Grill 600 because it was a combination grill and griddle. I searched high and low, but most flat tops were only that, flat tops. I didn't want to have to purchase a seperate grill for times when we wanted to grill. This item was perfect. We've only had it a short time, but it was easy to assemble, the flat top and grill components are both awesome cooking surfaces and it is very well made. I'm very happy with my purchase.
Date published: 2018-06-18
Rated

5

out of

5
by
Bhottman
from
Fantastic
I have had it for about a month now. Still have not used the grill part, just the griddle. Brats with no flames! Perfect hamburgers add some sautéed mushrooms and Swiss cheese. Throw some potatoes with some vegetable oil or stir fry some veggies with olive oil. It does it all! Set the table first because you will eat in no time with this amazing grill/griddle. Eggs to order bacon hash browns so easy and easy to clean the grease too. Love it!
Date published: 2018-07-21
Rated

5

out of

5
by
Garydad2
from
Worth every penny.
I am sorry It took me so long to buy the FTG600. I am an experienced cook with over 30 years on a griddle. This unit is the same as cooking in a restaurant. We went on a week long camping trip and the FTG600 was the best part of the trip. Everybody commented on how good the food was. Cooking for 15 people took the same amount of time as cooking for one. Cleanup was easy, easy. I use it in my backyard for Sunday breakfast.
Date published: 2018-07-24
Rated

5

out of

5
by
Aunt Jane
from
Outstanding Addition to our Patio
Arrived on time and was very easy to assemble. Came with a slight dent on the bottom of the control panel but not noticeable when fully assembled and flipped upright. Immediately pressed into service: breakfast for 6 -- with 12 eggs over easy, home fries, breakfast meat and grilled veggies -- all cooked at the same time and all served at the same time. Easy clean up. Excellent value! Great customer service.
Date published: 2018-07-19
Rated

5

out of

5
by
Griddle Girl
from
OMG!!!! Where have you been all my life?!
What can‰ЫЄt be done on this awesome Griddle? I‰ЫЄve done Chicken Wings, Brussel Sprouts, Burgers, Stringbeans, Corn on the Cob, Eggs, Hashbrowns, Bratwursts, GroundBeef Philly Cheese Steaks, Bacon, Sausage, and the list goes on and on and on!!!!! Comes out of the box with the griddle top seasoned and ready to cook on. Was put together in a matter of minutes. Sturdy, well designed piece of equipment.
Date published: 2017-10-03
Rated

5

out of

5
by
Suncoastfl
from
Awesome
This is top quality. I love everything about it. Could not have bought a better Griddle. Customer service? Again, top quality. One of the burner knobs was printed differently than the other 3. Contacted Camp Chef and had new ones the same week. We cook on this almost daily. Hauled my "grill" off to the dump. No grill will ever cook better than this Griddle. Love it!!!!!
Date published: 2017-04-21
Rated

5

out of

5
by
Nailsetter
from
AWESOME!!!!!
Camp Chef knocked it out of the park with this one! I was debating between a Blackstone griddle and this one. After much researching, I decided on the Camp Chef Flat Top Grill, and boy am I glad. It arrived well packaged and was a breeze to assemble. I converted mine to natural gas to enable using my existing gas grill hook up on homes exterior, which was also super easy. Camp Chef tech support answered my questions fully and quickly prior to purchase regarding if conversion was even possible (this sealed the deal for me). The griddle itself is nicely pre-seasoned and has a nice heavy weight to it. Burners all ignite separate of each other, so if you only want to burn one, you only light that one, not a daisy chain of lighting like the competitors. Also, grease management is nicely handled, I have had no issue of "grease-icles" on my deck like reviews of the leading competitors. I built a nice 1 1/2" thick butcher block top that covers the entire griddle top, with router made grooves to position itself firmly on top of griddles back and side walls. This made a nice outdoor kitchen/work table to use while not "flat topping". Also, added a paper towel holder, magnetic knife strips to hold griddle tools, and of course a bottle opener. One waterproof tote fits on bottom shelf to hold all my griddle tools, and added 2 side "magnetic tool shelves" to the side shelves which fit perfectly between legs to hold all my condiment bottles. The only thing I would like to request to Camp Chef is that they offer the gas valve orifices for sale individually so I can easily convert from natural gas back to LP if I want to take my griddle on the road, as you do have to drill original orifices out to allow the lower pressure natural gas to burn with similar BTU as the LP. Currently you have to purchase 4 complete gas valves and rob the little screw in orifices out of them to perform this. It costs about $50 for all 4 valves, to get about a dollars worth of components off of, which would then allow gas type conversion to take literally minutes to do.
Date published: 2017-04-11
Rated

5

out of

5
by
Deano
from
Excellent product
I was hesitant to buy this product. I'm not real mechanicly inclined. I was afraid I couldn't assemble it properly. It came in and I unboxed it. That night I read the instructions. The following morning I began the assembly. It took me by myself one and a half hours. Very simple process. Cooking on it is even easier. Now if I just had the money to buy the Woodwind pellet grill.
Date published: 2017-12-05
Rated

5

out of

5
by
georgio
from
Love it!
Overall, 90% happy I bought this flat top grill. The design of the drip tray could be better. I use aluminum foil in the drip tray to funnel the drippings into the tray, otherwise, grease drips onto my deck. One of the tray arms rusted off at the screw/bolt...I'll have to look for a replacement part. Other than that, it still looks new and works 100%, a year later!
Date published: 2018-05-08
Rated

5

out of

5
by
Patti
from
Great customer service
I bought this for my husband for a Valentine/birthday gift..there were some delivery issues beyond Camp Chefs control but they were right on top of it and got it resolved in record time! We have not had the opportunity to use it yet due to 3 nor' easters in the last couple weeks but I would definitely recommend Camp Chef.
Date published: 2018-03-14
Rated

5

out of

5
by
Grandpa Todd
from
Definitely a must have for the family!!
I got this grill from my granddaughter, The construction of the grill is great it is way sturdy , I cook the family dinners on this grill all the time and this camp chef has been truly one of the best grills I have seen in a long time , I recommend this to anyone. Definitely a must have for the family ..
Date published: 2016-01-22
Rated

3

out of

5
by
Chad
from
It's fine...however...
My fault for not realizing before I bought it..no lid! Works great for pancakes but it's difficult to grill larger items without a lid to allow the heat to circulate. Very disappointed. All I have at this point is a rather large, expensive pancake griddle. Makes decent burgers with a burger iron
Date published: 2018-02-28
Rated

2

out of

5
by
CD MD
from
Warped
Received the griddle today (062218) from Outdoor Cooking. Com. I really want to like it but the griddle top is so warped it can't be leveled and thus unusable. Contacted Camp Chef customer service today... Hope they will supply a replacement and soon as summer is here :(
Date published: 2018-06-23
Rated

3

out of

5
by
mst6ew
from
product issue
used first time 3-24-18. Has a pin hole leak in oil channel (opposite end of oil drain hole) and made mess on patio. Also the ignitors are not as good as I expected. Will see how their customer service handles this come 3-26-18. not pleased at this moment.
Date published: 2018-03-24
Rated

5

out of

5
by
onthehawk
from
Dual purpose dream
I love cooking on cast iron and I enjoy barbecuing. This grill gives me the option of doing both. The strong point for me is the expansive grill top that meets the cooking requirements for our small group church on Sunday mornings. Great way to start the week!
Date published: 2016-09-05
Rated

4

out of

5
by
Ferg
from
Great for large family gatherings.
We were able to cook 3 pounds of bacon at once then granddaughters cooked several griddles of pancakes. Used it to toast French bread and also fry hamburgers. It could be more portable. Only problem was the igniter. Make sure they light or big boom.
Date published: 2018-08-11
Rated

5

out of

5
by
Hank11
from
Great addition
So easy to assemble. Cooked fajitas on Cinco diMayo for 10. So much room for chicken, steak, and the veggies. The griddle is awesome. I wish it had a feature of half griddle and half grille. Getting ready to add the pizza oven and patio cart.
Date published: 2018-05-07
Rated

5

out of

5
by
Nico
from
Awesome
Wonderful flat top designed with high quality materials. There is nothing wrong with this product. It's so much more versatile than a regular grill BBQ. I enjoy cooking pancakes, bacon, veggies, eggs and meat too. I will never use a BBQ again!
Date published: 2018-09-03
Rated

5

out of

5
by
Sabedra
from
Great flap top!
I had been looking for a flat top that could convert to natural gas for a while now. All I needed was a conversion hose and a number 54 drill bit to drill out the gas orifices. My one regret is that I didn't buy the larger grill.
Date published: 2018-02-21
RELATED BLOG POSTS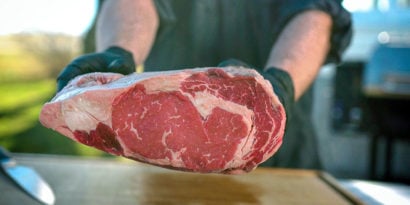 (23 Comments)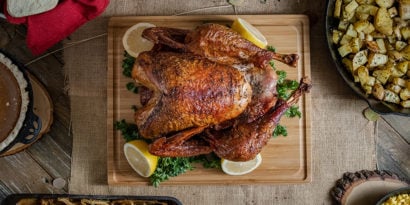 (34 Comments)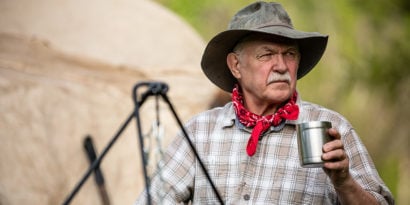 (14 Comments)