The Woodwind SG doesn't just make grilling easier—it also makes it more delicious. Use the new Slide & Grill Technology for an even more diverse grilling experience by direct flame broiling your food. Your Woodwind SG is fueled by premium hardwood pellets that generate heat and smoke—infusing your food with a savory wood fire taste that'll make your taste buds sing. The Woodwind houses our largest hopper capacity, meaning those long cooks can go even longer. With grill temperature settings from 160°F to 500°F and the included Sidekick, you can achieve perfect results, whether you're grilling, smoking, baking, roasting, braising, barbecuing, boiling, broiling, or even searing. And when you're finished cooking, cleanup is a breeze with our patented Ash Cleanout System.
Discover the new heavenly taste of the Woodwind SG. With an increased hopper size, Slide and Grill Technology, and 40% more cooking capacity you'll be living large all year long. Buy now to begin your journey to grill mastery.
As seen on Popular Science's 100 Greatest Innovations of 2018.
Features
Includes 2 meat probes
Includes removable 2-piece enameled steel lower rack
Includes removable 2-piece nickel plated upper rack
Slide and Grill Technology's Direct Flame grilling reaches 650°F
Pellet Hopper Cleanout/Purge
Slide and Grill Technology
Ash Cleanout System
Cord Management System
Grease Management System
Large capacity hopper
Electronic auto-start ignition
Dual LED temperature display: internal cooking temps and internal food temps
Simple temperature selection system
160º F up to 500º F temperature range for slow smoking to grilling
Automatic auger dispenses pellets as needed for improved smoker efficiency
Bottle opener
Clear hopper window
High temperature paint with matte finish
Sidekick
Compatible with most Camp Chef 14 in. accessories
Includes Professional Flat Top Griddle with ready to cook True Seasoned Surface (SG30)
Includes propane tank holder
Mounts to full-sized Camp Chef pellet grills, 2016 and newer
30,000 BTU cast-aluminum burner
Grease Management System
Matchless ignition
Fully adjustable heat-control knob
Wind Baffled Technology
Has the ability to bake, sear, boil, sauté, braise, grill, etc. (accessories sold separately)
Fits under patio cover
Specifications
Upper Rack Area: 382 sq. in.
Lower Rack Area: 429 sq. in.
Total Rack Surface Area: 811 sq. in.
Chamber Capacity: 4,850 cubic in.
Hopper Capacity: 22 lbs. of pellets
Overall Height: 42 in.
Overall Weight: 178.5 lbs.
Warranty: 3 years
Sidekick
Cooking Area Dimensions: 14 in. x 16.5 in.
Total Surface Area: 231 sq. in.
Total Output: 30,000 BTU cast-aluminum burner
Overall Height: 6 in.
Overall Weight: 30 lbs.
Griddle Weight: 18 lbs.
Sidekick Weight Capacity: 40 lbs.
Overall Unit Dimensions: 18 in. x 20.5 in. x 6 in.
Propane tank not included
Downloads

PG24SGWWS Instruction Manual
REVIEWS
Woodwind SG 24 Pellet Grill with Sidekick
is rated out of
5
by
49
.
Rated

5

out of

5
by
Michi123
from
Can cook anything!
I got the woodwind pellet grill about two months ago and I'm absolutely loving this product! I made a pork loin that was the most moist pork I've ever had. We've cooked steaks, chicken thighs, burgers and so much more! It's super easy to use and is fast too. It cooks evenly and doesn't burn the food! The best is you just plug it in and it's ready in a few mins to start cooking. It gives the food such a great flavor. So far I've only used the competition blend which gives it an amazing not overly smoked taste. We don't ever use the charcoal grill anymore. The clean up is easy too. I'm testing out a pork butt roast tonight!
Date published: 2018-11-05
Rated

5

out of

5
by
Rick Rocker
from
Simply the best pellet grill on the market!!
I made this purchase after trying ALL of the competition, and Camp Chef has no competition. This grill actually keeps the temperature in check which the other brands don't do. If you are new to pellet grills, there is a learning curve but once you grasp that concept there isn't anything you can't do with this grill. Baking, roasting, superior grilling and even light smoking are right at your fingertips with the Woodwind. Top quality as expected from Camp Chef, this product is a serious tool that takes all of your culinary skills to a higher level. Add the Grill Box and the Artisan Oven, you won't be able to find a better, more versatile outdoor cooking center on the market!!
Date published: 2018-10-07
Rated

5

out of

5
by
Shinny
from
A Great Smoker and Grill
My Woodwind SG with Sear Box arrived today. It's very well built and will last a long time. It was easy to assemble and only took about an hour. The tank holder is a very nice touch to hold the LP tank, instead of it sitting on the ground or the bottom shelf.The cover I ordered is also very nice and easy to put on the grill. It even covers the LP tank. I plan on ordering the front shelf soon and then the Patio Cart with Bamboo Cutting Board. Camp Chef is great stuff.
Date published: 2018-12-12
Rated

5

out of

5
by
Mikethegood
from
It works!!!
This is the fourth pellet grill I have owned and it is the best ever. Why because I have run at least a ton of pellets thourgh this grill and it just keeps working, not so for the other four. They are not broken they just didn't work consistently day in day out like thus grill does. (will sell cheap) I live in Minnesota so I built a fiberglass cover that has helped me use less pellets especially in the winter. The gas Sidekick is fun but I don't use it very much?? If it works for you as it has for me it is the best most reliable pellet grill setup todate.
Date published: 2019-08-18
Rated

5

out of

5
by
Leester
from
Best of the best pellet grills in 2018
I have had another brand of a pellet grill for seven, or more, years and I love it. I cook on it four or five times a week at my distillery and I have just about worn it out. I decided to replace it and I started looking at what was available today, new features, etc. In the process, I discovered the Camp Chef brand and their WoodWind grill with a sear box. This grill is everything my other pellet grill was and much more. First, I love the Low Smoke and the High Smoke settings. Low Smoke is around 160 degrees and High Smoke is around 225 degrees. I use these settings the most and both of them make a ton of smoke. Second, the sear box is a great feature. I have cut my pellet use in half. With my old pellet grill, I had to run the grill up to 500 degrees to do a good sear, but it used a ton of chips. The WoodWind's sear box goes over 935 degrees, the limit of my IR temperature reader. Third, the ash clean out system means that I don't have to open it all up and clean out the fire box several times a week. I just pull the lever and the fire box ashes fall into the cup underneath the grill. Now I only change the foil on the drip trey when it looks like it needs it, only once a month or so. And finally, I love the ability to change the pellets or just to empty them back into an air tight bag. Sometimes it is humid here in Dallas and the pellets can soak up too much moisture. I did remove that silly augur guard from the pellet hopper. What idiot attorney thought that was a good idea? Four screws and it was gone! But, all in all, the Grill God was correct. This grill is the real thing and I love it. My only complaint is that with the sear box on the right side, you lose the shelf that was there. I don't understand why the self doesn't attach to the sear box so that you get it back. Perhaps the sear box just gets too hot.
Date published: 2018-06-17
Rated

5

out of

5
by
Anonymous
from
Receipt, Assembly, and Burn-in
Assembled easily, although watching YouTube videos was more helpful than reading Camp Chef assembly instructions or watching the all-too-short Camp Chef video. The initial burn-in went well. When set at 350 degrees, the cycling up-and-down around that temperature was much less than expected. The average maximum temperature was around 365 degrees, while the average minimum temperature was around 340 degrees, with extremes of 368 and 329 degrees. The cycle times between highs and lows were short, so the heat was +/- 10 degrees of the target temp the vast majority of the time. When set at Hi Smoke/225 degrees, the Woodwind understandably had a bit more difficulty keeping the temperature close to that lower temp. Extremes were 262 degrees and 195 degrees, and the average temp was between 205 - 245 degrees, still great in my book.
Date published: 2019-07-09
Rated

5

out of

5
by
prestong
from
Best ribs I've ever had!
I just got my Woodwind about a month ago and have been using it for everything; from smoking to grilling! It's been so easy to use and the temperature gauge makes it really easy to cook everything to the perfect temperature! I've been able to consistently smoke the most amazing ribs on this grill and my friends can attest!
Date published: 2018-12-18
Rated

4

out of

5
by
Finski
from
Mostly happy
A few pieces came damaged. I would typically not knock a product because of, knowing it was probably done while shipping and ot of their control. Except they the damaged pieces were in an inner box without damage to the outside box, meaning the pieces were damaged before being shipped and the final product was never checked.
Date published: 2019-06-30
RELATED BLOG POSTS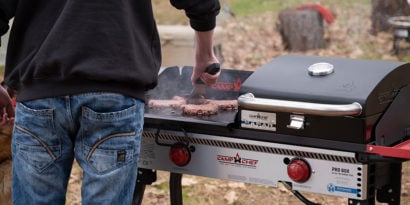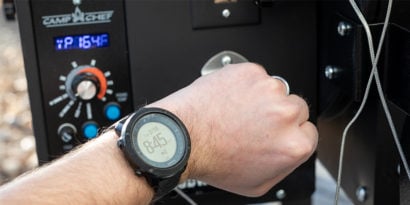 (2 Comments)