The Woodwind SG doesn't just make grilling easier—it also makes it more delicious. Use the new Slide & Grill Technology for an even more diverse grilling experience by direct flame broiling your food. Your Woodwind SG is fueled by premium hardwood pellets that generate heat and smoke—infusing your food with a savory wood fire taste that'll make your taste buds sing. The Woodwind houses our largest hopper capacity, meaning those long cooks can go even longer. With grill temperature settings from 160°F to 500°F and the included Sidekick, you can achieve perfect results, whether you're grilling, smoking, baking, roasting, braising, barbecuing, boiling, broiling, or even searing. And when you're finished cooking, cleanup is a breeze with our patented Ash Cleanout System.
Discover the new heavenly taste of the Woodwind SG. With an increased hopper size, Slide and Grill Technology, and 40% more cooking capacity you'll be living large all year long. Buy now to begin your journey to grill mastery.
As seen on Popular Science's 100 Greatest Innovations of 2018.
Features
Includes 2 meat probes
Includes removable 2-piece enameled steel lower rack
Includes removable 2-piece nickel plated upper rack
Slide and Grill Technology's Direct Flame grilling reaches 650°F
Pellet Hopper Cleanout/Purge
Slide and Grill Technology
Ash Cleanout System
Cord Management System
Grease Management System
Large capacity hopper
Electronic auto-start ignition
Dual LED temperature display: internal cooking temps and internal food temps
Simple temperature selection system
160º F up to 500º F temperature range for slow smoking to grilling
Automatic auger dispenses pellets as needed for improved smoker efficiency
Bottle opener
Clear hopper window
High temperature paint with matte finish
Sidekick
Compatible with most Camp Chef 14 in. accessories
Includes Professional Flat Top Griddle with ready to cook True Seasoned Surface (SG30)
Includes propane tank holder
Mounts to full-sized Camp Chef pellet grills, 2016 and newer
30,000 BTU cast-aluminum burner
Grease Management System
Matchless ignition
Fully adjustable heat-control knob
Wind Baffled Technology
Has the ability to bake, sear, boil, sauté, braise, grill, etc. (accessories sold separately)
Fits under patio cover
Specifications
Upper Rack Area: 382 sq. in.
Lower Rack Area: 429 sq. in.
Total Rack Surface Area: 811 sq. in.
Chamber Capacity: 4,850 cubic in.
Hopper Capacity: 22 lbs. of pellets
Overall Height: 42 in.
Overall Weight: 178.5 lbs.
Warranty: 3 years
Sidekick
Cooking Area Dimensions: 14 in. x 16.5 in.
Total Surface Area: 231 sq. in.
Total Output: 30,000 BTU cast-aluminum burner
Overall Height: 6 in.
Overall Weight: 30 lbs.
Griddle Weight: 18 lbs.
Sidekick Weight Capacity: 40 lbs.
Overall Unit Dimensions: 18 in. x 20.5 in. x 6 in.
Propane tank not included
Downloads

PG24SGWWS Instruction Manual
REVIEWS
Woodwind SG 24 Pellet Grill with Sidekick
is rated out of
5
by
49
.
Rated

5

out of

5
by
TBone
from
Loving this thing!
Ordered it on a Monday, received it that Friday. It took about 40 minutes to assemble, in less than 2 hours from receipt it was built and the burn in was complete. In the 2 weeks I've had it, I've done half chickens, ribs, vegetables, an assortment of bacon wrapped goodies and everything has turned out great. The level of temp control you have with this thing makes it hard to mess up and with the included temperature probes, I can really get "perfectly" done meats everytime! Planning to add the wifi PID controller soon.
Date published: 2020-02-25
Rated

4

out of

5
by
natergator88
from
Please please please GET WIFI
I want to recommend this to 100% of people, i do. But right now only recommend to about 6 out of 10 people. I've had a Traeger Grill for 7 years, sold about 50+ to friends. I knew Green Mountain was great, so i recommended it over TRAEGER because Green MTN is better than Traeger and has wifi. Literally preheat the grill from bed. Then toss in ribs and instead of babysitting them with the 3:2:1 method, come back 6 hours later and there done. The App remembers the settings and raises/lowers temp. I'll never buy Traeger ever agin. I love camp chef, But I'm split. One day it'll be by far the best if they simply add a little WIFI technology + App for smart phone. They will blow competition out of the water and be #1 by far. I have a facebook group of 35,000 members and I'd blast this feature to them all for free for Camp Chef if they ever came out with Wifi. But for now, I patiently wait.
Date published: 2019-10-19
Rated

5

out of

5
by
Physioguy94
from
Woodwind with Sidekick
Fantastic product! So pleased!!! I've owned a Traeger for 10 years and this puts it to shame. I'm getting higher temperatures and using less pellets! The ash clean out is awesome. The propane sidekick with its modular attachments (grill box, griddle, pizza oven) is fantastic option. I'm frustrated that the electric igniter isn't working on the sidekick but other then that I am more than impressed.
Date published: 2019-06-25
Rated

5

out of

5
by
Slugger
from
You don't know what you're missing!!!!
Grill is very easy to use. Instructions could be a little better, but that's not worth a star, and I could have been in a hurry to use it....I have smoked beef, chicken, pork so far, everything has been delicious. The pellet cleanout feature is nice if you want to experiment with different pellet "flavors". I am extremely pleased with my purchase, and my family is as well. Thank you!
Date published: 2019-08-06
Rated

5

out of

5
by
Ray C
from
Camp Chef Convert
I'll never hear the end of this, but this is the best grill ever. I have been building my own smokers for years, but how could I possible improve on this.
Date published: 2018-10-18
Rated

5

out of

5
by
Scott Borel
from
Camp chef WoodWin SG 24 Pellet Grill Side Kick
Great pellet grill, the SideKick griddle is very nice and looking for more foods to griddle. Planning on smoking a 13lb brisket this weekend.
Date published: 2019-05-08
Rated

4

out of

5
by
MarkC
from
Very happy with my SG 24
The grill is amazing! Did marinated shrimp, pork, and steak on the grill while cooking vegetables on the griddle. Everything came out juicy and the marinating and rub flavors were in every bite. The grill proved that equipment quality and consistency affects the outcome.
Date published: 2019-06-03
Rated

4

out of

5
by
DaveP in NC
from
Good start - need more personal experience with it
So far it works well, Only used it a few times, but I love the SideKick with the Grill box, as well. Only a few negatives so far - 1. MORE SMOKE. 2. Cover is too small for the Woodwind SG 24 with the sidekick and grill box.!! Otherwise it is very nice - controlls temps well, and our ribs were falling off the bone last night - close to perfect. But even using Hickory, they were not very smoke flavored. Now, being from the South, I am sed to meat cooked in a Hickory pit, so I my be a tad biased.
Date published: 2019-05-12
Rated

5

out of

5
by
Chuck B
from
So easy to use.
Had a Big Green Egg. It was great but wanted to get an easer grill to work with and this is it. So easy to use. After first time used its a snap. Just turn it on and away you go. Would buy again.
Date published: 2019-06-16
Rated

5

out of

5
by
teeitlong
from
A beginners journey with pro results.....
Amazingly simple and very effective at doing what it is designed to do. In my first week of owning my Wood Wind I have cooked BBQ ribs, BBQ Chicken, Beef Tenderloin Steaks, Prime Rib Roast. Each item has came out perfect. The reviews from my friends hanging out for free food and adult beverages has had the exact same review. The food is perfect. In fact one of my friends immediately ordered a Wood Wind SG 24 for himself. That's just the food portion - my grill must have been dropped by FedEx but Camp Chef upped their game and gave me my choice of some credit from my purchase or some free accessories. ( the damage was cosmetic and does not harm the function of the grill itself ) - Boom! A pizza oven was shipped immediately.... A note to those confused with the sidekick vs searbox.... Sidekick is really versatile and it sears probably just as well... Go with the sidekick and enjoy a few accessories! I believe they have a customer for life. PS. I didn't know it at the time, but they also give a military discount ( which is generous in and of itself ) Maybe I will use it the next time ( if they still have it )
Date published: 2019-06-06
Rated

5

out of

5
by
Candy47
from
Best Smoker, worth every penny!!
Love this smoker, all I have to do is season or marinade the meat turn on the smoker and put in the thermometer. EASY PEASY!! Since we started using this smoker we no longer go out for BBQ and Steak. The sear box is a must to make your steaks melt in your mouth. Over the past year we have mastered the brisket, pulled pork and steaks. Smoked chicken is next, cant wait!
Date published: 2020-02-10
Rated

4

out of

5
by
Anonymous
from
Just smokin
For the cost it should of came with cast iron grates
Date published: 2019-07-06
Rated

5

out of

5
by
Ray H
from
Woodwind 24 and Accessories
I absolutely love it ! I purchased the Woodwind 24 with the side kick and all the options Griddle, Pizza Oven, The Grill Box, rib rack, turkey cannon, covers and carriers, We have smoked a Turkey, many chicken breast, Briskets, made Canadian Bacon, Buckboard Bacon, & Pastrami, everything turned out moist and perfect
Date published: 2019-12-03
Rated

4

out of

5
by
NorthCoastChick
from
Excited to see what it can do
Bought to replace a weak cheap charcoal grill, instructions were ...lacking... (thanks YouTube) so one star off for that. Overall a nice grill. We've grilled, we've smoked, we've experienced the magic of clean up (stock up on stiff bristle brushes), and so far enjoy our pellet grill.
Date published: 2019-09-04
Rated

5

out of

5
by
Bongo
from
Smoked Picanha
So far I have only used it once, smoked a Picanha on high smoke, took it to 105 internal and then seared it to 120 internal then let it rest for 30 minutes, it was perfection. I love my new Woodwind and I love Grill God.
Date published: 2019-11-06
Rated

5

out of

5
by
Lucho
from
versatility and efficiency
It is versatile, I do not have to dirty my hands handling the carbon, it is easy to use and very economical, the Sidekick is an additional that allows me to cook other accompaniments, I highly recommend it.
Date published: 2019-04-27
Rated

5

out of

5
by
dgeithw
from
Great help
Fantastic smoker so many ways to fix and cook good food. Needed help a couple of time. A nice young lady was very pleasant and helped me get going fast.
Date published: 2020-03-15
Rated

5

out of

5
by
BillyM
from
Love the grill! It's better built than most out there. Only thing that I wish it had was cast grates.
Date published: 2019-07-24
Rated

5

out of

5
by
Shadowman
from
Love my Woodwind
Love it!. Shopped around for a long time. A friend of mine recommended Camp Chef or the competition.
Date published: 2019-05-23
Rated

5

out of

5
by
DAJ II
from
Woodwind 24 Pellet Grill with Sidekick
This grill makes cooking and smoking meats a breeze. Works incredibly well!
Date published: 2019-12-16
Rated

5

out of

5
by
James G
from
Great Grill
Awesome little grill....have really enjoyed it.....
Date published: 2019-07-02
RELATED BLOG POSTS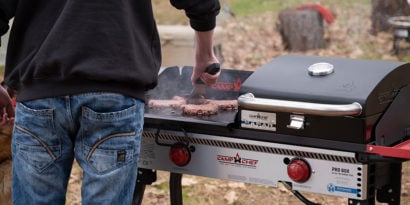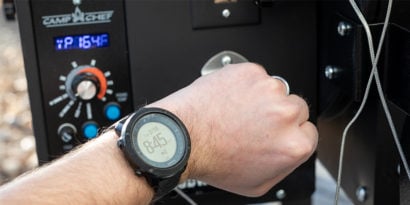 (2 Comments)