Easy Ash Cleanout System
In life, there are things you do because you want to do them and other things you do only because you must. Pellet smoking would land in the first category: it's fun, easy, and delicious. Who doesn't love smoked brisket, plank salmon, and barbecue chicken? The problem is that you have to take the time to maintain your stuff to get the best results. Pellet grills are no different and cleaning them outfalls into the second category: a necessary chore. Over time, ash, soot, and grease build up in the bottom of your grill. With too much build-up, the burn cup may struggle to light, or ash can blow around onto your food. But the only way to clean your grill is to remove all the sticky, grease-caked racks and trays, drag your wet/dry vac onto the patio, and suck up all the gunk.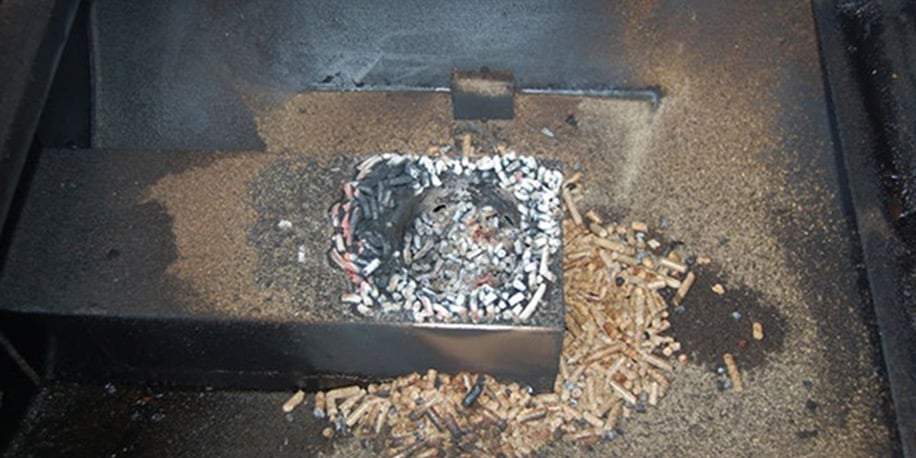 Unless…
Unless you could do all that with the pull of a lever. Literally. Forget the sticky trays and the heavy-duty vacuum. All you need is a small cup and a simple lever. The lever releases the contents of the burn cup (i.e. the ash and extra pellets) into the ash cup below. You can dump it out and be ready for the next cookout in seconds. This is kind of a big deal.
So if you'd rather spend your time eating than cleaning, if you'd rather hold a brisket burger than a sticky grease tray, or if you'd rather drag your chair out to the patio than a vacuum, then the Ash Cleanout system is for you. Check out the only pellet grills in the industry with this system now. It's a big ash deal.