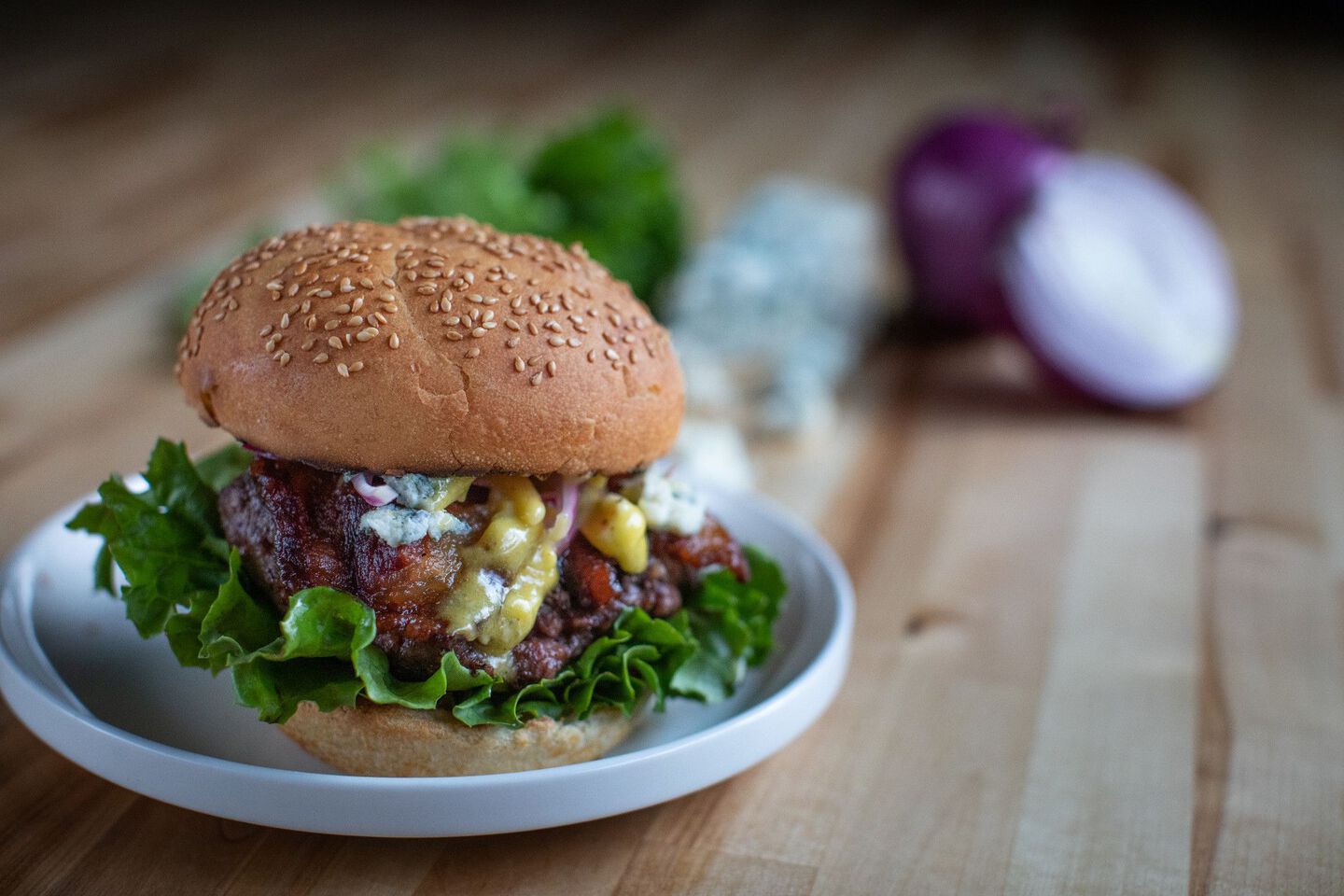 Ingredients
Aioli
2 egg yolks
1-2 garlic cloves, minced
1 Tablespoon lemon juice
Pinch of cayenne
1/2 cup grape see oil or vegetable oil
1/2 cup olive oil
Kosher salt
pickled red onions
1 large red onion, thinly sliced
1 1/2 cups of honey wine vinegar or apple cider vinegar
1 1/2 Tablespoons Kosher salt
1 1/2 Tablespoon sugar
All Ingredients
2 pounds Wagyu ground beef, formed into 1/2 pound round balls (can use 80/20 ground beef)
4 brioche buns or your favorite bun
6-8 slices Wagyu beef bacon or pork bacon, cooked
Crumbled bleu cheese
1 large red onion, thinly sliced
1 1/2 cups of honey wine vinegar or apple cider vinegar
1 1/2 Tablespoons Kosher salt
1 1/2 Tablespoon sugar
Green leaf lettuce
2 egg yolks
1-2 garlic cloves, minced
1 Tablespoon lemon juice
Pinch of cayenne
1/2 cup grape see oil or vegetable oil
1/2 cup olive oil
Kosher salt
Instructions
wagyu smash burger
Step 1
Preheat flat top grill of griddle to medium-high heat.
Step 2
Loosely form burgers into round balls. Place round balls on griddle and press down with spatula, forming a loose patty. Salt and pepper liberally.
Step 3
Use your griddle to create a tasty crust. Grill patties until internal temperature reaches 125 °F for rare, 135 °F for medium rare, 145 °F for medium and 160 °F for well done. Flip patties halfway through cook time.
Step 4
Place green leaf lettuce on bun then patty, bacon, pickled red onion, aioli and bleu cheese crumbles.
pickled red onions
step 1
In a glass bowl or mason jar, combine vinegar, sugar, salt and sugar. Mix well. Add onions and set at room temperature for 45 to 1 hour and serve. Can be refrigerated for several days.
Aioli
step 1
Place egg yolks, garlic, lemon juice, cayenne in a bowl and mix with a whisk or fork. Mix oils together and very slowly, add the oil while mixing/emulsifying into mayonnaise consistency. Let set for 30 minutes to let flavors meld and salt to taste. Serve immediately or refrigerate for up to 2 days.