Ingredients
Jerk Marinade
2 tablespoons Jamaican Jerk Seasoning
8 green onions, root trimmed off
8 garlic cloves
2 limes, juiced
½ batch cilantro
1 inch piece fresh ginger, peeled and rough chopped
1 tablespoon salt
1 tablespoon fresh thyme
1 tablespoon ground fresh allspice
1 jalapeño, or scotch bonnet or habanero
3 tablespoons sugar
2 tablespoons honey
1 tablespoon molasses
¼ cup soy sauce
1 cup vegetable oil
½ cup water
Honey Ginger Glaze
1 inch chunk of ginger, peeled and rough chopped
10 garlic cloves, peeled
¼ cup orange juice
1 teaspoon salt
½ cup honey
½ cup soy sauce
All Ingredients
1 full recipe of jerk chicken marinade
Honey ginger glaze
1 whole chicken
2 red bell peppers, split in half
2 jalapeños
2 onions, halved
2-3 habanero peppers
10 garlic cloves
2 cups of water
2-3 cups of pineapple juice
Instructions
Prepping
Step 1
Remove the chicken from its bag and pat it dry, be sure to remove any gizzards.
Step 2
Truss up the legs to keep them in position easier, and fold the wings under the back, also tying them together.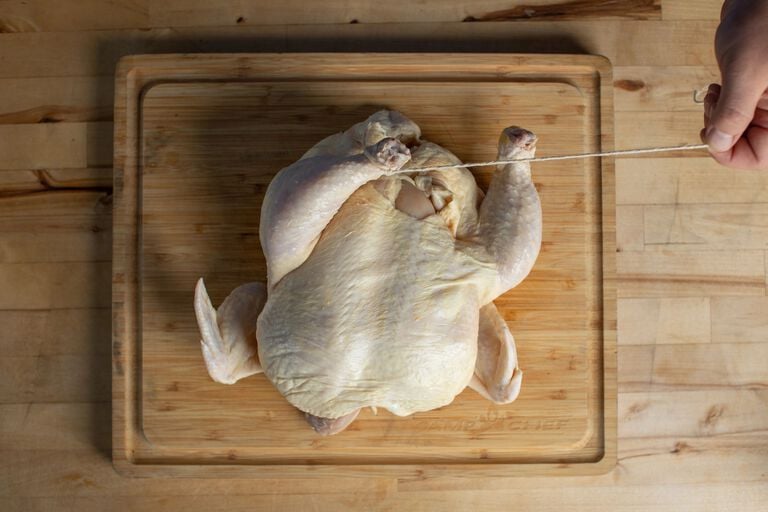 Step 3
Place the chicken in a large zip lock bag and pour in the jerk marinade, seal the bag in a way where you can squeeze the excess air out of the bag ensuring all of the chicken is filled and coated with marinade no matter how it rests.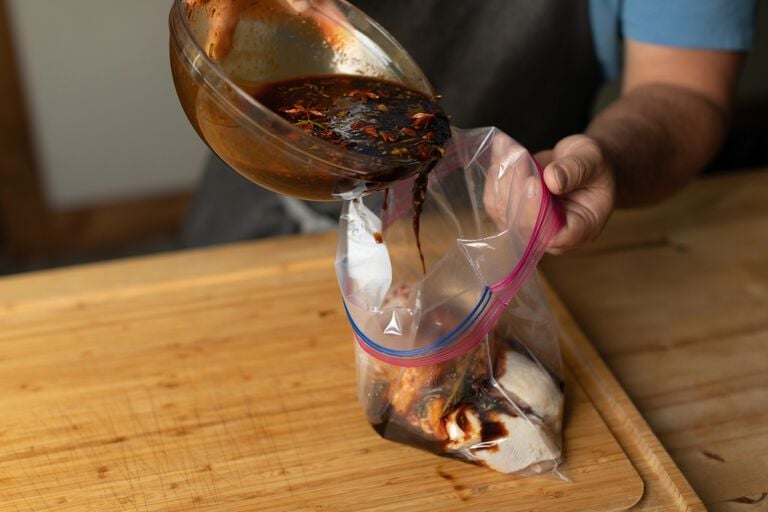 Step 4
Allow it to sit overnight, bathing in the marinade.
Cooking
Step 1
The next day, preheat your smoker to 350ºF and smoke 9.
Step 2
In a large cast iron, place the bell peppers, whole jalapeños, whole habaneros, garlic, and onions.
Step 3
Set the whole chicken, breast up, on top of the vegetables and place the pan into the smoker.
Step 4
Add the water and top off with pineapple juice until about ½-¼ inch below the lip of the pan.
Step 5
Cook at 350ºF for about 1.5 hours basting the chicken with the Honey Ginger Glaze every 10-15 minutes.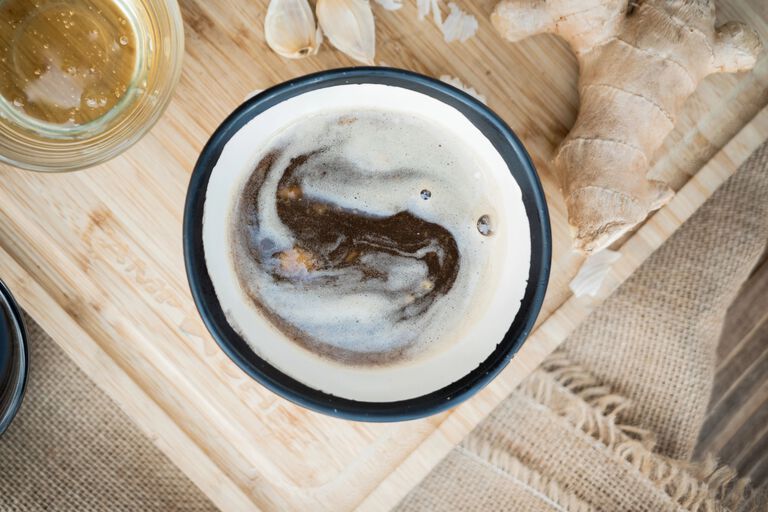 Step 6
When the chicken reaches 165ºF internally remove it and allow it to rest (still in the pan) for 15-20 minutes before carving.