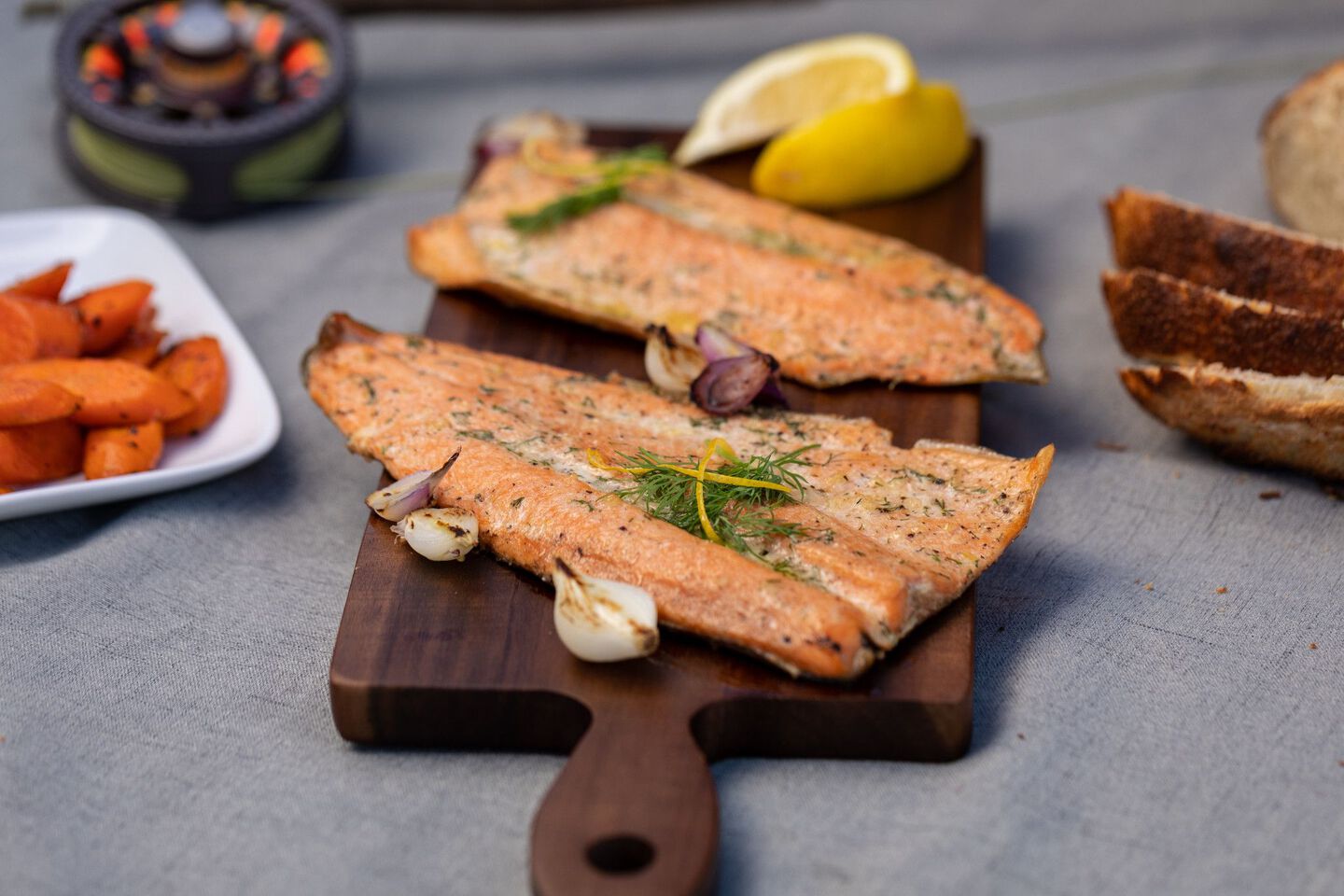 Ingredients
Compound Butter
1/2 cup unsalted butter, softened
1/2 cup olive oil
3 cloves of garlic, minced
2 Tablespoons fresh dill, divided (1 Tablespoon chopped, 1 Tablespoon whole for garnish)
1 teaspoon black pepper
1 teaspoon coarse Kosher salt
1 lemon, (Use 1/2 of lemon for juice and zest and the other 1/2 for garnish)
All Ingredients
6 trout fillets, skin on
1/2 cup unsalted butter, softened
1/2 cup olive oil
3 cloves of garlic, minced
2 Tablespoons fresh dill, divided (1 Tablespoon chopped, 1 Tablespoon whole for garnish)
1 teaspoon black pepper
1 teaspoon coarse Kosher salt
1 lemon, (Use 1/2 of lemon for juice and zest and the other 1/2 for garnish)
Instructions
Grilled Trout
step 1
Mix all ingredients for compound butter.
Step 2
Preheat pellet grill on low smoke.
step 3
Completely smother meat side of trout with compound butter. Place trout skin side down in grill, smoke until internal temperature reaches 105 °F.
Step 4
Turn grill up to high (400 °F). Leave trout skin side down, do not turn over. Finish grilling trout until internal temperature reaches 140 °F. It will raise to safe temperature of 145 °F while resting.
Step 5
Serve immediately with fresh dill and a lemon wedge.
Recipes you might be interested in