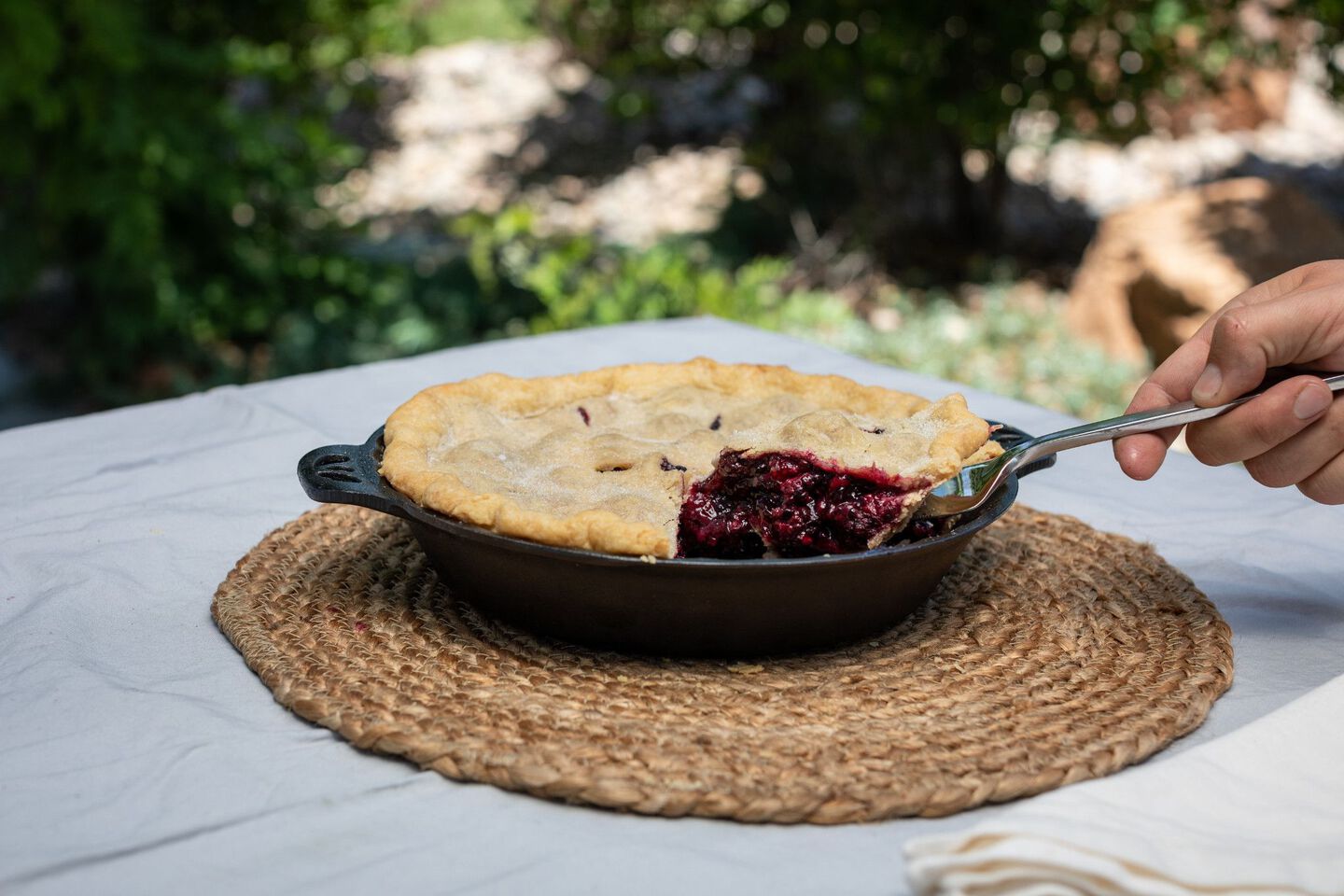 Ingredients
All Ingredients
Pie dough for top and bottom crust
5-6 cups Marionberries, rinsed and patted dry (If you use frozen, defrost and drain them)
1/2 to 3/4 cups sugar (depending on how sweet your berries are)
1 teaspoon lemon juice
1 teaspoon lemon zest
1/2 teaspoon ground cinnamon
1/4 teaspoon almond extract
3 to 4 Tablespoons quick cooking instant tapioca, flour or cornstarch (use 3 Tablespoons if making the pie with wild picked berries, 4 Tablespoons if making pie with store bought very ripe berries)
Instructions
Marionberry Pie
Step 1
Place berries, sugar, lemon zest, lemon juice, cinnamon, almond extract, and quick cooking instant tapioca in a large bowl. Gently fold the berries until they are well coated with sugar. Let sit for 30 minutes.
Step 2
Preheat pellet grill or pizza oven to 400 °F.
step 3
Roll out one of the balls of pie dough, between two pieces of plastic wrap to 12 inch diameter to fit into a 9-inch cast iron pie pan. Line the bottom of your pie pan with the dough. Roll out the second ball of pie dough for the top crust.
step 4
Spoon the berry mixture into the dough lined pie pan. Place the second rolled out pie dough crust on top of the berries. Fold the top edge under the bottom crust and use your fingers to crimp and seal the edges. Score the top with a sharp knife to create air vents for the steam to escape.
step 5
Place the pie on the lowest rack of the jerky racks, so it is just above the bottom rack of the pellet grill. If using the SG model pellet grill, place pie on top shelf. If using the pizza oven, you may want to use a cookie sheet turned upside down so the pie is off of the hot stone a bit.
step 6
Bake the pie in two stages. First bake the pie at 400 °F. for 30 minutes. Then place a sheet of aluminum foil over the edges to keep it from getting too brown. Reduce the heat to 350 °F and bake for an additional 30 minutes until crust has browned and filling is bubbly.