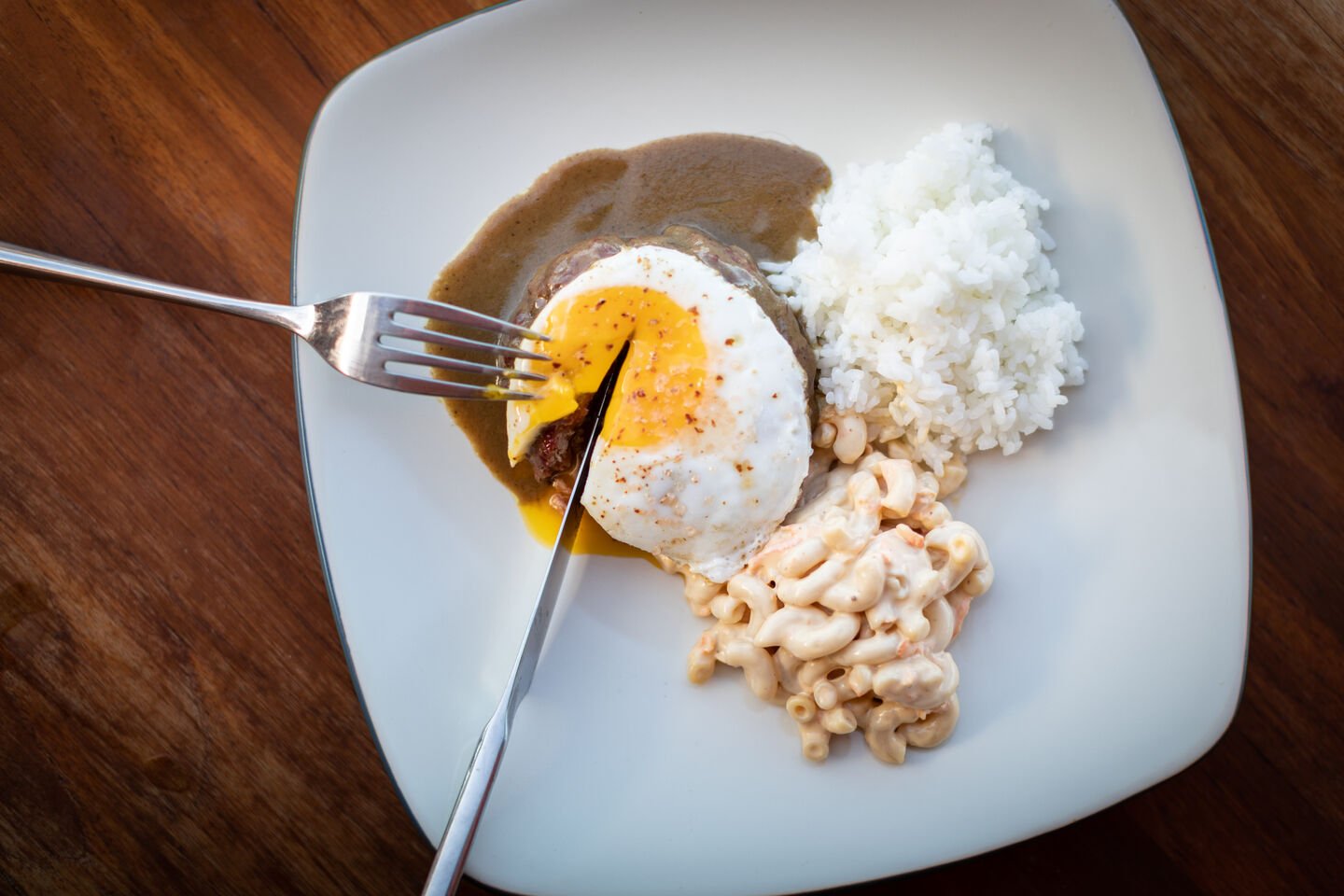 Ingredients
Burgers
1.5 pounds Axis Deer Shoulder, cut into 2-inch cubes
½ pound Bacon, cut into 2-inch pieces
Hawaiian Pink Salt
Black Pepper, ground
Gravy
½ pound Axis Deer trimmings
1 onion, large diced
2-inch piece of ginger, sliced thick
6 cloves of garlic
1 teaspoon curry powder
½ cup soy sauce
¼ cup butter
2 tablespoons all-purpose flour
1 quart beef or venison broth
Hawaiian Pink Salt
Black Pepper
All ingredients
1.5 pounds Axis Deer Shoulder, cut into 2-inch cubes
½ pound Bacon, cut into 2-inch pieces
Hawaiian Pink Salt
Black Pepper, ground
½ pound Axis Deer trimmings
1 onion, large diced
2-inch piece of ginger, sliced thick
6 cloves of garlic
1 teaspoon curry powder
½ cup soy sauce
¼ cup butter
2 tablespoons all-purpose flour
1 quart beef or venison broth
Hawaiian Pink Salt
Black Pepper
Instructions
The deer meat Burgers
Step 1
Pre-heat your pellet grill to medium high heat, low smoke.
Step 2
Chill meats, and attachments for grinder, for at least 2 hours prior to grinding. Set up your grinder with the medium coarse plate. Place a bowl under the grinder to catch the meat as it comes out. It's always a good idea to either chill this bowl in advance or place it over another bowl containing ice in order to keep your meat cold.
Step 3
Run both the venison shoulder and bacon through the grinder at the same time. Once the meat has finished grinding add a large pinch of salt and pepper and mix the meat together lightly.
Step 4
Shape the ground meat into 4 large patties, or 8 smaller patties. (Place in the refrigerator until ready to grill.)
Step 5
Grill patties until medium in doneness. Remove from the grill and keep warm until ready to serve.
The Gravy
Step 1
Melt butter in a 2 quarts saucepan over high heat on your Sidekick.
Step 2
Once the butter is brown add in the venison trimmings and stir to coat well in the butter.
Step 3
Allow the meat to brown well in the pan without stirring. Once the meat is a deep brown color add in the onion, ginger, and garlic and allow to caramelize slightly.
Step 4
Sprinkle in the curry powder and allow it to become aromatic before adding the flour and stirring to coat.
Step 5
Allow the mixture to cook for approximately 1 minute before deglazing the pan with the broth and soy sauce.
Step 6
Bring the sauce up to a boil and then reduce to a light simmer, stirring occasionally.
Step 7
Allow the sauce to simmer for 20 minutes before removing from the heat.
Step 8
Strain the sauce through a fine mesh sieve and adjust the seasoning with salt and pepper. The sauce should have the consistency of a light gravy. Keep warm until ready to serve.
Step 9
To serve, serve each person 1 large, or 2 small, burger patties topped with fried eggs and gravy. Serve alongside steamed white rice and macaroni salad for an authentic Hawaiian Plate Lunch.