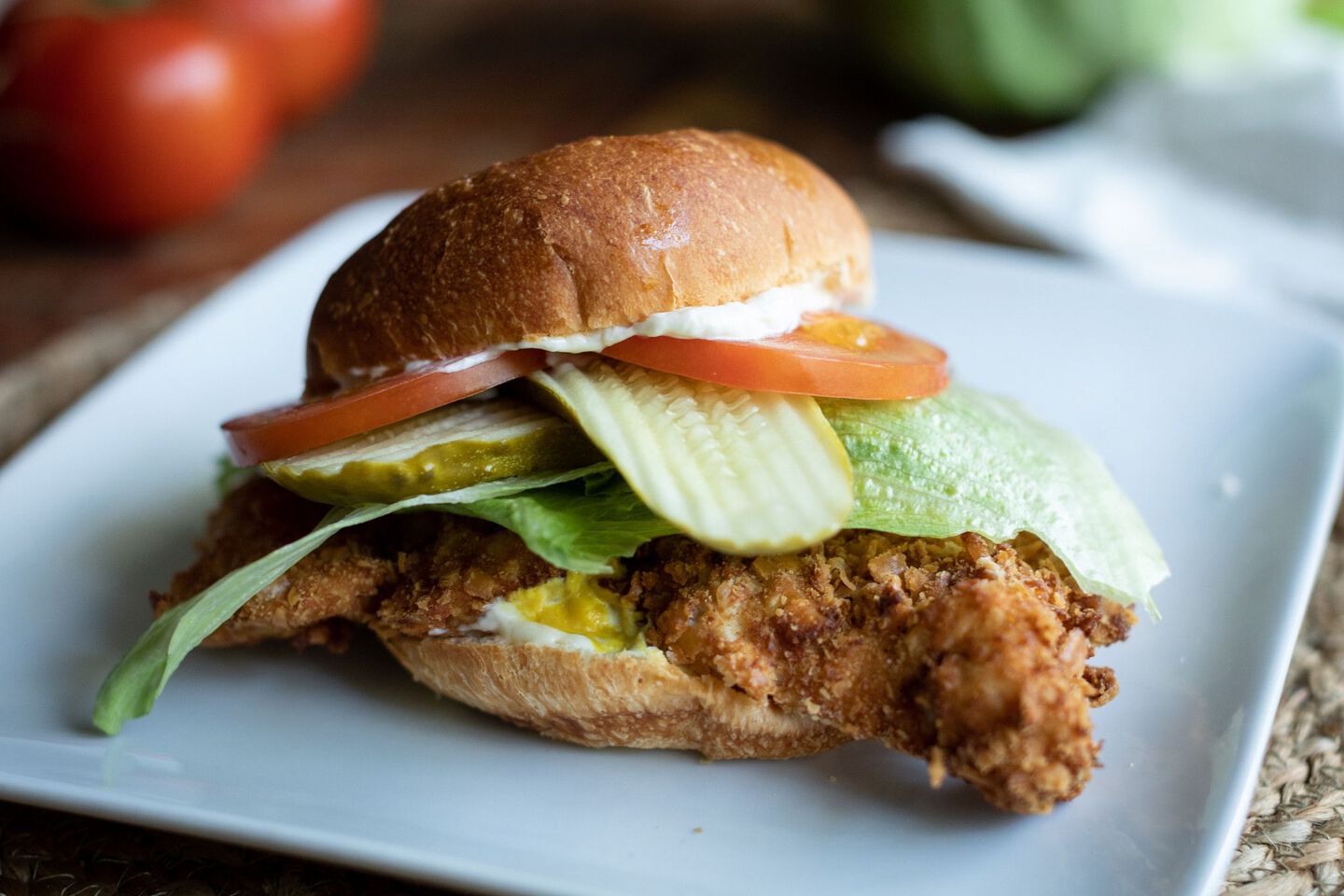 Ingredients
All Ingredients
2 lbs center cut boneless pork loin
2 large eggs
2 cups buttermilk
2 garlic cloves, crushed
1/4 teaspoon cayenne pepper
2 sleeves saltines
2 cups all purpose flour
Salt and pepper to taste
Peanut oil for frying
4 hamburger buns
1/2 cup mayonnaise
4 Tablespoons yellow mustard
Iceburg lettuce
Tomatoes, sliced
Dill pickles
Instructions
Tenderloin Sandwich
Step 1
Cut the pork crosswise into 4 equal pieces. Put each piece flat on a cutting board and slice horizontally almost in half, stop about 1 inch from the other side. Open like a book. Place between 2 pieces of heavy duty plastic wrap and pound to 1/4 inch thick with a mallet or heavy skillet.
Step 2
Whisk the eggs, buttermilk, garlic, 1 teaspoon each of salt and black pepper and the cayenne in a shallow bowl. Add the pork, cover and refrigerate 1-4 hours.
step 3
Pulse the crackers into coarse crumbs in a food processor, than transfer to a shallow dish. Put the flour in another dish. Remove each piece of pork from the marinade, letting the excess drip off. Dredge both sides in the flour, dip in the buttermilk marinade again, then coat with the cracker crumbs.
step 4
Heat 1/2 inch deep peanut oil in a large cast iron skillet or fry pot over medium high heat until oil reaches 350 °F. Fry the pork in batches until golden and cooked through. Drain on paper towels.
step 5
Spread bottom halves of each bun with mayonnaise and mustard. Add a piece of pork then layer with lettuce, tomatoes and pickles. Cover with bun tops.