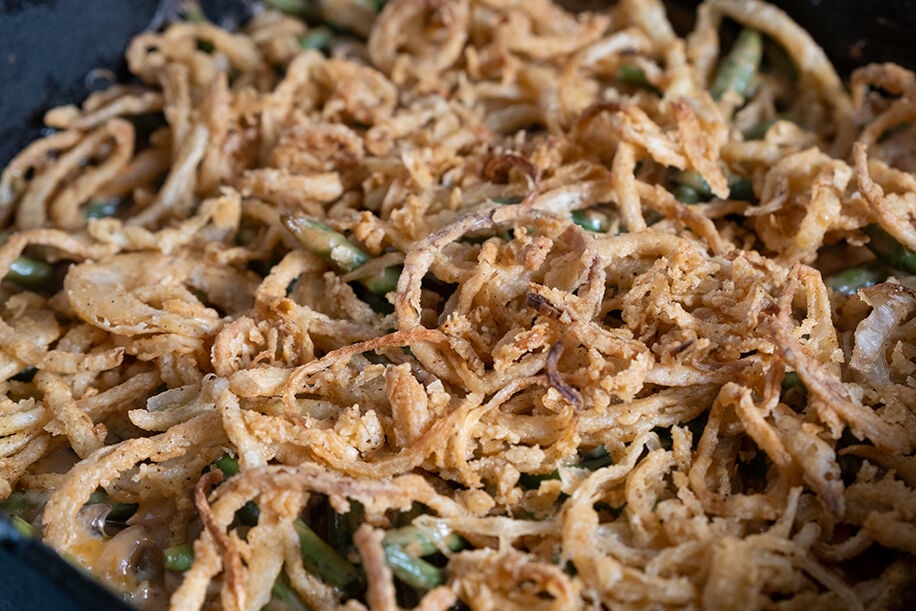 Instructions
THE GREEN BEANS
STEP 1
Bring a gallon of water and 1 Tablespoon of salt to a boil in a large saucepan. Add the beans and blanch for 5 minutes. Drain and immediately place into a large bowl filled with ice water to stop the cooking process. Drain again and set aside.
THE FRIED ONIONS
STEP 1
Heat oil in a dutch oven or cast iron fry set to 350 degrees F.
STEP 2
Mix the flour and creole seasoning together in a shallow bowl.
STEP 3
Add the onions to the buttermilk and let stand 10 minutes. Drain and then dredge onions in the flour mixture.
STEP 4
Fry onions in small batches, until golden brown and crisp. Drain on paper towel lined plate. Set aside.
STEP 5
Preheat pellet grill to 350 degrees F.
THE MUSHROOM SAUCE
STEP 1
Add 2 Tablespoons of butter to the skillet. Add onions, mushrooms and garlic. Stir to incorporate. Cook until onions are transparent and mushrooms are softened. About 10 minutes. Remove mixture from skillet and set aside.
STEP 2
Add 4 Tablespoons of butter to skillet. When the butter has melted, add flour over the butter and whisk together. Draw as much butter and juices of the vegetables as you can into the flour. Cook until mixture is slightly browned.
Step 3
Add soy sauce, Frank's Red Hot Sauce, Worchestershire sauce, salt and pepper. Whisk and cook for about 1 minute. Then slowly add the heavy cream while you whisk and scrape the bottom of the pan (If sauce gets to thick, you can add a little milk or more cream). Once the mixture is smoothed out, add onions and mushrooms back to the mixture. Cook until thickened, about 10 minutes. Then stir in sour cream, parsley and thyme. Add 1/2 cup cheddar cheese and 1/2 cup pepperjack cheese. Stir until cheese has melted.
STEP 4
In a square Dutch oven or casserole dish, add green beans and top with mushroom sauce. Stir, combining the beans and the sauce. Top with fried onions.
STEP 5
Bake in pellet grill for 30-40 minutes until beans are tender and sauce is bubbling.