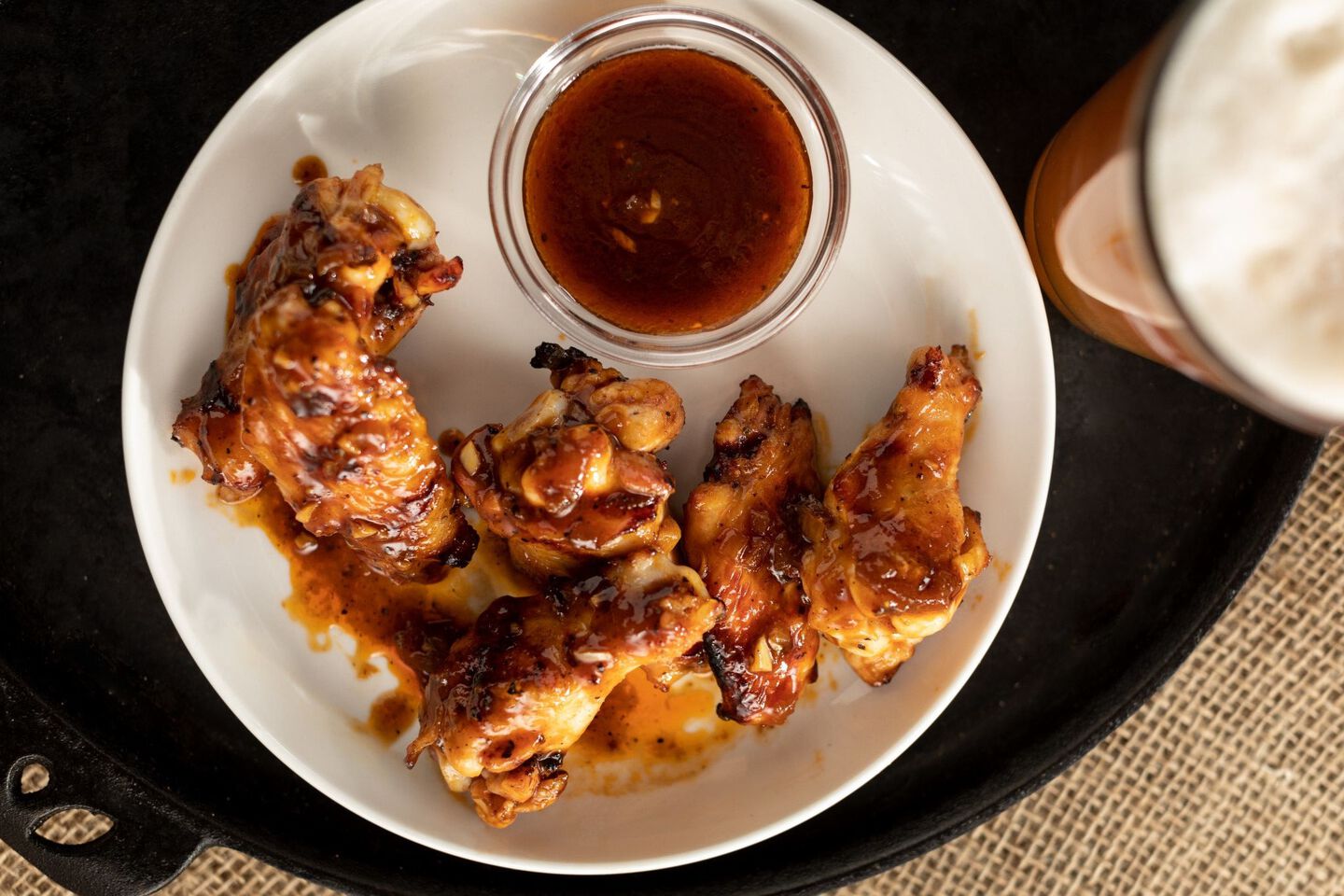 Ingredients
Dark Buffalo Sauce
1/2 cup of dark lager beer
1/3 cup hot sauce
1 Tablespoon shallot minced or grated
1 Tablespoon oil
2 teaspoons Worcestershire sauce
2 teaspoons brown sugar
1 teaspoon garlic, minced
1/2 teaspoon Kosher salt
1/4 teaspoon pepper
1 Tablespoon butter
Wings
1-4 pounds of chicken wings
12 ounce can of your favorite beer
1 Tablespoon Kosher salt
2 Tablespoon brown sugar
2 bay leaves
2 teaspoons black pepper
All Ingredients
1-4 pounds of chicken wings
12 ounce can of your favorite beer
1 Tablespoon Kosher salt
2 Tablespoon brown sugar
2 bay leaves
2 teaspoons black pepper
1/2 cup of dark lager beer
1/3 cup hot sauce
1 Tablespoon shallot minced or grated
1 Tablespoon oil
2 teaspoons Worcestershire sauce
2 teaspoons brown sugar
1 teaspoon garlic, minced
1/2 teaspoon Kosher salt
1/4 teaspoon pepper
1 Tablespoon butter
Instructions
Dark Buffalo Baked Wings
Step 1
Preheat pellet grill to 325 °F.
Step 2
Lightly coat wings in oil and place on baking sheet or jerky racks. Cook fo 25 minutes and then turn pellet grill up to 425 °F and cook an additional 20-25 minutes until crisp and internal temperature has reached 165 °F.
step 3
Remove from pellet grill and let cool for about 3-5 minutes and toss with sauce.
The Sauce
Step 1
In a small saucepan, heat oil on medium/high heat. Add the shallots, salt and pepper. Stirring, gently cook for 3 minutes.
step 2
Add garlic and Worcestershire and cook for 2 minutes. Add 1/4 cup dark beer, bring to a simmer and reduce heat. Let sauce reduce by half, stirring occasionally.
step 3
Once reduced, add brown sugar and hot sauce. Stir to incorporate and add remaining 1/4 cup of dark beer. Bring to a simmer, stirring occasionally, cook for 2 minutes.
step 4
Remove from heat, stir in butter. Taste for seasoning and add Kosher salt if needed.