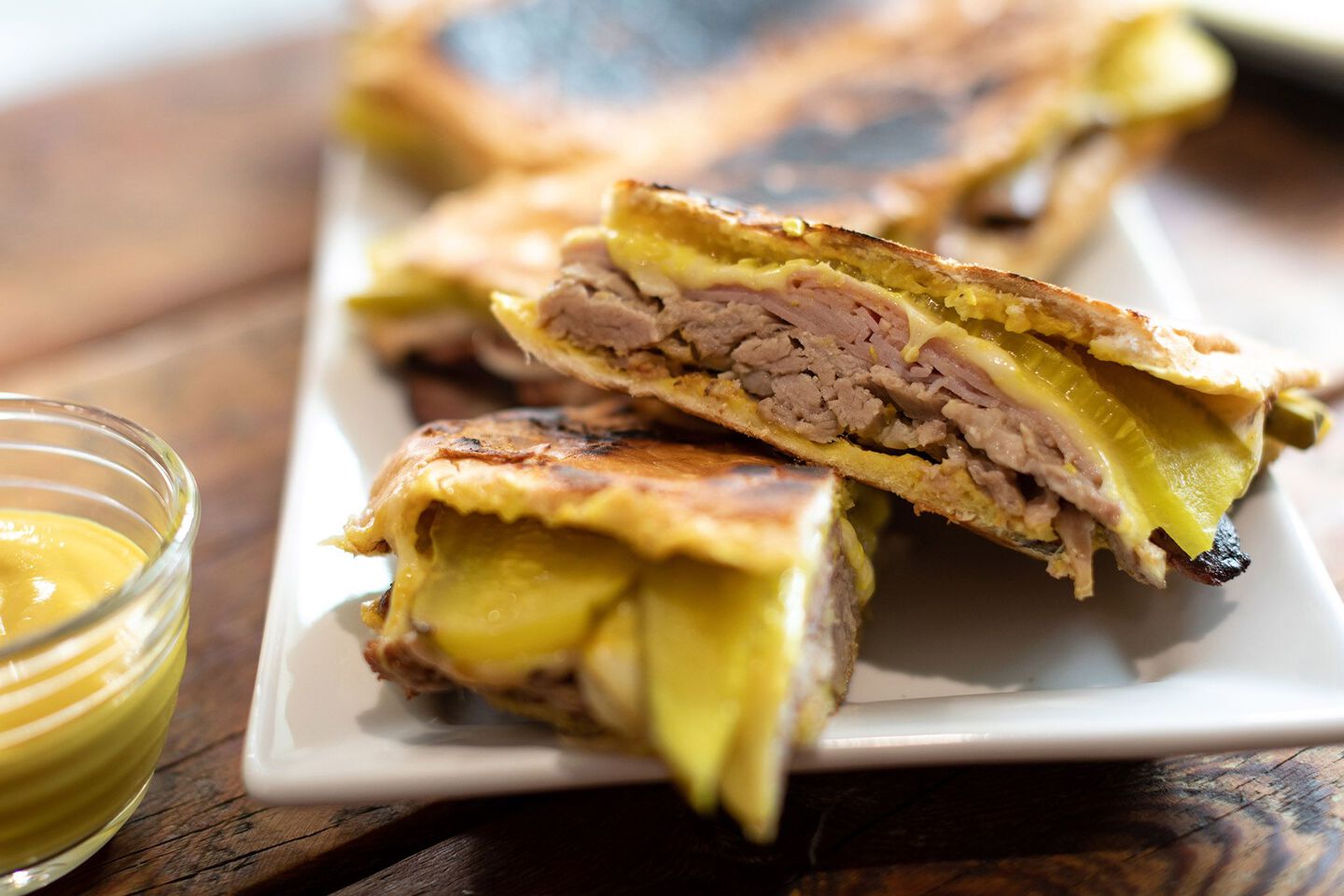 Ingredients
Roasted Pork
6-8 lbs boneless pork shoulder
4 cups orange juice
2 2/3 cups lime juice
1 Tablespoon cumin
2 Tablespoons oregano
2 heads of garlic, roughly chopped
3 Tablespoons salt
1 Tablespoon black pepper
2 onions, cut into rings
Cuban Sandwich
1 1/2 lbs roasted pork, sliced (See ingredients and recipe below)
1 1/2 lbs deli ham, sliced
1 lb Swiss cheese, sliced
3 Tablespoons yellow mustard or more to taste
Dill pickles, sliced lengthwise
1/2 stick unsalted butter, softened
6-8 Cuban rolls, sliced lengthwise (or similar hoagie style bread)
All Ingredients
1 1/2 lbs roasted pork, sliced (See ingredients and recipe below)
1 1/2 lbs deli ham, sliced
1 lb Swiss cheese, sliced
3 Tablespoons yellow mustard or more to taste
Dill pickles, sliced lengthwise
1/2 stick unsalted butter, softened
6-8 Cuban rolls, sliced lengthwise (or similar hoagie style bread)
6-8 lbs boneless pork shoulder
4 cups orange juice
2 2/3 cups lime juice
1 Tablespoon cumin
2 Tablespoons oregano
2 heads of garlic, roughly chopped
3 Tablespoons salt
1 Tablespoon black pepper
2 onions, cut into rings
Instructions
Roasted Pork
Step 1
Mix all the ingredients except pork shoulder into a bowl. Season the pork butt with salt and pepper and cover with marinade. Cover and refrigerate for at least 1 hour and up to 24 hours.
Step 2
Remove pork from marinade and place in high sided casserole dish or pan. Strain the marinade and add the liquid to the pork. (Optional: This will keep the pork moist while it smokes).
step 3
Smoke at high smoke for 12 hours or until internal temperature reaches 205 °F.
step 4
Remove pork and let rest. Pull pork.
step 5
Place sandwiches in the pellet grill until the sauce is bubbling. About 3-5 minutes.
Monray Sauce
Step 1
Spread mustard on both sides of the roll. Add the roasted pork, then add ham, cheese and pickle. Top with top bun and wrap in foil. Place wrapped sandwiches on grill set to medium heat while pressing the sandwiches with something heavy like a cast iron skillet. Grill until cheese is melted. About 6 minutes.
step 2
Remove foil and butter both sides of the sandwich. Return to grill and brown each side to desired doneness. Remove from grill and enjoy!