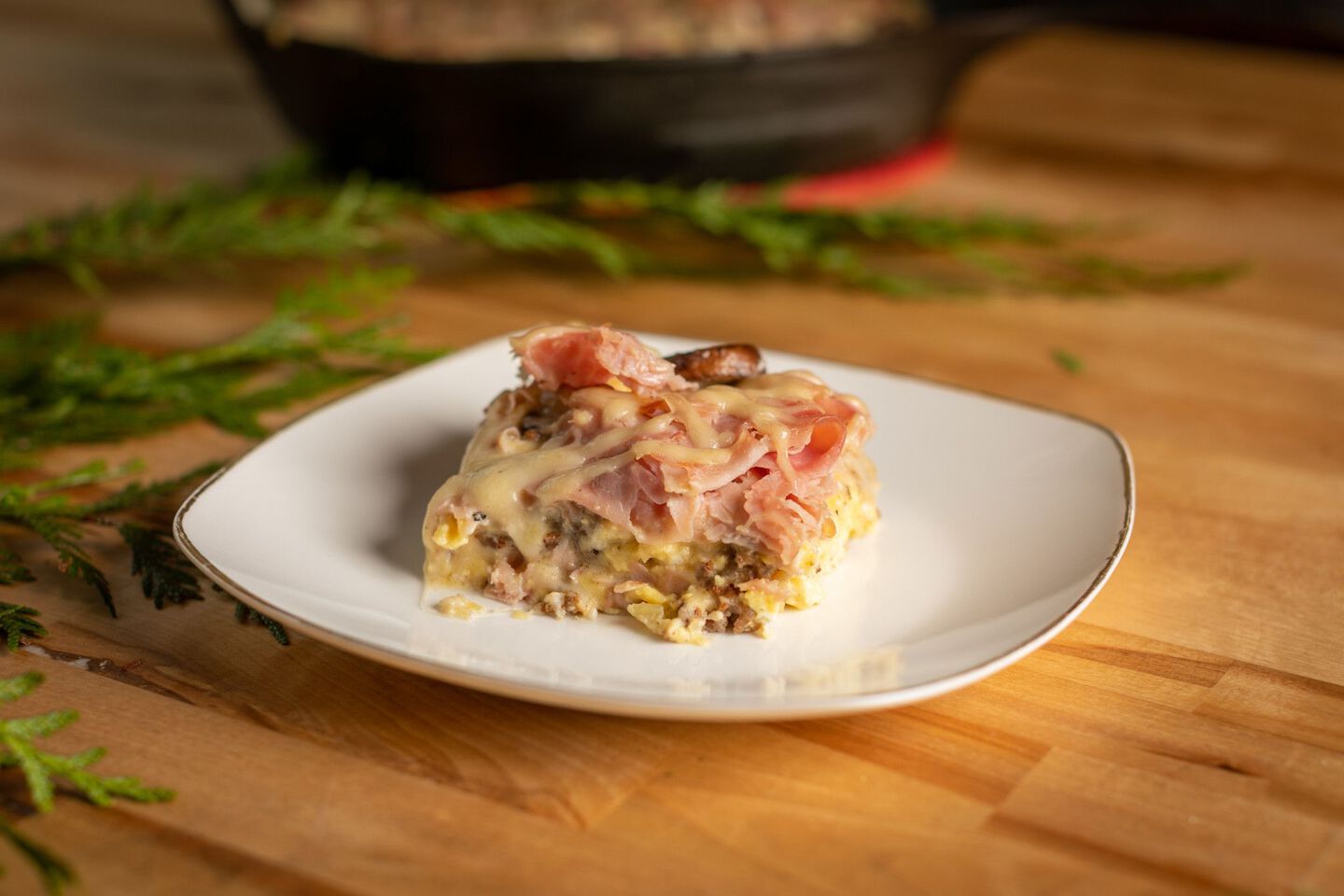 Ingredients
All Ingredients
1 pound of sausage
1 pound of bacon
1 pound of mushrooms, chopped
18 large eggs
2 Tablespoons butter
3 Tablespoons fat from bacon/sausage grease
4 green onions, white and green stems,chopped
2 Tablespoons flour
1 cup milk
Pinch of nutmeg
1 cup cheese, your favorite kind, shredded
1 pound shaved ham or prosciutto
Instructions
Christmas Egg Casserole
step 1
Preheat pellet grill to 425 °F.
step 2
On medium/high heat combine brown sausage, bacon and mushrooms in a 12-inch cast iron skillet. Remove meat and mushrooms from skillet to a paper-towel lined plate and drain excess grease out of the skillet, reserving about 3 Tablespoons for later.
step 3
In a medium sized bowl, add eggs and scramble.
step 4
In the same skillet, lower heat to low and add butter. When butter has melted, add eggs and cook, taking care not to overcook (you will be cooking these in a pellet grill as well). Remove eggs and set aside. Salt and pepper to taste.
step 5
Turn heat up to medium heat and in the same skillet, add left over grease from bacon and sausage and extra butter if needed. Add green onions and cook until fragrant and edges start to brown.
step 6
Add flour and cook, creating a light brown roux. Add milk slowly, stir and heat until mixture is thickened to the consistency of heavy cream. Salt and pepper to taste. Add a pinch of nutmeg. Pull skillet off heat.
step 7
Add eggs, bacon, sausage, mushrooms and mix together with the white sauce. Add shaved ham and cheese on top.
step 8
Lightly cover with tin foil and place in pellet grill until internal temperature reaches 145 °F, remove and continue cooking until cheese is slightly browned and melted and internal temperature has reached 165 °F.
Chef's Note
This recipe can be made 24 hours in advance. Just follow the instructions except for putting it in the pellet grill. When ready to serve place in pellet grill and cook until done.