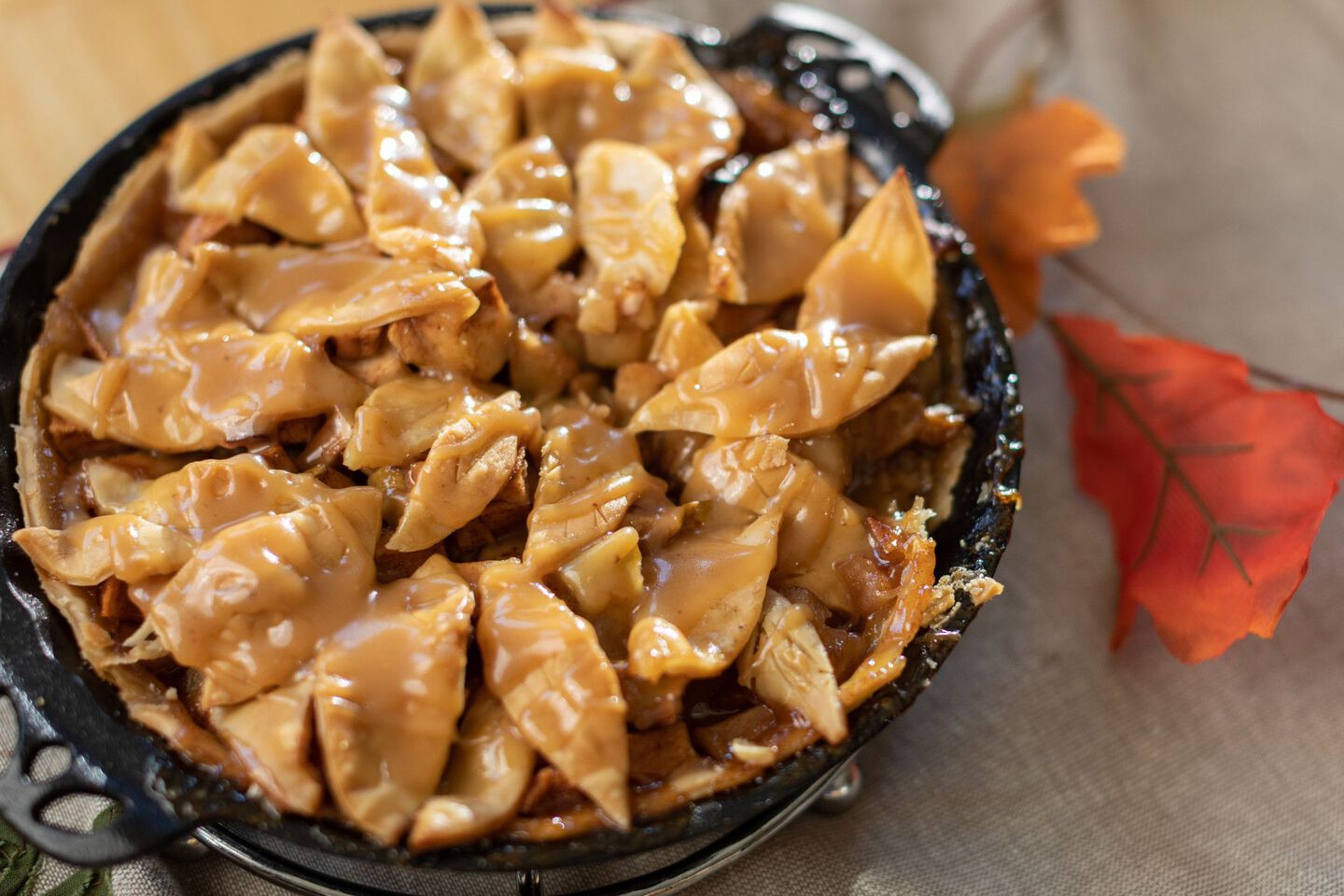 Ingredients
apple bourbon sauce
1 cup butter
1 cup light corn syrup
2 1/4 cups brown sugar
1 teaspoon vanilla
Pinch of salt
5 Tablespoons apple bourbon
1 can (14 oz.) Sweetened Condensed Milk
Apple Pie
9 inch pie crust, store bought or homemade
4 cups Granny Smith apples, peeled and thinly sliced
1 cup brown sugar
1 teaspoon lemon juice
1 teaspoon cinnamon
1 teaspoon nutmeg
1/3 cup cornstarch
All Ingredients
9 inch pie crust, store bought or homemade
4 cups Granny Smith apples, peeled and thinly sliced
1 cup brown sugar
1 teaspoon lemon juice
1 teaspoon cinnamon
1 teaspoon nutmeg
1/3 cup cornstarch
1 cup butter
1 cup light corn syrup
2 1/4 cups brown sugar
1 teaspoon vanilla
Pinch of salt
5 Tablespoons apple bourbon
1 can (14 oz.) Sweetened Condensed Milk
Instructions
apple pie
step 1
Preheat pellet grill to 350 °F.
Step 2
Set your pie crust in pan. Prepare the crust that will go on top as you desire: lattice lengths, cookie cutter shapes, leaves, etc., or another round with vents. Keep cool in fridge while you work on the apples.
Step 3
In a large bowl, toss the pie filling ingredients together and pour into uncooked pie crust. Put another pie crust on top or whatever top you choose.
step 4
Place in preheated pellet grill on top rack and bake for 1 hour.
step 5
When pie has cooled drizzle with the apple bourbon caramel sauce.
apple bourbon sauce
step 1
Over medium heat in a medium size sauce pan, combine all of the ingredients, stirring frequently until it reaches a boil and caramel starts to darken. When it reaches a soft boil stage, remove from heat and let cool. Store in fridge.