Having the Sherpa Camp Table & Organizer is like having kitchen cupboards at the campsite. When the legs are compressed and pouches zipped, the carry handles make it easy to grab and go. The four padded bags keep everything organized during storage and transport but as an added feature, the blue organizer bag is lined and can be used as a cooler or even a kitchen sink. A rollout aluminum tabletop attaches to the frame and is stowed away when not in use. Internal zipping storage dividers can be adjusted to customize storage options and open up enough room for a Mtn. Series stove or Portable Outdoor Oven.
Multimedia
Features
Versatile aluminum roll-top table
600 denier fabric
4 zippered compartment
Side pouch for transportation of table top
Padded carry handles for easy handling
Telescoping aluminum legs
Unzip the lower divider to accommodate a Mtn Series stove
Blue organizer is lined for use as cooler or sink
Specifications
15 3/4" x 27" x 18 1/4" (with legs collapsed)
Table height with legs extended - 28"
Table top dimensions: 27" x 17"
Individual bag dimensions: 12" x 11" x 6 1/2"
Downloads

MSTAB Instruction Manual
REVIEWS
Product Rating
Be the first to review this product!
RELATED BLOG POSTS
Easy Pellet Grill Cleanout is a big Ash Deal Are you ready to kick-ash and summer grilling?  In the game of life there are things you do because you want to do them and other things you do only cause you gotta.  Believe me this is going somewhere.  Pellet smoking is manly, fun, easier than ever and the food tastes great.  Men love spending time with their smoking hot grillfriends.  The problem is, that like many things, from changing the oil in your car to sharpening an axe, you have to take the time to maintain your stuff to get the best results.  Pellet grilling is no different and has to be maintained to get a great end product.  Over time ash, soot, and grease build up in the bottom of your grill and the performance starts to tank.  Ash builds and floats around onto food, lightup can become more difficult or worse not light at all, and grease / smoke build up as well as the ash piles up. Everybody kind of knows that at some point they have to kick ash.  Grill ash that is.  The problem is this, as much as you want peak performance from your grill it still sucks to clean it out.  Guys don't really like doing the boring, leftover work at the house.  Who really wants to wheel the trash out to the curb?  Do you really like mowing the grass?    If you're thinking in your head that you enjoy that you're lying to yourself.  Maybe there are exceptions, but the point is that given the choice you'd rather eat good food, hang out with loved ones, or watch a game instead of cleaning out a grill. A better way to smoke To clean ash out of a pellet grill there are about 10 different sticky, greasy items to take out of the grill just to get to the bottom of the barrel and begin ash cleanup.  Once all that is out it's time to roll out the wet/dry vac (if you have one) and begin to suck up the soot, ash, etc that has built up in the bottom of your grill.  Then comes clothing, hand and dry vac cleanup.  There must be a better way.  As of a few years ago this was the only way to clean out a pellet grill.  Every brand and model was the same.   New technology from Camp Chef has changed all that. Patented Easy Ash Cleanout While your buddy next door spends the next 30 minutes to an hour cleaning out his Traeger, your Camp Chef SmokePro Pellet Grills have a patented ash clean out in the bottom that releases ash and soot from the grill in seconds. It's that easy to cleanout Kick Ash Pellet Grill Challenge So here's the challenge, kick your neighbor's ash for real by cleaning a pellet grill out and grilling a meal in the same time it takes him to "kick ash". Kick Ash Competition BBQ Chicken - Make it while your buddy cleans out his grill.
Field & Stream designed five survival kits for the total Outdoorsman.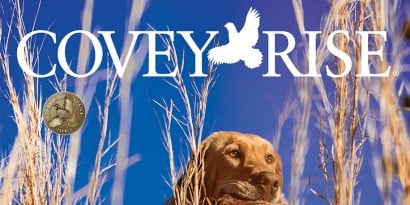 For years, the main focus of Covey Rise has been celebrating "the lifestyle of the upland sporting enthusiast". Most recently, Covey Rise writer Miles Demott and photographer Terry Allen spent some time with Scott Leysath, The Sporting Chef. Click an image below to read the article 'Sporting Skill' and be sure and get the full April/May issue of Covey Rise.