Enjoy the comfort of this 'forest friendly' portable gas campfire. Whether you're out on the road in the RV, car camping with the family or just enjoying a night out on the patio - this portable gas firepit is sure to keep you warm. Comes with base and high pressure burner, 12 pounds of lava rock, and a carry bag. Gather around the campfire without worrying about smoke or having wood. Great for all types of activities. Tank sold separately.
Camp Chef Gas Fire Pits are allowed for use in most fire ban restrictions, check with the local Ranger Station before use.
Setup and Curing
Due to the nature of lava rocks, some rocks may need to "cure" before a lifetime of enjoyment. To do this, simply setup the firepit and ignite on high, allowing it to "bake" the rocks for about 10 minutes. During these few minutes, maintain a safe distance while a small portion of the rock may, or may not, crack and gently pop. After 10 minutes, the rock will be cured and setup complete.
Multimedia
Features
Built-in high output burner
Lava rocks help disperse flame and heat
Convenient and portable
Includes carry bag
Includes 2 extendable roasting sticks
12 lb. bag of lava rock included
Regulator and 5 ft hose included
15" diameter, 7" tall
Fully adjustable heat-control knob
Smokeless, propane fueled flame
Specifications
Total Output: 55,000 BTU/hr
Product Dimensions: 15" diameter, 7" tall
For outdoor use only
Downloads

GCLOG Instruction Manual

Natural Gas Conversion Guide
REVIEWS
Product Rating
Be the first to review this product!
RELATED BLOG POSTS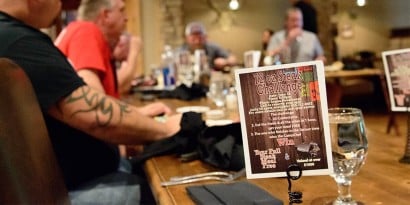 72 ounces of steak. Side of salad and mashed potatoes. Three fried shrimp. And a roll. With one hour, the challenge has been set to eat ALL of that. At The Logan Steakhouse 8 men took on this challenge. Six of them finished in an hour, two attempted but didn't make the cut. As for the winner, Joe LaRue, he finished in an astonishing 15 minutes and 30 seconds. When the time started, all traditional dinner etiquette went out the window. Within minutes half of his steak was gone. It wasn't long before the steak was gone, and he started devouring the side dishes. Listening to a variety of music spanning hard rock to techno, Joe kept his cool. Of the remaining five challengers, it took another 30 minutes before anyone finished the meal. From there it was a fight to not only see who would finish next...but who would finish under the time cap. Those who did finish, not only earned the right of saying they finished the first ever steak eating challenge at Logan Steakhouse, but they also earned a free meal. Joe, not only earned a free meal, but also won a SmokePro Stainless DLX Pellet Grill, BBQ Sear Box, and 3 bags of Competition Blend BBQ Pellets. Think you can handle the challenge? Call the Logan Steakhouse and schedule your challenge. The steaks - almost done. The early bird gets the worm, right? The steaks have been plated. Waiting to be handed off to the servers. The Executive Chef takes one last look over the steaks and provides additional direction on who's steak is who's. The steaks have been prepped and cooked according to each challengers liking. Minutes before the timer starts and the challenge commences. It's about to begin. The buckets have been placed just in case anyone can't keep their meal down. If they did vomit, the challenger would be disqualified. Center stage, Joe LaRue, attacks his 72 oz. steak. The winner finished 15 minutes ago...the remaining 7 men are finishing one bite at at time. Slowly but surely, he made it under the time cap and got two things...a free meal and the title of finisher. Finished at last. A brief moment showing the "pain face". Looking around to see how the other challengers are doing. The aftermath of 8 men taking on the 72 oz Steak Challenge at Logan Steakhouse. Only 6 finished under the 60 minute time cap. Bryan McLaughlin Hyrum Checkets Jason Hansen David Sessions Kent Smith Joe LaRue, winner of the challenge and proud new owner of a SmokePro Stainles DLX Pellet Grill, BBQ Sear Box, and 3 bags of Competition Blend BBQ Pellets. Joe and Logan Steakhouse Executive Chef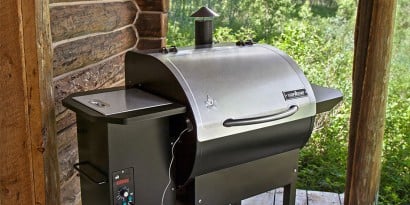 People spend their free time in a variety of ways. Some people go to a park, others hang with friends, some work on a perfectly groomed lawn, or maybe even a manscaped beard.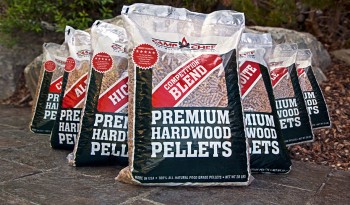 Camp Chef SmokePro Premium Hardwood Pellets offer better flavor and a more efficient burn. True wood fired flavor is the secret to any great BBQ recipe whether using a low and slow method or high heat.