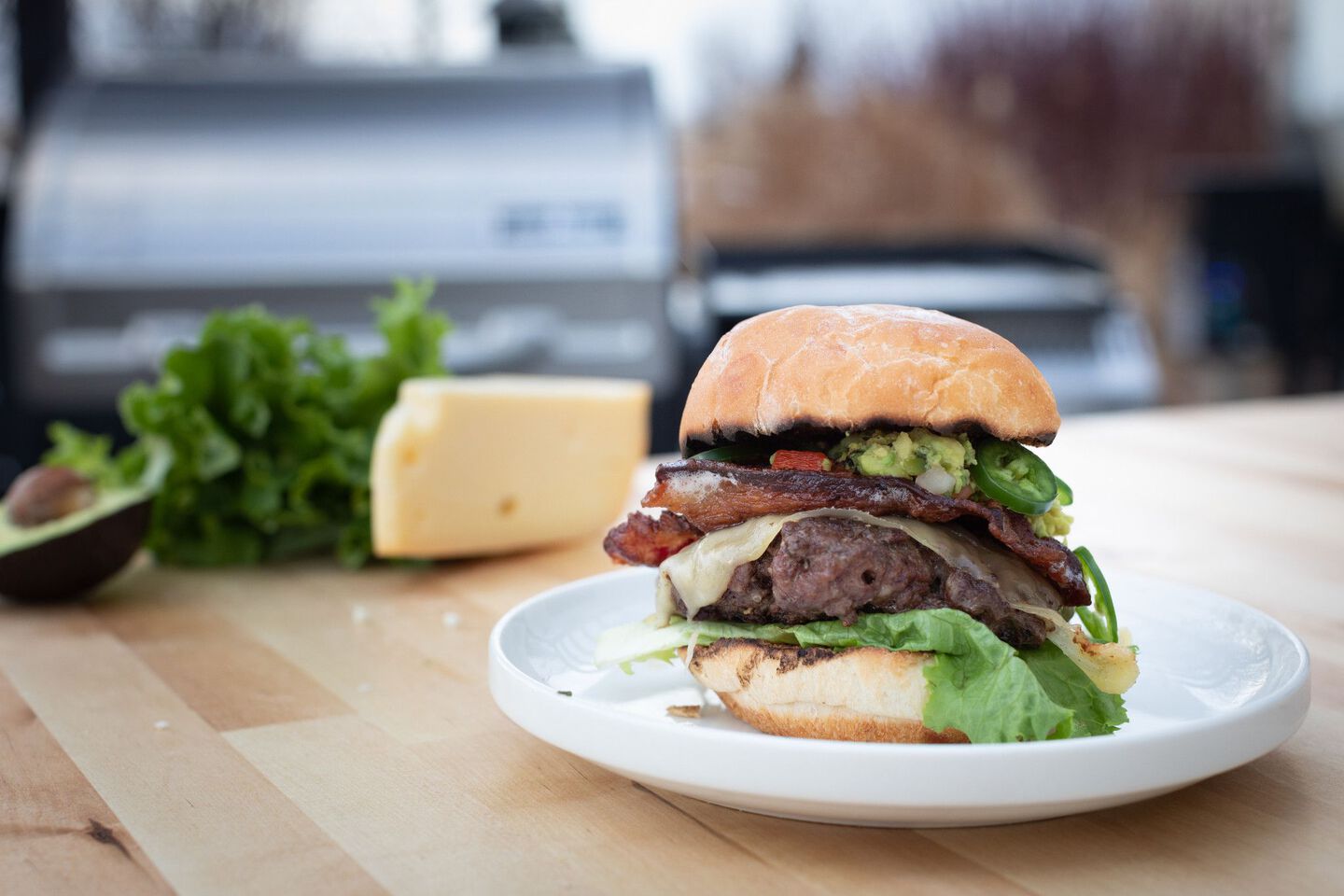 Ingredients
Pickled jalapenos
8-10 jalapeños, sliced into rounds
4 garlic cloves, peeled and smashed
2 cups apple cider vinegar
2 Tablespoons Kosher salt
1 Tablespoon whole peppercorns
1 teaspoon cumin seed
1 teaspoon tumeric
3 bay leaves
Grilled Guacamole
4 avocados, halved and pitted
1/2 small white onion, finely chopped
1 Roma tomato, finely chopped
1/2 of a jalapeño, finely chopped
1 lime, juiced
1 Tablespoon of olive oil along with olive oil to coat avocado before grilling
Kosher salt to taste
All Ingredients
2 pounds Wagyu ground beef, formed into 1/2 pound round balls (can use 80/20 ground beef)
4 potato buns (or your favorite bun)
6-8 slices Wagyu beef bacon or pork bacon, cooked
4 avocados, halved and pitted
1/2 small white onion, finely chopped
1 roma tomato, finely chopped
1/2 of a jalapeño, finely chopped
1 lime, juiced
1 Tablespoon of olive oil along with olive
oil to coat avocado before grilling
Kosher salt to taste
8-10 jalapeños, sliced into rounds
4 garlic cloves, peeled and smashed
2 cups apple cider vinegar
2 Tablespoons Kosher salt
1 Tablespoon whole peppercorns
1 teaspoon cumin seed
1 teaspoon tumeric
3 bay leaves
Swiss cheese, sliced
Green leaf lettuce
Instructions
wagyu smash burger
Step 1
Preheat flat top grill of griddle to medium-high heat.
Step 2
Loosely form burgers into round balls. Place round balls on griddle and press down with spatula, forming a loose patty. Salt and pepper liberally.
Step 3
Use your griddle to create a tasty crust. Grill patties until internal temperature reaches 125 °F for rare, 135 °F for medium rare, 145 °F for medium and 160 °F for well done. Flip patties halfway through cook time.
Step 4
Place green leaf lettuce on bun then patty, bacon, grilled guacamole and pickled jalapeños.
Grilled Guacamole
step 1
In a bowl, add onions, tomato, jalapeño, lime juice and olive oil. Let sit for a minimum of 15 minutes to meld the flavors or use your favorite Pico de Gallo.
step 2
Preheat pellet grill to 400 °F or higher.
step 3
Coat avocado with olive oil. Place avocados flesh side down on grill until slightly charred, about 3 to 5 minutes.
step 4
Mix grilled avocados to the bowl of vegetables and smash with a fork.
cold pickled jalapenos
step 1
In a glass jar or sealable glass container, add garlic, vinegar, salt, peppercorns, cumin seed, turmeric and bay leaves and mix. Add jalapeños, making sure all jalapeños are completely covered by liquid. Keep refrigerated.
chef's notes
The avocados will dry out a little from grilling. You may need to add more oil to get the consistency you're looking for.