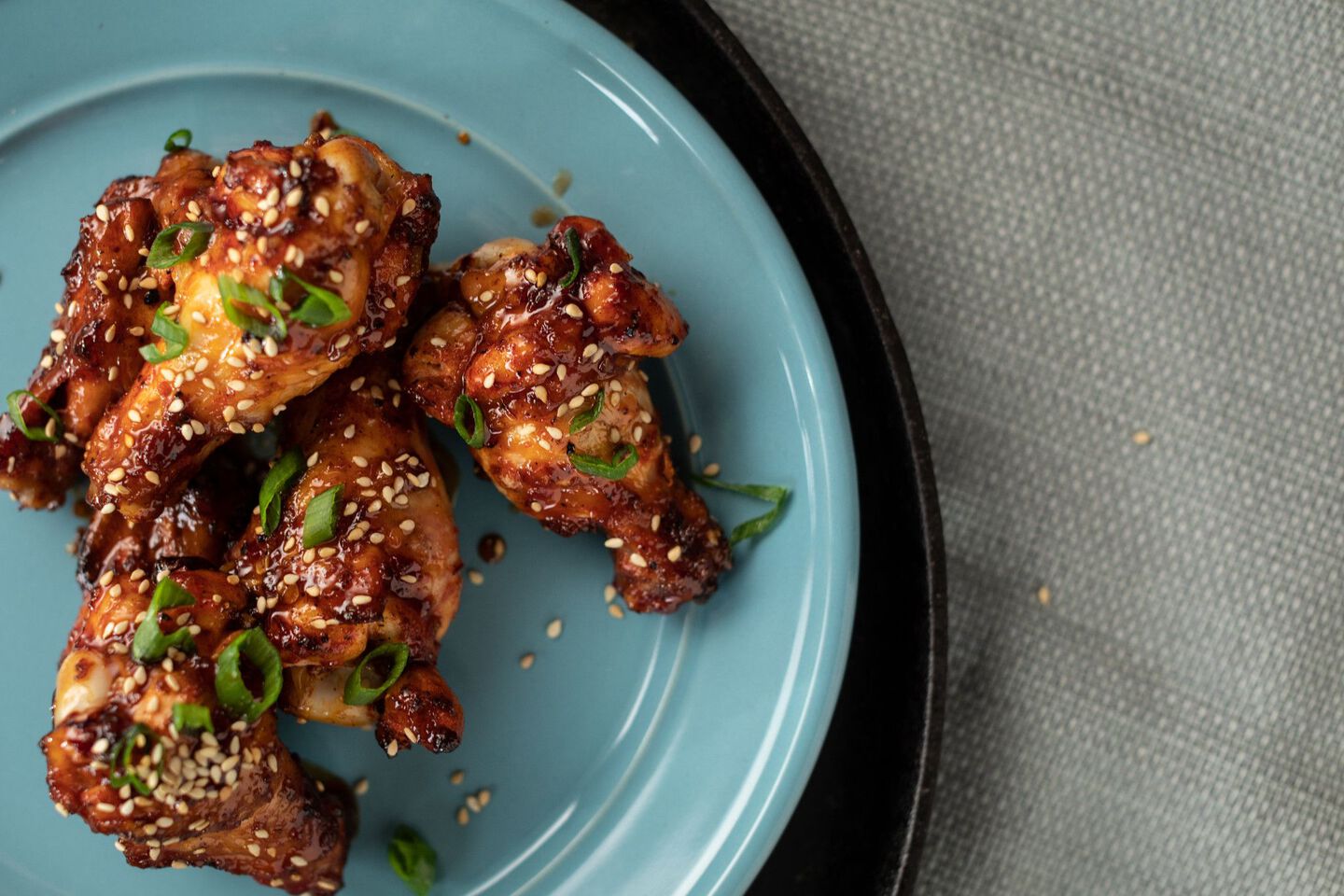 Ingredients
The Glaze
1/3 cup honey
1/4 cup rice vinegar
3 Tablespoons fish sauce
3 Tablespoons sherry
2 Tablespoons minced garlic
1/4 cup chili garlic sauce
2 Tablespoons sesame oil
1 lime, juiced
Wings
4 pounds of wings and drums
1 teaspoon salt
1 teaspoon black pepper
2 Tablespoons paprika
1/4 cup baking powder
Bunch of green onions, sliced for garnish
Sesame seeds for sprinkling on top
All Ingredients
4 pounds of wings and drums
1 teaspoon salt
1 teaspoon black pepper
2 Tablespoons paprika
1/4 cup baking powder
Bunch of green onions, sliced for garnish
Sesame seeds for sprinkling on top
1/3 cup honey
1/4 cup rice vinegar
3 Tablespoons fish sauce
3 Tablespoons sherry
2 Tablespoons minced garlic
1/4 cup chili garlic sauce
2 Tablespoons sesame oil
1 lime, juiced
Instructions
Sticky Crispy Asian Wings
Step 1
Preheat pellet grill to high smoke.
Step 2
Pat wings dry. Mix dry ingredients for wings and lightly coat each wing.
step 3
Place wings on pellet grill for 30 minutes. Then turn heat up to high and smoke for 45 minutes.
The Glaze
Step 1
Add all ingredients for the glaze in a medium sauce pan. Simmer until bubbling and glaze thickens.
step 2
Remove the wings from pellet grill and place in a bowl. Add glaze and gently stir to coat the wings.
step 3
Garnish with green onions and sesame seeds.