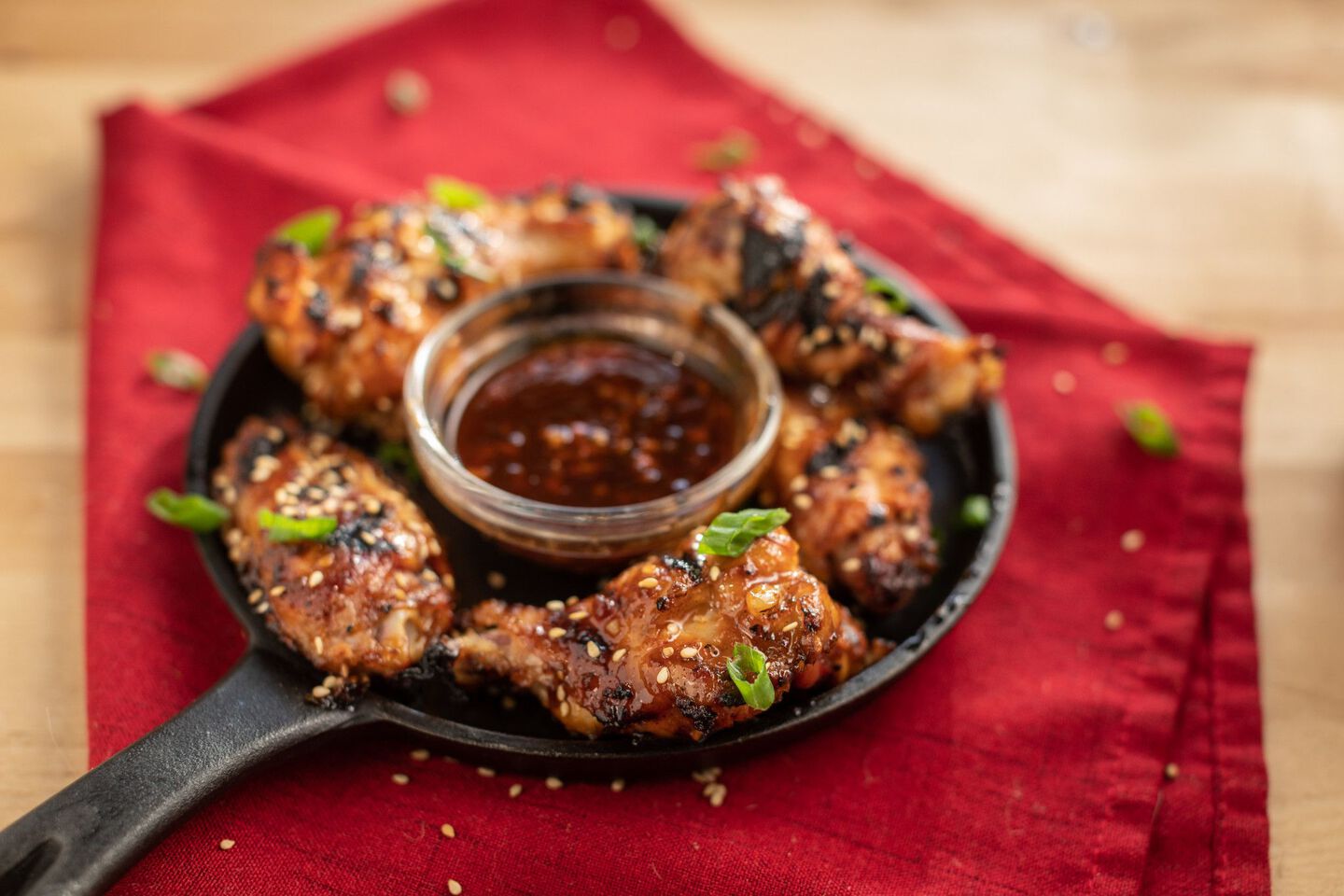 Ingredients
All Ingredients
2 pounds chicken wings
2 cloves of garlic, minced or crushed
1 lime, zested and juiced
1 Tablespoon ginger, coarsely chopped
2 Tablespoons brown sugar
2 Tablespoons chili paste or sauce
2 Tablespoons black vinegar (you can substitute rice vinegar)
2 Tablespoons soy sauce
3 Tablespoons hoisen sauce
3 Tablespoons sesame oil
1 Tablespoon Sriracha, add more for additional heat
1 teaspoon Kosher salt
1 scallion, sliced for garnish
Toasted sesame seeds for garnish
Instructions
Stephen's Spicy Asian Wings
Step 1
In a bowl, combine all the ingredients except chicken wings and garnishes. Whisk until well combined to make marinade.
Step 2
Marinate chicken for at least 4 hours (preferably overnight) in a large freezer bag. Periodically turn bag to coat all pieces as they marinate.
step 3
Preheat pellet grill to high smoke (if using pellet grill with smoke control use a smoke level of 5 or higher).
Step 4
Add wings to smoker and heat them until internal temperature reaches 145 °F. Reserve the marinade.
Step 5
While wings are smoking, add reserved marinade to a small saucepan and bring to a boil. Lower to simmer and stir regularly until marinade reduces volume by at least half and thickens.
step 6
Preheat Sear box or Sidekick grill box. Sear wings to crisp skin. Liberally basting all sides with sauce, allowing sauce to caramelize and set. Grill wings until internal temperature reaches 165 °F.
step 7
Place wings on plate and sprinkle with toasted sesame seeds and green onions. Serve with remaining sauce for dipping.