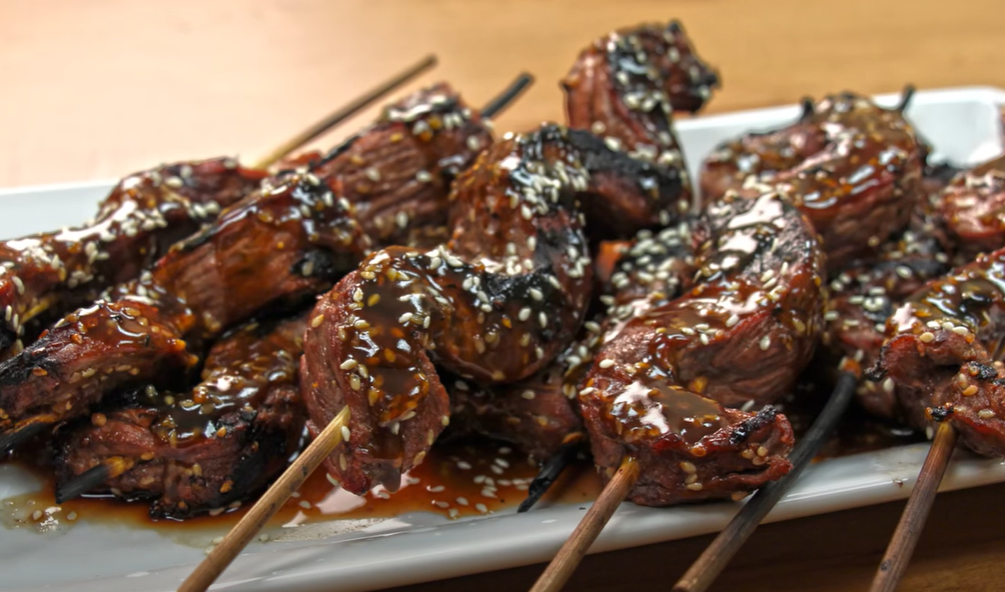 Ingredients
Marinade
3 tablespoons sesame seeds
4 garlic cloves, smashed
1/4 cup soy sauce
1 cup root beer
1/4 cup packed brown sugar
1/4 cup toasted sesame oil
salt and pepper
All Ingredients
2 lb. flank steak
3 tablespoons sesame seeds
4 garlic cloves, smashed
1/4 cup soy sauce
1 cup root beer
1/4 cup packed brown sugar
1/4 cup toasted sesame oil
salt and pepper
4 slices of bacon
2 teaspoons flour
extra sesame seeds and chopped parsley for garnish
Instructions
Korean Steak Kabobs
Step 1
Mix all the ingredients for the marinade except the bacon in a bowl.
Step 2
Place the flank steak in marinade.
Step 3
Layer the bacon slices on top, cover and refrigerate for at least 6 hours or overnight.
Step 4
Slice the steak into quarter-inch thick slices and thread each slice onto a skewer.
Step 5
Grill on medium-high heat for 2 minutes per side and remove to a plate.
Step 6
While the kabobs are grilling, pour the marinade into a sauce pan (discarding the bacon) bring to a boil and add in 2 teaspoons of flour. Bring back to a boil and let reduce for 15 minutes.
Step 7
Pour the reduced marinade over the kabobs, garnish with sesame seeds and chopped parsley and serve.