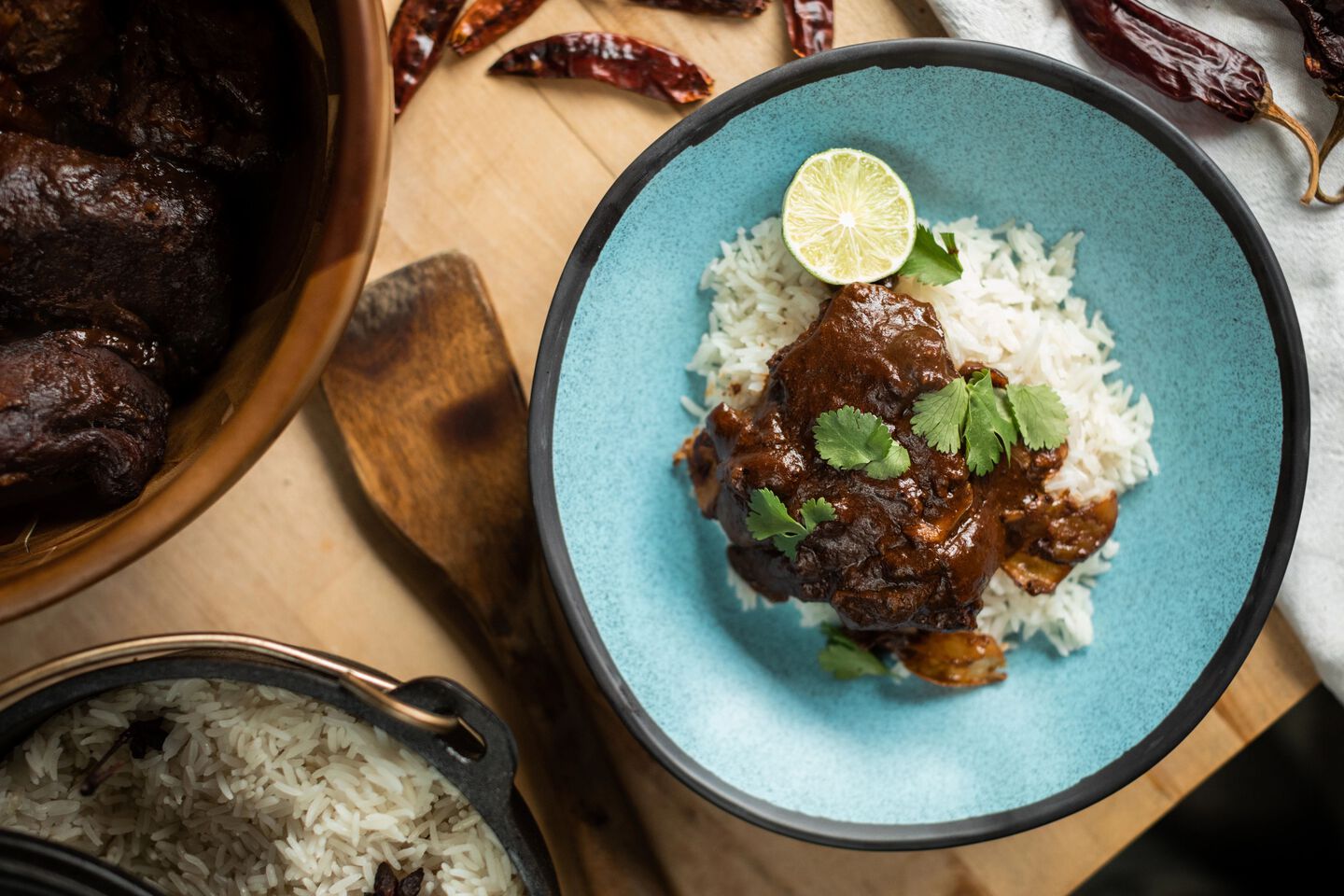 Ingredients
All Ingredients
1, 8.25 ounce bottle Doña Maria Mole sauce
Water or chicken stock
1 onion, rough chopped into ¾ inch
1 chipotle pepper with adobo, (from a can) minced
10 garlic cloves
Salt and pepper
5 pounds beef short rib
Instructions
Beef
Step 1
Clean the short rib and chop into smaller chunks, roughly 3 inches long or an average piece cut into half.
Mole
Step 1
In a mixing bowl add the bottle of Doña Maria and fill the bottle up with warm water or chicken broth add three bottles of water/broth to the bowl, mixing well to ensure the paste breaks down.
Step 2
Once mixed, add the onion, garlic, minced chipotle, and salt and pepper.
Step 3
Once the ribs are done braising they will be salted again, a tablespoon of salt and pepper is a good start.
Step 4
Add the short ribs to the bowl, being sure to coat evenly with the braise. Set into a container and refrigerate for at least 24 hours.
Cooking
Step 1
On cooking day, preheat your pellet grill to 400ºF.
Step 2
Once heated add a splash of oil and sear off the short rib in the cast iron on both sides.
Step 3
After searing add all the liquid into the pot, chunks of garlic, and the onion. Make sure the ribs are at least ⅔ - ¾ covered, the tops sticking up out of the liquid is ok.
Step 4
Place a tight fitting lid on the cast iron, and reduce the grills temperature to 300ºF.
Step 5
Cook for 2.5-3 hours or until the beef is soft and shredable.