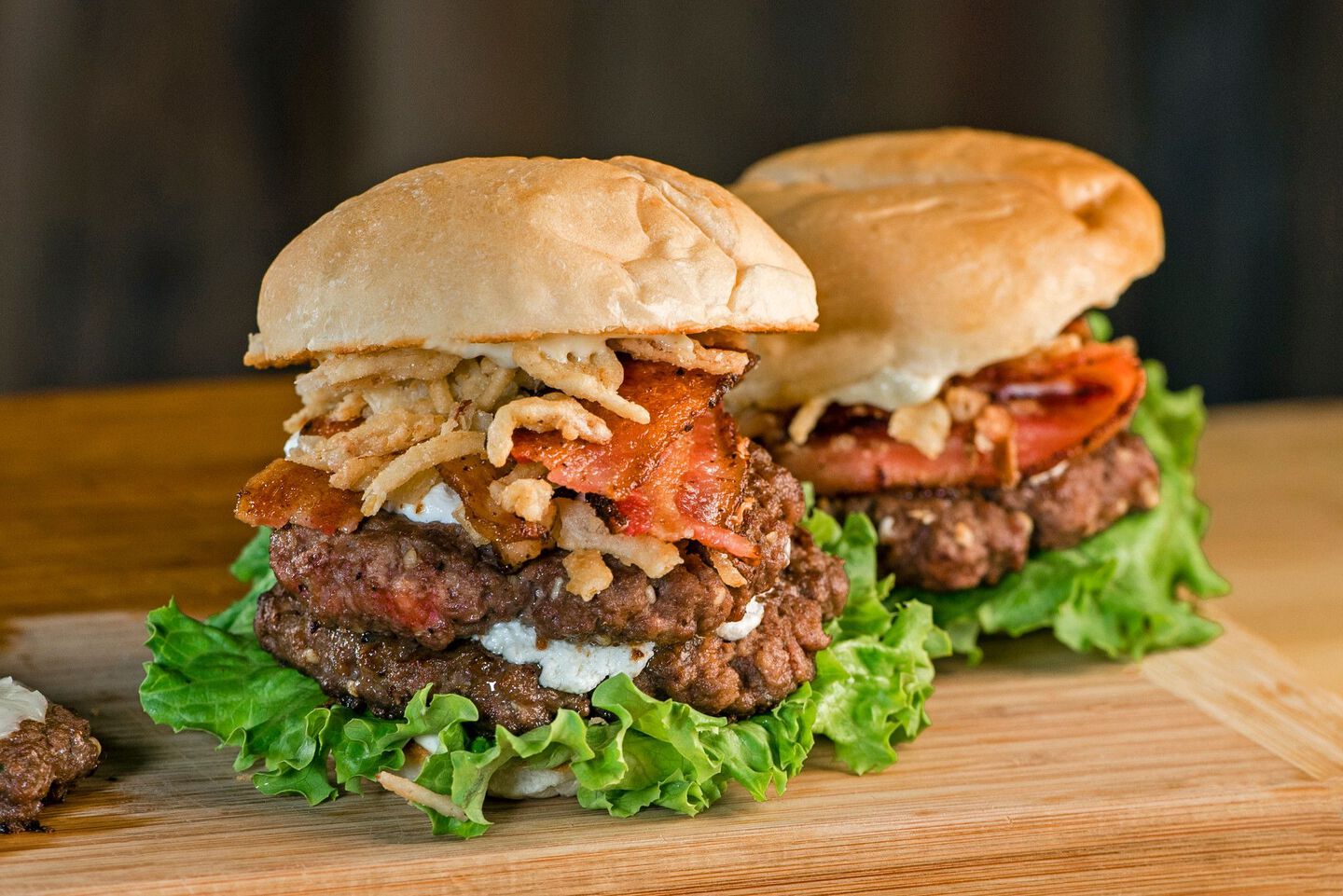 Ingredients
Aioli
1/2 cup mayonnaise
1 teaspoon lemon zest
2-3 teaspoons fresh lemon juice
1 teaspoon Dijon mustard
1 teaspoon garlic, minced
Salt and pepper to taste
Burgers
1 pound ground beef
1 teaspoon salt
1/2 teaspoon pepper
1 Tablespoon garlic, minced
4 hamburger buns
All Ingredients
1 pound ground beef
1 teaspoon salt
1/2 teaspoon pepper
1 Tablespoon garlic, minced
4 hamburger buns
4 oz goat cheese, softened
4 strips thick-cut bacon
Crispy dried onion
Lettuce
1/2 cup mayonnaise
1 teaspoon lemon zest
2-3 teaspoons fresh lemon juice
1 teaspoon Dijon mustard
1 teaspoon garlic, minced
Salt and pepper to taste
Instructions
Bacon and Goat Cheese Aioli Burger
Step 1
In a medium bowl, combine ground beef, salt, pepper, and garlic. Form into 4 patties. Press the centers of the patties down so that the burgers don't get to thick in the middle when you grill them. Set burgers aside.
Step 2
Cook the bacon until crisp. Place on paper towel lined plate to drain grease.
step 3
Preheat grill to medium/high heat.
Step 4
Grill patties until internal temperature reaches 125 °F for rare, 135 °F for medium rare, 145 °F for medium and 160 °F for well done. Flip patties halfway through cook time. The last few minutes of cooking, add a slice of cheese to patties and let the cheese melt.
step 5
The last minute of cooking, add the goat cheese to each patty. Grill buns until toasted.
Assembly
Bottom bun, aioli, lettuce, burger, goat cheese, bacon, onions and more aioli.
Aioli
Step 1
In a small bowl, combine mayonnaise, zest, lemon juice, Dijon, garlic, salt and pepper. Refrigerate until ready to use.