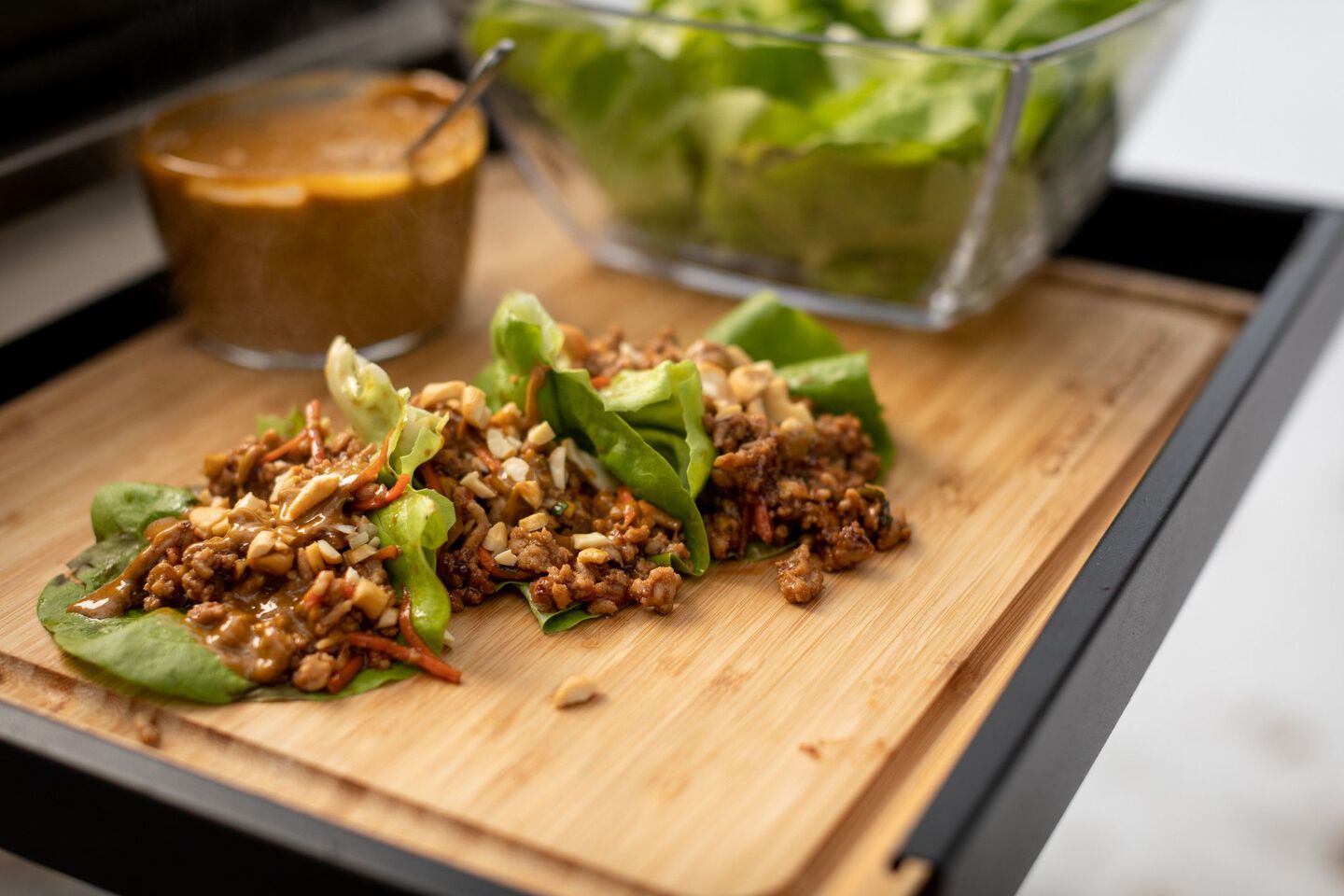 Ingredients
Peanut Sauce
1 cup creamy peanut butter
1/2 cup sweet chili garlic sauce
2 limes, juiced
2 tablespoons honey
3 tablespoon sesame oil
2 teaspoons ground ginger
5 teaspoons garlic, minced
1/4 cup soy sauce
1 tablespoon rice wine vinegar
1 tablespoon spicy chili paste
1/2 teaspoon salt
1/2 bunch cilantro
1/2 cup water
All Ingredients
2 pounds ground chicken or turkey
2 heads of butter lettuce
2-3 tablespoons cooking oil
1 medium onion, chopped
1 carrot, shredded or finely diced
1/2 cup hoisin sauce
4 cloves garlic, minced
3 tablespoons soy sauce
3 tablespoons rice wine vinegar
1 1/2 teaspoons ground ginger
2 tablespoons Asian chile sauce
2 teaspoons sesame oil
1/4 cup peanut sauce (optional)
2 cups cashews, chopped
1 bunch green onions, chopped
1 cup creamy peanut butter
1/2 cup sweet chili garlic sauce
2 limes, juiced
2 tablespoons honey
3 tablespoon sesame oil
2 teaspoons ground ginger
5 teaspoons garlic, minced
1/4 cup soy sauce
1 tablespoon rice wine vinegar
1 tablespoon spicy chili paste
1/2 teaspoon salt
1/2 bunch cilantro
1/2 cup water
Instructions
Peanut Sauce
Step 1
Place all ingredients in food processor or blender and blend until smooth. Add more water if needed for desired consistency. Set aside.
Wraps
Step 1
In a medium mixing bowl, combine hoisin sauce, garlic, soy sauce, rice wine vinegar, ginger, Asian chile sauce, sesame oil and peanut sauce (optional). Mix until combined. Set aside.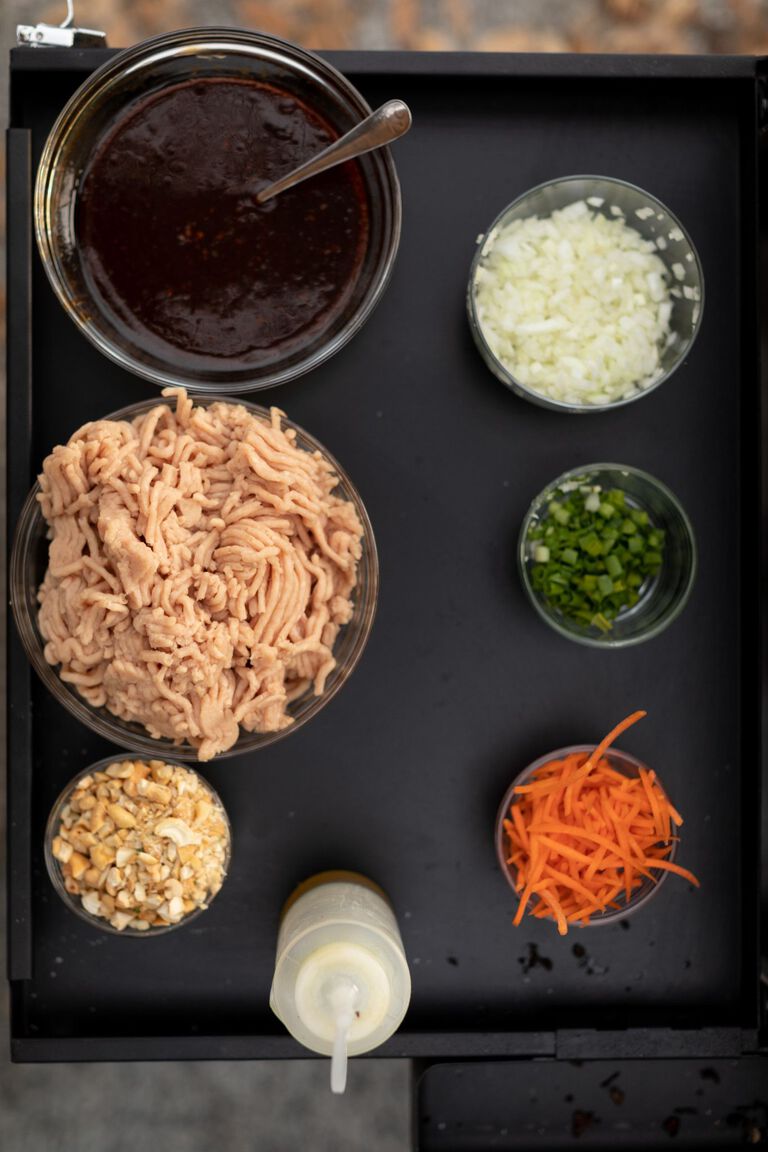 Step 2
Rinse lettuce and pat dry. Pull leaves off lettuce, being careful not to tear. Set aside.
Step 3
Heat Flat Top Grill over medium heat.
Step 4
Add cooking oil to the grill, when heated, add onions. After cooking onions for about 2-3 minutes, add ground chicken. Break apart and mix with onions. Cook chicken until you no longer see any pink.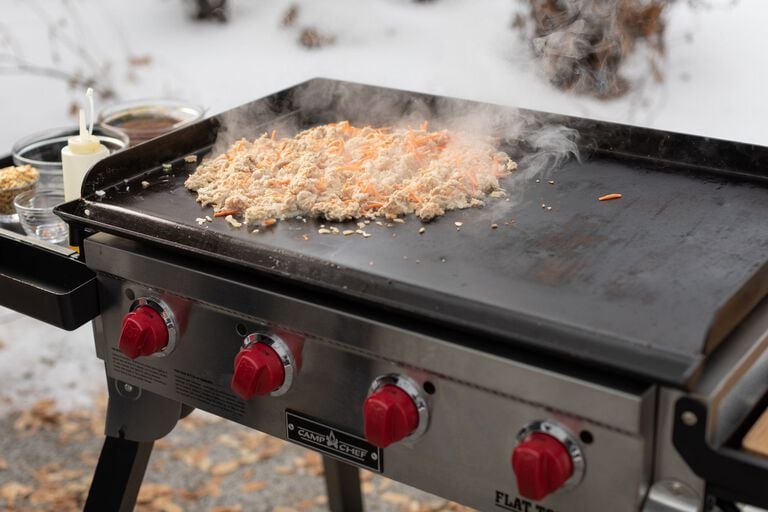 Step 5
Add the sauce to the chicken and onion mixture. Incorporate into chicken until chicken is coated well. Cook until chicken is browned and sauce begins to caramelize.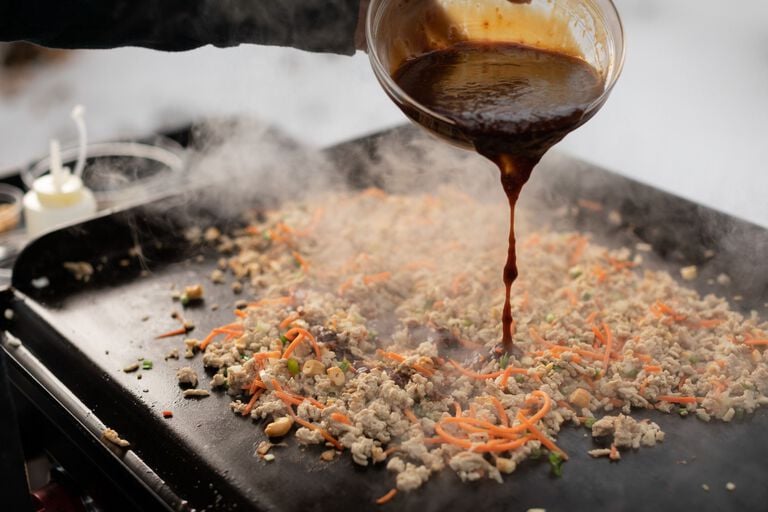 Step 6
Add cashews and green onions and stir into meat mixture. Cook for about 1-2 minutes.
Step 7
Pile meat mixture into center of lettuce leave and drizzle with peanut sauce.