Just when you thought your Camp Chef pellet grill couldn't get any more accommodating; enter the Camp Chef Pellet Grill Front Shelf. Prep, place and let your grill lend a hand with the convenient shelf attached directly to the grill.
Features
Extra preparation space
Folds down fulsh with grill when not in use
Specifications
Dimensions: 37.25" x 13.75" x 7.5"
Powder coated steel construction
QUESTIONS
Will it fit the SGX?
Thank you for your question. Yes, this shelf will fit the PG36SGX grill.
Date published: 2018-02-26
How does this shelf mount to the front of the grill? Does any drilling need to be done?
Hello, Thank you for your question, If you do not already have the extra screws on the barrel then you will need to drill 4 holes, the shelf comes with a template and hardware. Please feel free to contact us with any further questions. Have a great day! Camp Chef
Date published: 2018-02-08
Will this folding shelf fit the LUX model with the lower shelf? 
Yes, this will fit the LUX pellet grill.
Date published: 2018-02-27
Will this shelf fit the cabelas version of the camp chef pellet smoker?
This shelf would fit the Cabela's Magnum model, that is similar to our 36" LUX.
Date published: 2018-02-06
RELATED BLOG POSTS
(1 Comment)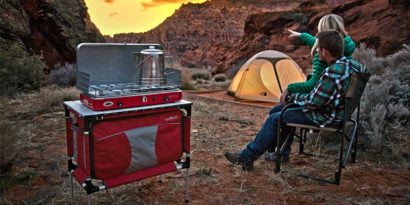 (6 Comments)