Just when you thought your Camp Chef pellet grill couldn't get any more accommodating; enter the Camp Chef Pellet Grill Front Shelf. Prep, place and let your grill lend a hand with the convenient shelf attached directly to the grill.
Features
Extra preparation space
Folds down fulsh with grill when not in use
Specifications
Dimensions: 25.25" x 13.75" x 7.5"
Powder coated steel construction
REVIEWS
Pellet Grill Front Shelf - 24"
is rated out of
5
by
73
.
Rated

4

out of

5
by
LPB60
from
Nicely Executed
I very much like this shelf. My Woodwind--which I bought in December 2017--was pre-drilled to mount it. Installing it only took a few minutes. But I liked the fact that a template was included for drilling, if necessary for older models. It works great and seems fairly strong. It also sits lower than the add-on metal grate shelf which I had bought previously, which makes it easier to use--you don't have to worry about plates of food hitting the handle of the lid. Very nice. I give it thumbs up.
Date published: 2018-03-04
Rated

5

out of

5
by
AZ Smoker
from
Sturdy
Purchased this after had already purchased the wired shelf. This one is nicer and more sturdy. It is lower than the wired shelf which does help when closing the grill lid and you have a tray on the shelf. The wired shelf would hit the tray and obstruct closing the lid. Installation on the Woodwind SG was extremely simple since the bolts are already in the grill. "Except" one of the bolts were stripped out and a pain to get to in order to stop it from spinning while tightening the bolt. All in all I would definitely recommend this shelf.
Date published: 2018-08-09
Rated

5

out of

5
by
KSP1138
from
Perfect addition to my Woodwind...
Very handy shelf system. Easy to install on my Woodwind. No drilling required (although the instructions indicate this may be necessary on some grill models). Very secure "lock-up" mechanism when in use, and handily folds down and out of the way when not. Does not interfere with Cam Chef smoker cover either.
Date published: 2018-03-01
Rated

5

out of

5
by
Bbq pellet king
from
Perfect shelf
Well designed. Much better than the wire shelf I purchased first. Alot better location on the grill. Had to drill holes on my grill but the templet made it a breeze. Folds down nicely out of the way when done so my grill cover goes on fine.
Date published: 2018-04-18
Rated

4

out of

5
by
eapples
from
It's OK, But...
I ordered the shelf because it sits lower on the body of the grill, and the lid handle doesn't interfere with the shelf at all. However, on the model grill that I have I would have had to drill additional holes in order to mount the shelf, and I didn't want to do that. The shelf appeared to be sturdy, and structured much better than the wire shelf accessory that I have. I returned the shelf to CC. For those who have the model grill with the pre-drilled holes, and for those who are willing to do the additional drilling, the shelf is a good deal.
Date published: 2018-02-21
Rated

5

out of

5
by
SE Smoke Master
from
STURDY ENOUGH FOR A FULL BRISKET!
I bought this to mount to my Smoke Pro SE. I did have to drill my own holes for mounting, but not an issue for me at all. I also have the Sear Box mounted on the side - which I mounted before I put this shelf on, and I had plenty of room to mark, drill and mount the right hand bracket without having to take the sear box off. Take your time to make sure you're level front to back and side to side where your grill normally sits (remember if you move the grill to mount this, it's not going to sit like it does in its normal home) before drilling and installation is no sweat afterward. I suggest marking, center punching, and using a step drill to make nice clean holes in the kettle - a regular bit will snag and tear instead of cutting (unless you have access to a Roto Broach). Once mounted, this thing is incredibly sturdy - I've had a 36" sheet pan with a full brisket on it without issue. My son-in-law has the same grill with the wire shelf that hangs on the front lip and I saw enough of a gap with that mounted on his that most of the smoke had a place to escape. With this solid front shelf mounted on it's hinges, the lid remains tight when closed since this provides no interference. The fold down is sweet too - fits under the Camp Chef long patio cover without issue. If you're on the fence about it, jump down and buy this - you won't be disappointed. Quality product at a fair price - I expect to get a lot of years out of this item.
Date published: 2018-04-25
Rated

3

out of

5
by
JMART
from
Disappointed
Disappointed. Shelf didn't come with all the necessary hardware (nuts & bolts) and it requires drilling 4 holes in the grill to mount. I wasn't aware of that when purchased.
Date published: 2018-08-07
Rated

5

out of

5
by
Deer Lodge
from
Awesome shelf
Looking forward to using this shelf with our new Woodwind BBQ this summer. Infact, my friends are looking forward to it as much as my hubby and I are.
Date published: 2018-03-22
RELATED BLOG POSTS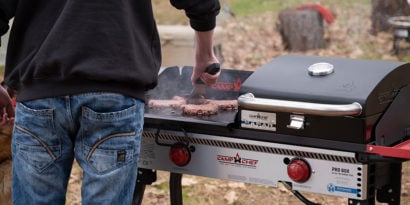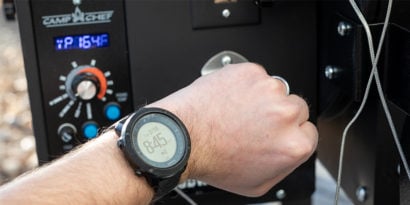 (2 Comments)