Enhance your back patio cookout with our revolutionary new SmokePro SG pellet grill featuring Slide and Grill Technology. Switch seamlessly between Indirect and Direct Flame mode to achieve two delicious flavor profiles all on one capable grill. Slow cook your favorite cut of beef or slide the grill knob and toss a few burgers on for some direct wood-fired grilling. The new SmokePro SG features a taller cook chamber with additional rack space as well as a larger capacity hopper for increased cooking space and eliminating the need to top off your grill with pellets mid-cook. Stocked with the patented Ash Cleanout System, stable temperature regulation, and dual meat probes, the SmokePro SG is the only pellet grill you need to achieve wood-fired flavor.
Multimedia
Features
Electronic auto-start ignition
Dual LED temperature readout: internal cooking temps and internal food temps
Simple temperature selection system
Automatic auger dispenses pellets as needed for improved smoker efficiency
Included warming rack provides additional space to cook your favorite foods
Includes 2 meat probes
Pellet hopper cleanout
Large capacity pellet hopper
Patented Ash Cleanout System
Specifications
Grilling Area Volume: 4,850 cub. in
Lower Rack Area: 429 sq. in
Upper Rack Area: 382sq. in
Total Rack Surface Area: 811 sq. in
Hopper Capacity: 22 lbs. of pellets
REVIEWS
SmokePro SG Pellet Grill - Bronze
is rated out of
5
by
4
.
Rated

5

out of

5
by
MattyH
from
Couldn't go back if I tried...
I've had the SG for about 6 weeks now and it's been a game-changer in my household. I researched pellet grills (Traeger, GMG, etc) for over a month trying to decide on which one to buy, and I landed on the SG finally after realizing that the Traeger lacked a lot of features and the GMG had very mixed reviews. So far I haven't been experimenting on my own, just following recipes that I find online - and everything has turned out perfectly. It cooks true to temp, and the pellets last much longer than I anticipated they would. So far I'm a very happy customer and would choose a Camp Chef again if given the opportunity, 100%.
Date published: 2018-02-20
Rated

5

out of

5
by
JRM2607
from
Great Smoker-Grill
this is my first pellet grill, im very happy the smoker maintain the temperature, the option for open fire grill its a very good feature, but its not get too hot the grill, im gonna buy the cast grill option for see if i get a better sear on the steaks or to buy the sear box, but overall very happy with the Camp Chef SG smoke pro
Date published: 2018-02-13
Rated

5

out of

5
by
ken239
from
AWESOME EXPERIENCE!!!
My first pellet grill, and why did I wait so long to buy it? Cooked 3-2-1 ribs as the first go at it and they were AWESOME! So simple a grill to use. Easy to assemble. Solid build quality. Had a small ding in the side shelf on arrival, but customer service resolved issue painlessly. Highly recommend product to grill lovers!!!
Date published: 2018-03-13
Rated

5

out of

5
by
Anonymous
from
With all the features its goig to be a big hit.
I like the options of being a smoker and/or an open flame grill.
Date published: 2018-01-18
QUESTIONS
Does this grill come in a larger compacity?
It does not currently, however given its success I wouldn't be surprised to see a larger version in the future
Date published: 2018-04-13
Trying to decide between the Woodwind and the Slide and Grill. Besides the direct wood fire grilling for the S&G, are there any other differences between the two models? For instance I saw the Woodwind has a fan, does the S&G not have a fan?
They function the same way, an auger to feed the fire, a fan and a temperature gauge to maintain a constant temperature. They both have a slot on the left side to put in a temperature probe to read the temperature of the meat or vegetable. The new SG has a second meat probe to you can see the temperature of two different part of the food.
Date published: 2018-04-09
Hi I bought the camp Chef woodwind with a sear box pellet grill I love the grill I love the smoker but grilling hamburgers on the grill is not good can I remove the heat flame plate and use it as a grill like you just made on the new slide Grill
Yes you can but it will get greasy inside of the grill and make cleanings very difficult. I have the SG model which they claim that you can use as a grill but it doesn't work as good a true grill. These are designed to be low slow smokers and for that they are great. Grilling is another story. 
Date published: 2018-04-09
What type of grills come with the unit ? Would I be better off ordering the cast iron grills instead ?
Depends on what you are looking to do with you unit. For smoking and light searing the porcelain coated grates provided are very nice. For more extensive grilling I would purchase the cast iron grates. I will be purchasing he cast iron soon as I I believe this would be a great enhancement to an already epic cooking tool. 
Date published: 2018-03-23
what is the country of origin for your products???
Almost 30 years ago Camp Chef started as a small town brand where our roots run deep. Today Camp Chef products are found throughout North America, Europe, Australia, and beyond. The Camp Chef story is a true American success story. Camp Chef's products are designed, engineered, marketed and sold in the United States. The manufacturing processes for most Camp Chef products take place overseas in China where factories are held to high standards. These factories must pass rigorous safety and product quality audits before the product goes to market.
Date published: 2018-03-23
what are the dimensions of the grill son I can fit it on my deck.
Hello Raymond, Here is the answer to your question, 51" wide 43" high 31" deep Footprint is 19" x 25" Please let us know if you have any further questions Regards, Camp Chef
Date published: 2018-03-24
Does it come with a cover...is it safe to keep it out in the elements uncovered and or covered?
Hello Flynn, You can purchase a cover, it is recommended to cover it if it is outside to protect it from the elements. Please feel free to contact us with any further questions you may have. Regards, Camp Chef
Date published: 2018-04-01
What are the specs on the controller? Is it the same controller in the woodwind with the smart smoke technology? 
Hi Drew, I just had a chat with one of the staff members and they informed me that both have the smart smoke technology, as to the specs they didn't have the specs for the controller itself. I hope this helps out.
Date published: 2018-03-23
RELATED BLOG POSTS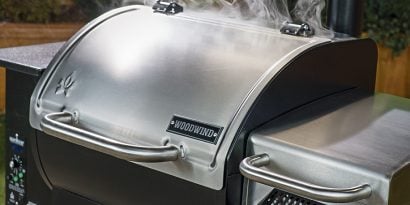 (3 Comments)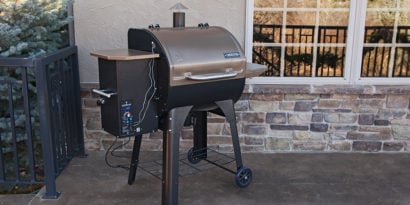 (1 Comment)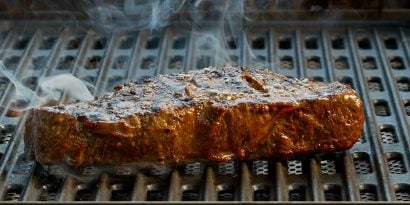 (2 Comments)