Enhance your back patio cookout with the revolutionary new SmokePro SG pellet grill featuring Slide and Grill Technology. Switch seamlessly between Indirect and Direct Flame mode to achieve two delicious flavor profiles all on one grill. Slow cook your favorite cut of beef or slide the grill knob and toss a few burgers on for some direct wood-fired grilling. The new SmokePro SG features a taller cook chamber with additional rack space as well as a large capacity hopper. The SmokePro SG comes with Camp Chef's patented Ash Cleanout System, stable temperature regulation, and dual meat probes, making it the only pellet grill you need to achieve wood-fired flavor.
Multimedia
Features
Electronic auto-start ignition
Dual LED temperature readout: internal cooking temps and internal food temps
Simple temperature selection system
Automatic auger dispenses pellets as needed for improved smoker efficiency
Included warming rack provides additional space to cook your favorite foods
Includes 2 meat probes
Pellet hopper cleanout
Large capacity pellet hopper
Patented Ash Cleanout System
Specifications
Grilling Area Volume: 4,850 cub. in
Lower Rack Area: 429 sq. in
Upper Rack Area: 382sq. in
Total Rack Surface Area: 811 sq. in
Hopper Capacity: 22 lbs. of pellets
REVIEWS
SmokePro SG Pellet Grill
is rated out of
5
by
2
.
Rated

5

out of

5
by
Grandpa
from
Great grill
We received our Camp chef smokepro yesterday. I was extremely happy with the quality of this grill. It went together with out needing a hammer, are forcing pieces together. Well done Camp chef.
Date published: 2018-03-02
Rated

4

out of

5
by
Craigman
from
Nice multi use smoker grill
I've used this SG 3 times. Once for salmon, once for babyback ribs and ice in grill mode for hamburgers. The grill seems to perform well. There are a few design elements that I feel could be improved upon. First is the pellet hopper. There are flats on the sides of the hole and as a result when the pellets in the center get drawn into the auger a substantial amount of pellets are left on the flats adjacent to the hole. At one point I checked the level of the pellets and felt it was adequate. Another check a short time later and I had no pellets in the auger. The second issue is the gap between the auger hopper and the grill. This gap allows items to fall into a cavernous area that takes special tools to retrieve. Third is the fact that the chimney is attached with nuts and bolts and not a PEM nut like the hopper or other parts are attached with especially considering that the chimney needs to be removed periodically for maintenance. Otherwise so far so good. I especially like that I can both grill and smoke.
Date published: 2018-04-12
QUESTIONS
What is the weight of this grill?
113lb
Date published: 2018-03-27
In Grill mode what kind of  temperatures can you reach ? 
The hottest I've gotten my grill in grill mode has been 480 deg. F. It was a pretty cool day though, probably 43 degrees outside.
Date published: 2018-03-27
Can you use the SG in the rain?
You should be fine to use it as long as you keep it protected. A lot of customers will put up a canopy or something to prevent the electronics from getting wet.
Date published: 2018-03-22
I just bought the SG and was wondering what the little fork is for. It is a 4 pronged black fork with a wood handle, about 10" long.
It's a rake to move your pellets towards the auger opening when the hopper gets low
Date published: 2018-03-22
When will this be available in stores?
These are already being sold in CAL Ranch Stores.
Date published: 2018-03-22
With the taller cook chamber, will the SG get as hot as other models?
Thank you for your question. The SG model will get just as hot as the other models, even with the added height.
Date published: 2018-03-22
How many years warranty comes with this smoker? Also can you describe the "Smart smoke" technology and if it comes with this smoker?
This pellet grill, PG24SG, comes with a 3 yr manufacturer defect warranty. https://www.campchef.com/warranty-information. As for the Smart Smoke technology, all our pellet grills, including this one, come with it. The Smart Smoke technology is that our controller's are programmed so that on Lo & Hi Smoke settings it feed pellets into the burn cup less often, leading to shorter burns and lots of smoke. As well as offering high temps that you need for baking, grilling and other cooking jobs.
Date published: 2018-04-09
Which jerky racks fit this model?
Hello! You will need the 24" Jerky racks for your SG pellet grill; https://www.campchef.com/pellet-grill-and-smoker-jerky-rack.html Please let us know if you have any other questions and have a wonderful day!
Date published: 2018-04-11
RELATED BLOG POSTS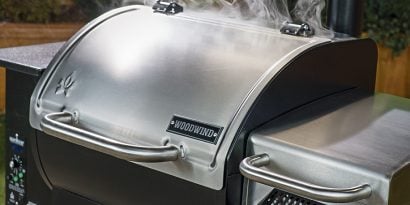 (3 Comments)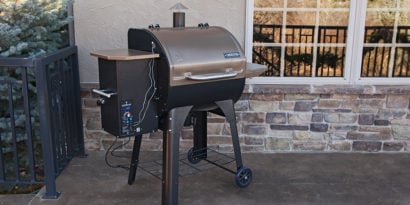 (1 Comment)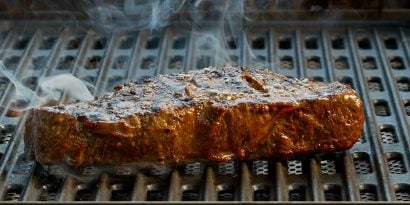 (2 Comments)