Enhance your back patio cookout with the revolutionary new SmokePro SG pellet grill featuring Slide and Grill Technology. Switch seamlessly between Indirect and Direct Flame mode to achieve two delicious flavor profiles all on one grill. Slow cook your favorite cut of beef or slide the grill knob and toss a few burgers on for some direct wood-fired grilling. The new SmokePro SG features a taller cook chamber with additional rack space as well as a large capacity hopper. The SmokePro SG comes with Camp Chef's patented Ash Cleanout System, stable temperature regulation, and dual meat probes, making it the only pellet grill you need to achieve wood-fired flavor.
Multimedia
Features
Includes 2 meat probes
Smart Smoke Technology
Pellet Hopper Cleanout/Purge
Slide and Grill Technology's Direct Flame grilling reaches 650°F
Ash Cleanout System
Cord Management System
Grease Management System
Large capacity hopper
Electronic auto-start ignition
Dual LED temperature readout: internal cooking temps and internal food temps
Simple temperature selection system
Automatic auger dispenses pellets as needed for improved smoker efficiency
Specifications
Lower Rack Area: 429 sq. in.
Upper Rack Area: 382sq. in.
Total Rack Surface Area: 811 sq. in.
Side Shelf Dimensions: 16 in. x 12 in.
Chamber Capacity: 4,850 cubic in.
Hopper Capacity: 22 lbs. of pellets
Overall Height: 42 in.
Overall Weight: 150 lbs.
Warranty: 3 years
Downloads

PG24SG Instruction Manual
REVIEWS
SmokePro SG 24 Pellet Grill - Black
is rated out of
5
by
23
.
Rated

5

out of

5
by
Gt12227
from
Amazing Grill and amazing customer service.
I purchased my Smokepro in the beginning of 2018 and immediately knew I made a great choice in a grill and smoker. The simple ease of use and maintanence is really hard to beat. I have spoken to others who have similair smokers by other brands and they talk about how they have to clean them out. All I think is "im glad I dont have to do that stuff". I recently had my first issue with a part (heating rod) Support sent me some simple instructions on how to check that was the issue and when I responded with the answers they immediately sent the part and emailed me how to install it. I couldn't be happier with the friendly, fast and no B.S. support. I will be a customer for life.
Date published: 2019-11-18
Rated

5

out of

5
by
Ant2323
from
I couldn't be happier with my purchase
I bought this grill about a month ago after many many months of research. I couldn't be happier with it. I did so much research and comparisons and Camp Chef won every time especially in the clean up area. So far I've made ribs twice, pulled pork and tried reverse sear ribeyes all I can't saw is WOW!!!!. Everything about the grill screams quality and great build. I've only ever used a gas grill for grilling and slow cooker or over for my pulled pork I was immediately impressed with how much better smoking the meats tasted. This has totally changed my grilling routine
Date published: 2019-06-09
Rated

5

out of

5
by
mdb66
from
great grill
I bought this grill(actually the zg model the Dicks Sporting goods sells) about a month ago and it has been great. Everything that I've made has turned out excellent. The temps the the grill hold are very consistent. I've never had luck with brisket and It turned out great. I've made just about everything I've made on a gas grill and there is no comparison. The grill is so easy to use that I'm thinking of letting my wife use it. The grill had a damaged shelf and the customer service was top notch. If you are thinking of getting a pellet grill you can not go wrong with Champ Chef.
Date published: 2018-05-17
Rated

5

out of

5
by
hseoflee
from
excellent Choice!!
To begin, I was thoroughly impressed with how well this product was packed. It was easy to assemble with straight forward instructions. The initial startup proceeded without a hitch. I was dissappointed at first with the temperature not reaching what I thought I had it set to, then to my relief I realized if I got eye level with the temp knob I noticed the 25 degree incremental temp range settings in between every other setting. So, in the beginning of initial burn, I thought I had it set to 350, while it was actually set at 325. I have cooked wings, country style ribs and spare ribs successfully without a hitch. I have spoken highly about this model since purchase and I'm convinced I made the right choice. 2 built in meat probes, hopper dispenser and ash cleanout in addition to over 800 sq in. of cooking space sold me !!
Date published: 2018-05-21
Rated

4

out of

5
by
Craigman
from
Nice multi use smoker grill
I've used this SG 3 times. Once for salmon, once for babyback ribs and ice in grill mode for hamburgers. The grill seems to perform well. There are a few design elements that I feel could be improved upon. First is the pellet hopper. There are flats on the sides of the hole and as a result when the pellets in the center get drawn into the auger a substantial amount of pellets are left on the flats adjacent to the hole. At one point I checked the level of the pellets and felt it was adequate. Another check a short time later and I had no pellets in the auger. The second issue is the gap between the auger hopper and the grill. This gap allows items to fall into a cavernous area that takes special tools to retrieve. Third is the fact that the chimney is attached with nuts and bolts and not a PEM nut like the hopper or other parts are attached with especially considering that the chimney needs to be removed periodically for maintenance. Otherwise so far so good. I especially like that I can both grill and smoke.
Date published: 2018-04-12
Rated

4

out of

5
by
Wags
from
Amazing!
I bought this grill in February 2018. I have used it every weekend and some weekdays since. I bought the sear box to go on the side and that made all the difference on my tri tip and all the steaks I've had. The only complaints I have with this grill is the direct flame setting. It doesn't seem to char the burgers and chicken as much as I had hoped. It works, just not as well as I had hoped. I also think the holes in the drip pan cause the briskets, pork butts and baby backs to cook a little faster than normal. Still I love this grill!
Date published: 2018-04-30
Rated

5

out of

5
by
Ryanyohe
from
Glad I made the jump to pellet grilling
I must say I was skeptical of spending over 500 for a grill being a propane griller for years. I played around with some charcoal smoking but it only ticked me off and took way too long to smoke due to having issues keeping steady temps. I have been doing research since November off and on and decided that this grill will fit my needs the best and what quality of a product it truly it. I bought it today, unboxing was outstanding. Never seen a product of any type so neatly packaged and nuts and bolts so easily identified. Definitely spend a lot of extra money on their packaging, and it shows. I am handy with tools so it only took me a total of 20 minutes to assemble. Burned it off 45 minutes at 350 and cooked some chicken breasts at 250 for half hour then cranked to 300 to finish it off. Faint smoke ring on each of them when finished and had an adequate smoke flavor. Was just chicken breasts, I know, but they were definitely tasty. Cooking was a breeze, follow directions on first set up and set it and forget it used a probe so I did not have to lift the lid once. I will send another review out after 6 months usage but I was very impressed by the quality of this product. Bought a 15$ cover at Walmart for it, and fits perfectly, and used pitt boss competition pellets I picked up from lowes for 15 dollars for a 40lb bag. Great job campchef, first impressions are a lot and you nailed it. Hold up for a few years, and that searbox will purchased to add to collection!
Date published: 2019-04-02
Rated

5

out of

5
by
JSmith
from
Loving this grill
This was my Father's Day gift this year (the ZG version from Dick's Sporting Goods). This thing is amazing. I have done chicken, chicken wings, brisket, pork butt, pork loin, Top Round, cheese, salmon, burgers, sausages, baked beans, and Pork Belly Burnt Ends - everything comes out great. For Thanksgiving I will be doing an 18 pound turkey and a 10 pound turkey breast - both fit side by side with room to spare. I cannot say enough good things about it.
Date published: 2018-11-19
RELATED BLOG POSTS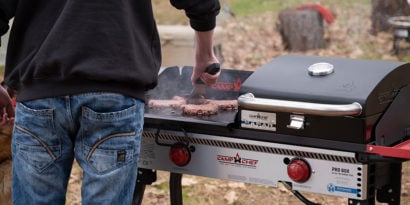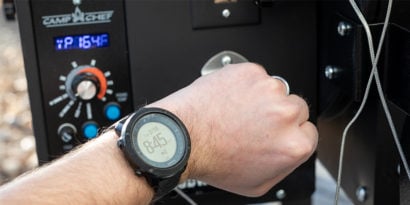 (2 Comments)