Say goodbye to the world of guesswork and hours over a BBQ pit—the SmokePro DLX Pellet Grill & Smoker brings you an easy, reliable smoke every time. We've designed each feature with the back patio griller in mind, from the digital temperature readout to the simple temperature setting system. But what really sets this pellet grill apart from the competition is the exclusive Ash Cleanout system. Instead of vacuuming out your grill after each use, you can pull a lever to empty the ash from the fire box. That means less time fumbling with a suction hose and more time enjoying the beautiful day and delicious food. Now that sounds like the grill for you.
*For the best performance, use Camp Chef Premium Hardwood Pellets. Our pellets burn hotter and cleaner, meaning they last longer and create an improved flavor.
| | | |
| --- | --- | --- |
| | Pellet Grill & Smoker DLX (PG24) | Leading Competitor |
| Cooking Area | 429 square inch | 418 square inch |
| Second Cooking Rack | Standard, 141 square inch rack | Sold separately, 149 square inch rack |
| Cooking Temperature | 160 to 500° F | Up to 400° F |
| BTU's /hr | 25,000 | 20,000 |
| Hopper Capacity | 18 lbs | 18 lbs |
| Hopper Cleanout | Yes | No |
| Internal Temperature Sensor | Yes | Yes |
| Internal Meat Temperature Probe | Yes | No |
| Ash Cleanout System | Yes | No |
| Grease Management System | Yes | Yes |
| Pellet Purge System | Yes | Yes |
| Electronic Auto Ignition | Yes | Yes |
| Shutdown Mode | Yes | Sold separately |
| Side Shelf | Yes | No |
Multimedia
Features
Pellet hopper cleanout
Electronic auto-start ignition
Dual LED temperature readout: internal cooking temps and internal food temps
Simple temperature selection system
Automatic auger dispenses pellets as needed for improved smoker efficiency
Included warming rack provides additional space to cook your favorite foods
Included meat probe
Exclusive ash cleanout system
Large capacity pellet hopper
Includes recipe ideas in manual
Specifications
Grilling Area Dimensions: 19.5" x 22"
Smoking/Warming Rack Dimensions: 6" x 24"
Total Rack Surface Area: 570 sq. in
Hopper Capacity: 18 lbs. of pellets
Cooking Height: 32.5"
Overall weight: 140 lbs.
*Please note: This item is oversized and will be shipped via truck.
Downloads

PG24 Instruction Manual
REVIEWS
SmokePro DLX Pellet Grill
is rated out of
5
by
4
.
Rated

5

out of

5
by
Sstephens50
from
As expected
I did a lot of research on the camp chef and how it compares to other pellet smokers. Hands down I feel I made the right decision. Was exactly what I expected when delivered. Assembly was easy and gives you a chance to see how it all works. Just one time of being able to dump ashes with the clean out system and I knew it had to be better than taking it all apart to clean. Also I was worried about colder weather temps keeping me from enjoying it but I think that would only be a factor when it was down in the 30's. I used mine several times in the 40's with no issues. Love the camp chef.
Date published: 2018-01-26
Rated

5

out of

5
by
Teaysguy
from
Perfect Smoker/Grill for a small family
Love this thing, the first Camp Chef product I ever brought and made me completely switch brands from another. This thing has never given me a bit of a problem. I've put literally thousands of hours on it. Great for Reverse Searing Steaks, Butts, Briskets, Ribs, Chops, heck, any cut of meat!!!! Smoke On.....
Date published: 2018-02-05
Rated

5

out of

5
by
jono19
from
WONDERFUL PELLET GRILL!
I had looked into pellet grills for 3 months before i pulled the trigger on my DLX. Let me be the first to tell you its Amazing! Im so glad i went with Camp Chef! there is no better way to grill or smoke then on a pellet grill.
Date published: 2018-01-30
Rated

5

out of

5
by
Kraler
from
Best tasting food ever
Money well spent. Ease of operation.temp control.Ash clean out ,ease of changing
Date published: 2018-02-08
QUESTIONS
Is the grill solid stainless steel or clad in stainless steel?
I'm very sorry I wasn't clear at all. I was referring to the cooking grate. I also have a Sams Club gas grill and have replaced the cooking grate twice now because the stainless steel peeled off the inner part grate. It is obviously clad because the inner part of the grate rusts as soon as the outer layer peels away. What I would like to do is cut the grate in half cross ways so it would be 2 19"X11" sides because those would fit flat in my sink to clean, but if it isn't solid stainless steel I don't compromise the outer stainless layer. Again I apologize for my lack of clarity in my question.
Date published: 2018-02-16
Is there a bottom shelf for the 2" legs that this model has
Hello, Thank you for your question, you will want model number PGBS50 https://www.campchef.com/camp-chef-smokepro-bottom-shelf-accessory-2219.html . If you have any other questions let us know.
Date published: 2018-02-13
I need a replacement grill for the DLX
Hello! Please send in a copy of your purchase receipt, along with your full name, shipping information, and phone number to
[email protected]
Once we get that information, we will be able to move forward with the warranty claim.We look forward to hearing back from you soon, with the needed information. Thank you!
Date published: 2018-02-08
How long is the power cord? And what amperage circuit should this be on? Lastly, can I use an extension cord? I can see the need for an extension cord to get it where I'd like it to cook for 10 ~ 12 hours.
Answer from CampChef... (Barb answered me. Thanks Barb!) The power cord for the pellet grill is 7' 3" and max amp is 2.5 As for the extension cord, you would need to use a 16 gauge, minimum of 10 amp rating and you should be good :)
Date published: 2018-02-01
RELATED BLOG POSTS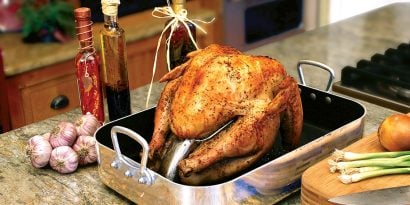 (1 Comment)
(1 Comment)