Say goodbye to the world of guesswork and hours over a BBQ pit—the SmokePro DLX Pellet Grill & Smoker brings you an easy, reliable smoke every time. We've designed each feature with the back patio griller in mind, from the digital temperature readout to the simple temperature setting system. But what really sets this pellet grill apart from the competition is the exclusive Ash Cleanout system. Instead of vacuuming out your grill after each use, you can pull a lever to empty the ash from the fire box. That means less time fumbling with a suction hose and more time enjoying the beautiful day and delicious food. Now that sounds like the grill for you.
*For the best performance, use Camp Chef Premium Hardwood Pellets. Our pellets burn hotter and cleaner, meaning they last longer and create an improved flavor.
| | | |
| --- | --- | --- |
| | Pellet Grill & Smoker DLX (PG24) | Leading Competitor |
| Cooking Area | 429 square inch | 418 square inch |
| Second Cooking Rack | Standard, 141 square inch rack | Sold separately, 149 square inch rack |
| Cooking Temperature | 160 to 500° F | Up to 400° F |
| BTU's /hr | 25,000 | 20,000 |
| Hopper Capacity | 18 lbs | 18 lbs |
| Hopper Cleanout | Yes | No |
| Internal Temperature Sensor | Yes | Yes |
| Internal Meat Temperature Probe | Yes | No |
| Ash Cleanout System | Yes | No |
| Grease Management System | Yes | Yes |
| Pellet Purge System | Yes | Yes |
| Electronic Auto Ignition | Yes | Yes |
| Shutdown Mode | Yes | Sold separately |
| Side Shelf | Yes | No |
Multimedia
Features
Pellet hopper cleanout
Electronic auto-start ignition
Dual LED temperature readout: internal cooking temps and internal food temps
Simple temperature selection system
Automatic auger dispenses pellets as needed for improved smoker efficiency
Included warming rack provides additional space to cook your favorite foods
Included meat probe
Exclusive ash cleanout system
Large capacity pellet hopper
Includes recipe ideas in manual
Specifications
Grilling Area Dimensions: 19.5" x 22"
Smoking/Warming Rack Dimensions: 6" x 24"
Total Rack Surface Area: 570 sq. in
Hopper Capacity: 18 lbs. of pellets
Cooking Height: 32.5"
Overall weight: 140 lbs.
*Please note: This item is oversized and will be shipped via truck.
Downloads

PG24 Instruction Manual
REVIEWS
SmokePro DLX Pellet Grill
is rated out of
5
by
36
.
Rated

5

out of

5
by
Cody
from
Best smoker I've had!
I've always been a charcoal guy and now having a family and still preparing an amazing meal can be difficult! The ease of setting it and not doing a thing unless I turn the meat or slap some sauce on there it's been just amazing! I've cooked bacon and eggs on mine to making chicken parmesan! This thing has changed my grilling to doing more and getting that beautiful smoke flavor! I love the pellets Camp Chef makes and I use them religiously. The top rack makes it perfect for toasting buns or even roasting tomatoes, peppers, jalapeМ±os and more! Makes for an awesome smokey salsa! Thank you Camp Chef and your engineering!
Date published: 2017-05-17
Rated

5

out of

5
by
Jon
from
Great product
Bought one at cal ranch and the paint was bubbling contacted camp chef and they said take it back and get a new one or they could give me some accessories. I took it back to cal ranch and it was on sale and they gave me at there sale price. They were awesome about the whole thing. I showed the bubbling to the guys at cal ranch and they said they have not seen this happen. Got the new one home and ran it at 350 degrees for half hour then cooked a hole chicken for about 5 hours and the paint is fine. This is the best smoker I have every bought. Great product camp chef and cal ranch I always buy my camp chef products at cal ranch.
Date published: 2016-05-29
Rated

4

out of

5
by
Travis
from
great smoker!
I have been running this unit for a few weeks now, I have made pizza burgers, rack of pork and yesterday I made 321 ribs and that was what convinced me! It is one heck of a good smoker, not as ideal for searing but not a biggy. Really easy to change out pellet flavors and prime the auger tube with the feed feature. Ash dump feature is awesome. You can count on the grill to maintain your temperature and give you internal meat temp with the meat probe. I am having a blast playing around with this grill! I have always loved smoked meat but wad always too intimidated to cook my owen, the first time I tried with this it was perfection. Enjoy your pellet grill!
Date published: 2016-01-06
Rated

5

out of

5
by
Sstephens50
from
As expected
I did a lot of research on the camp chef and how it compares to other pellet smokers. Hands down I feel I made the right decision. Was exactly what I expected when delivered. Assembly was easy and gives you a chance to see how it all works. Just one time of being able to dump ashes with the clean out system and I knew it had to be better than taking it all apart to clean. Also I was worried about colder weather temps keeping me from enjoying it but I think that would only be a factor when it was down in the 30's. I used mine several times in the 40's with no issues. Love the camp chef.
Date published: 2018-01-26
Rated

5

out of

5
by
Anonymous
from
Great Features Well Built Smokes/Grills Awesome
Purchased this product and was shipped without any damage. Assembly was a breeze when you follow the instruction. The product is well built and very rugged.The ash pot clean out feature and pellet hopper clean out make it a snap to use. The controller works great holding the temperature inside the smoker within a 10 degree window. The input for the meat temp probe makes it a snap to check the internal temp of the meat you are cooking. I pair this product with the SmokePro Sear Box make this a mean grilling/smoking machine. I would recommend this product to anyone considering changing from propane or charcoal grilling. The food taste much better when cooking with wood.
Date published: 2017-01-25
Rated

5

out of

5
by
Mickey
from
Awesome Smoker!!
What a great smoker. The low smoke and high smoke settings are perfect for smoking fish and any other types of meat. I've had this smoker now for a couple of weeks and I have already smoked salmon, tri tip, and ribs. The extra features that this smoker has to offer, puts them on the top of the list for pellet smokers. For example the ash clean out is effortless, it comes with a side table, a shutdown mode witch burns any residual pellets in the burner, internal meat probe, and the high and low smoke settings. Also the customer service is top notch. when a problem arose Andy took care of it. He is a great customer representative.... I am having a great time playing around with this smoker.
Date published: 2016-01-06
Rated

5

out of

5
by
Smokin' Smitty
from
1st Smoker
My wife spent many hours researching prior to purchasing the Camp Chef Smokepro DLX. Very well packed and protected! Our local delivery person was not kind or careful to say the least when unloading the package. Opened back door and basically pushed it out on the ground! We were very relieved after unpacking to see nothing looked to be damaged. Set up was easy, and we were smokin' in about an hours time! This is a very well made smoker, and pretty straight forward to use. Have already done steak, taters and Baby Back ribs. Very nice product Camp Chef! Thank you!
Date published: 2018-01-08
Rated

5

out of

5
by
Kevin E
from
Amazing Product and great customer service
I love the DLX for cooking pretty well anything from meat to pizza to bread, this thing is so versatile and has ever had really any issues at all and the food comes out amazingly. Camp Chef also has some of the hands down best customer service I've ever seen, they have jumped all over any product issue of their I have had, I recently had a major incident with a product (not necessarily the products fault) and they were super responsive and quick to help understand the issue and get me a replacement.
Date published: 2017-09-21
QUESTIONS
The lid doesn't seem to close tight. There is a slight gap that you can see into the grill. Is this normal. Lets a lot of smoke out. The handle deflection plate seems to be keeping the lid from closing tight??
The lid does not close tight, there is a small gap to allow for air flow. You can try and adjust the handle deflector so that it does not interfere with closing the lid.
Date published: 2018-03-22
What is normal for temp variation? When I set mine at 220 it will vary from 200 to 240. I live in AZ so the temp this time of year is around 68 degrees... is this normal?
It is normal for the grill to fluctuate 20 deg from the set temperature
Date published: 2018-03-22
With the MODEL #: PG24, How far away or close can it be from a wood wall while operating?
We suggest the grill be 10 feet away from any structure
Date published: 2018-03-22
Campchef smokepro dlx temp fluctuates a lot 50 - 60 degrees when smoking - is this normal - I use a blanket made for it in cold weather?
I just bought the Camp Chef Woodwind last week and yes, when I'm on the low smoke or high smoke setting I do get quite a bit of fluctuation. However, this is normal because to get maximum smoke, the grill doesn't provide a constant stream of pellets to the burn pot. Instead, it has to drop them in the burn pot at regular intervals, thus the temperature fluctuation. This is unlike when it's set to a grilling temperature and the pellet feed is more continuous. With normal grilling, I get a temperature fluctuation of about 10 degrees to either side of the set point and this is without even a blanket (mine gets delivered next week). And furthermore, this was in done in Wisconsin weather conditions where I've been grilling in high 20's to mid 30 degrees temps outside.
Date published: 2018-03-22
What materials are used in the grill grate? Do you offer a model with a ceramic coating on the grate?
Hello, Thank you for the question. Our grill grates are porcelain coated, we also have cast iron grates that can be purchased separately. Have a great day! Camp Chef
Date published: 2018-02-28
Is the grill solid stainless steel or clad in stainless steel?
I'm very sorry I wasn't clear at all. I was referring to the cooking grate. I also have a Sams Club gas grill and have replaced the cooking grate twice now because the stainless steel peeled off the inner part grate. It is obviously clad because the inner part of the grate rusts as soon as the outer layer peels away. What I would like to do is cut the grate in half cross ways so it would be 2 19"X11" sides because those would fit flat in my sink to clean, but if it isn't solid stainless steel I don't compromise the outer stainless layer. Again I apologize for my lack of clarity in my question.
Date published: 2018-02-16
Is there a bottom shelf for the 2" legs that this model has
Hello, Thank you for your question, you will want model number PGBS50 https://www.campchef.com/camp-chef-smokepro-bottom-shelf-accessory-2219.html . If you have any other questions let us know.
Date published: 2018-02-13
I need a replacement grill for the DLX
Hello! Please send in a copy of your purchase receipt, along with your full name, shipping information, and phone number to
[email protected]
Once we get that information, we will be able to move forward with the warranty claim.We look forward to hearing back from you soon, with the needed information. Thank you!
Date published: 2018-02-08
RELATED BLOG POSTS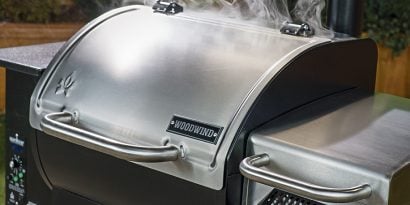 (3 Comments)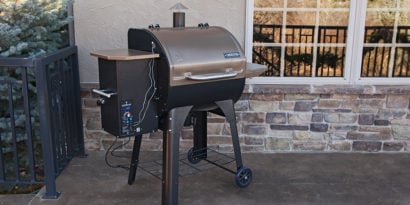 (1 Comment)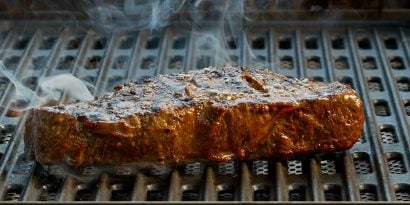 (2 Comments)