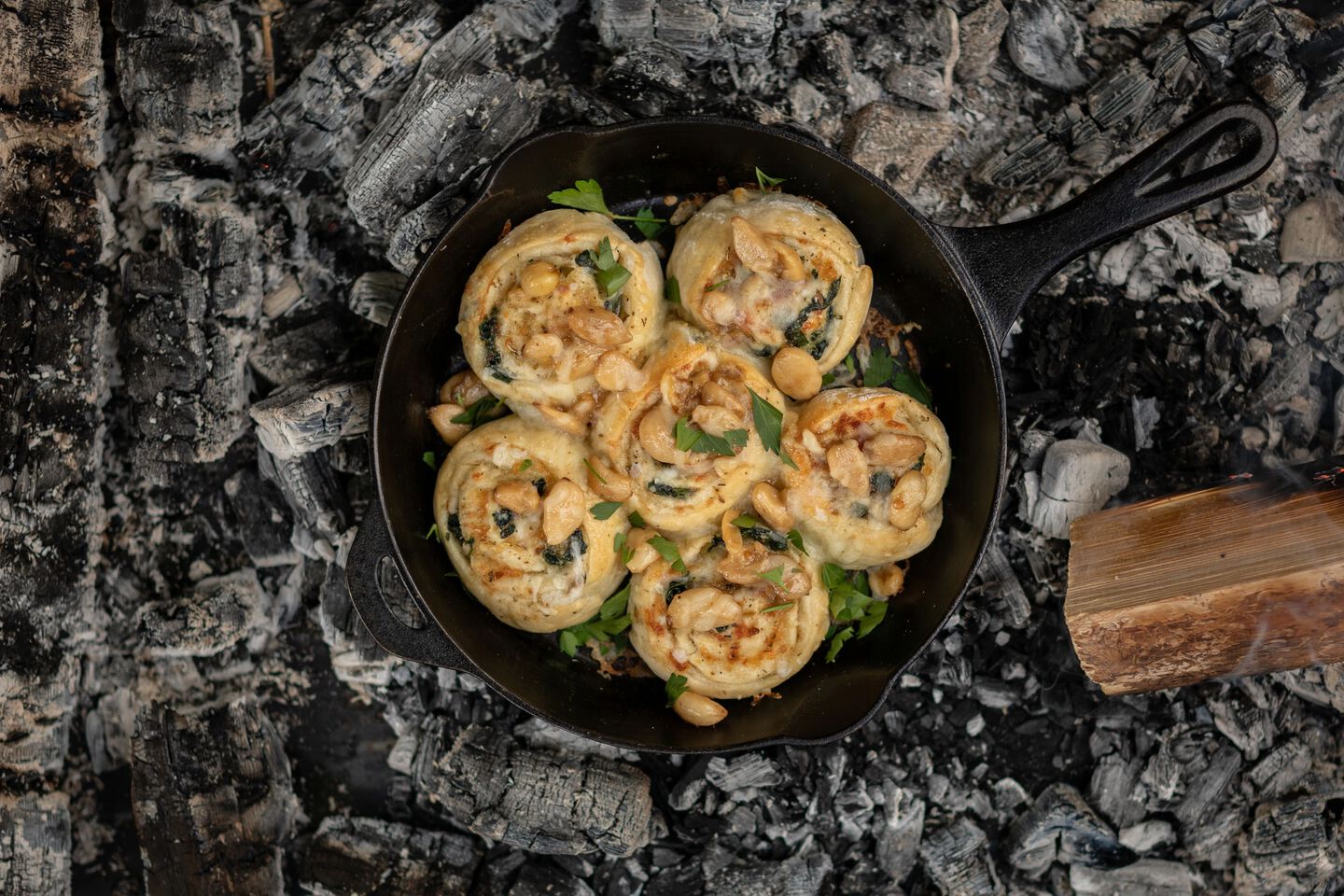 Ingredients
Dough
3 cups warm water
4 teaspoons active dry yeast
4 teaspoons salt
4 cups all purpose flour
2 1/2 cups bread flour
Confit Garlic Oil
6 ounces garlic cloves, roughly 30-40 cloves peeled
Enough olive oil to submerge the garlic in a small pot
Salt and pepper
¼ teaspoon red pepper flake
1 tablespoon water
Optional other fresh / dried herbs of your choice but not needed: thyme, bay leaf, whole dried chillies, rosemary, sage
All Ingredients
Pizza dough
3 cups warm water
4 teaspoons active dry yeast
4 teaspoons salt
4 cups all purpose flour
2 1/2 cups bread flour
1 bag of baby spinach, about 8 oz
8 ounces crumbled feta cheese
3 raw garlic cloves, chopped
Fresh grated parmesan cheese
Salt and pepper
Italian seasoning blend
Whole fennel seed
2 eggs beaten for an egg wash
2 cups Confit Garlic Oil
6 ounces garlic cloves, roughly 30-40 cloves peeled
Enough olive oil to submerge the garlic in a small pot
Salt and pepper
¼ teaspoon red pepper flake
1 tablespoon water
Optional other fresh / dried herbs of your choice but not needed: thyme, bay leaf, whole dried chillies, rosemary, sage
Instructions
The Dough
Step 1
Start with a large, clean bowl to make and hold the dough in. Measure 3 cups warm water into bowl; add yeast, salt, and flour.
Step 2
Mix until all the flour is moist. The dough should be firm but slightly sticky.
Step 3
Let this rise until double, about 1 hour.
Step 4
ork the dough into one solid large rectangle as if you are making a batch of cinnamon buns.
Confit Garlic Oil
Step 1
If you are using whole fresh garlic, clean and peel all of the garlic down to individual cloves, try not to smash the cloves as whole cloves work best.
Step 2
Place all of the peeled garlic into a small pot; steel, cast iron, etc.
Step 3
Pour enough olive oil into the pot to submerge the garlic by at least a ¼ of an inch.
Step 4
Sprinkle in salt and pepper, the water, and the red pepper flake.
Step 5
Very slowly bring the garlic and oil up to an incredibly low simmer, almost no bubbles and movement. Do not boil and do not fry!
Step 6
Simmer over low heat until the garlic is tender but not browned. When it seems soft enough to smoosh and almost spread like butter, yet is still strong enough to retain its shape, that is when it is done.
Step 7
Remove the pot from the heat and allow it to cool for at least 45 minutes before storing or using.
Rolls
Step 1
In a hot skillet add a tablespoon of the confit garlic oil, the chopped garlic cloves, and the bag of baby spinach, sauté it until the spinach is cooked, remove it and place it on a plate to cool.
Step 2
Use a basting brush to spread confit garlic oil over the rectangle of dough, sprinkle the feta cheese across the top evenly, dust with italian seasoning.
Step 3
Grab a handful of cooked spinach, now cooled, and squeeze the remaining liquid out over the sink or trash.
Step 4
Roll the dough over like a cinnamon bun starting near you and rolling away until a long log forms. Use a dough knife to cut the rolls into about 1-inch segments, lay them on a baking pan or cast iron and egg wash the top using a brush.
Step 5
Evenly place the spinach across the top of the dough with the cheese and seasoning.
Step 6
Sprinkle the whole fennel seeds, kosher flake salt, and more italian seasoning blend over the egg wash on top.
Step 7
Bake the rolls at 350°F for about 15 minutes until they have color and are almost fully cooked.
Step 8
Remove them, brush confit oil on top and add copious amounts of confit garlic, dust with fresh grated parmesan cheese, and place back in the oven until the cheese is melted and the garlic is developing color.