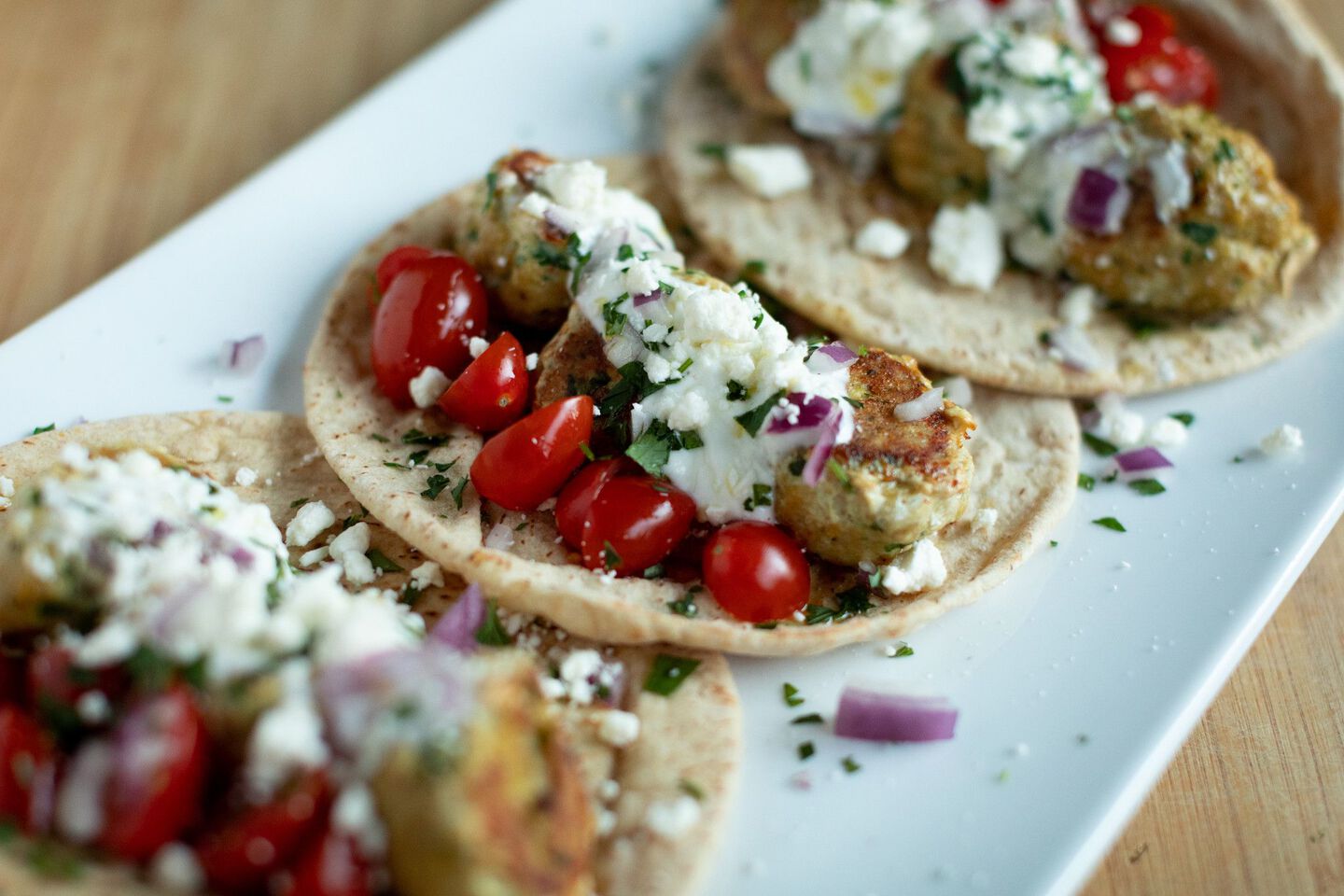 Ingredients
for the meatballs
2 lbs chicken thighs, ground
1/2 onion, peeled and diced small
3 cloves of garlic, peeled and minced
2 eggs
5 teaspoons shawarma spice
1 teaspoon salt
1/2 cup Italian flat leaf parsley, chopped
1/2 cup Panko breadcrumbs
for the yogurt sauce
1 cup plain greek yogurt
2 teaspoon lemon juice
1 Tablespoon lemon zest
1 teaspoon garlic, pressed
Salt and pepper to taste
1 Tablespoon fresh lemon thyme, rough chop
All Ingredients
Pitas
Lettuce, shredded
Cherry tomatoes, halved
Red onion, sliced thin
Feta Cheese
1 cup plain Greek yogurt
2 teaspoon lemon juice
1 Tablespoon lemon zest
1 teaspoon garlic, pressed
Salt and pepper to taste
1 Tablespoon fresh lemon thyme, rough chop
2 lbs. chicken thighs, ground
1/2 onion, peeled and diced small
3 cloves of garlic, peeled and minced
2 eggs
5 teaspoons shawarma spice
1 teaspoon salt
1/2 cup Italian flat leaf parsley, chopped
1/2 cup Panko breadcrumbs
Instructions
Shawarma Meatballs
step 1
Cook the onions over medium heat with two tablespoons of olive oil and a pinch of salt and pepper. Once the onions are translucent, add the garlic. Stir for one minute and remove to a bowl to cool.
step 2
In a bowl, combine the yogurt, lemon juice, lemon zest, garlic, lemon thyme and pinch of salt and pepper. Mix to combine. Cover and refrigerate.
step 3
Preheat the smoker to 350 °F.
step 4
In a large mixing bowl, combine the onions and garlic with the chicken, two eggs, shawarma spice, salt, parsley and bread crumbs. Mix to combine (don't over mix).
step 5
Roll out meatballs about the size of a ping pong ball and place on an oiled sheet pan. Drizzle the meatballs with olive oil and put in the pellet grill for 10-12 minutes or internal temperature reaches 160 °F
step 6
Heat the flat top grill to medium high heat. Drizzle olive oil on one side of the grill. Add meatballs and sear on the outside or until internal temperature reaches 165 °F. On the other side of the grill, heat up the pitas.
step 7
To build, place 4 meatballs in the pita and top with yogurt sauce, onions, tomatoes and feta. Drizzle with olive oil.