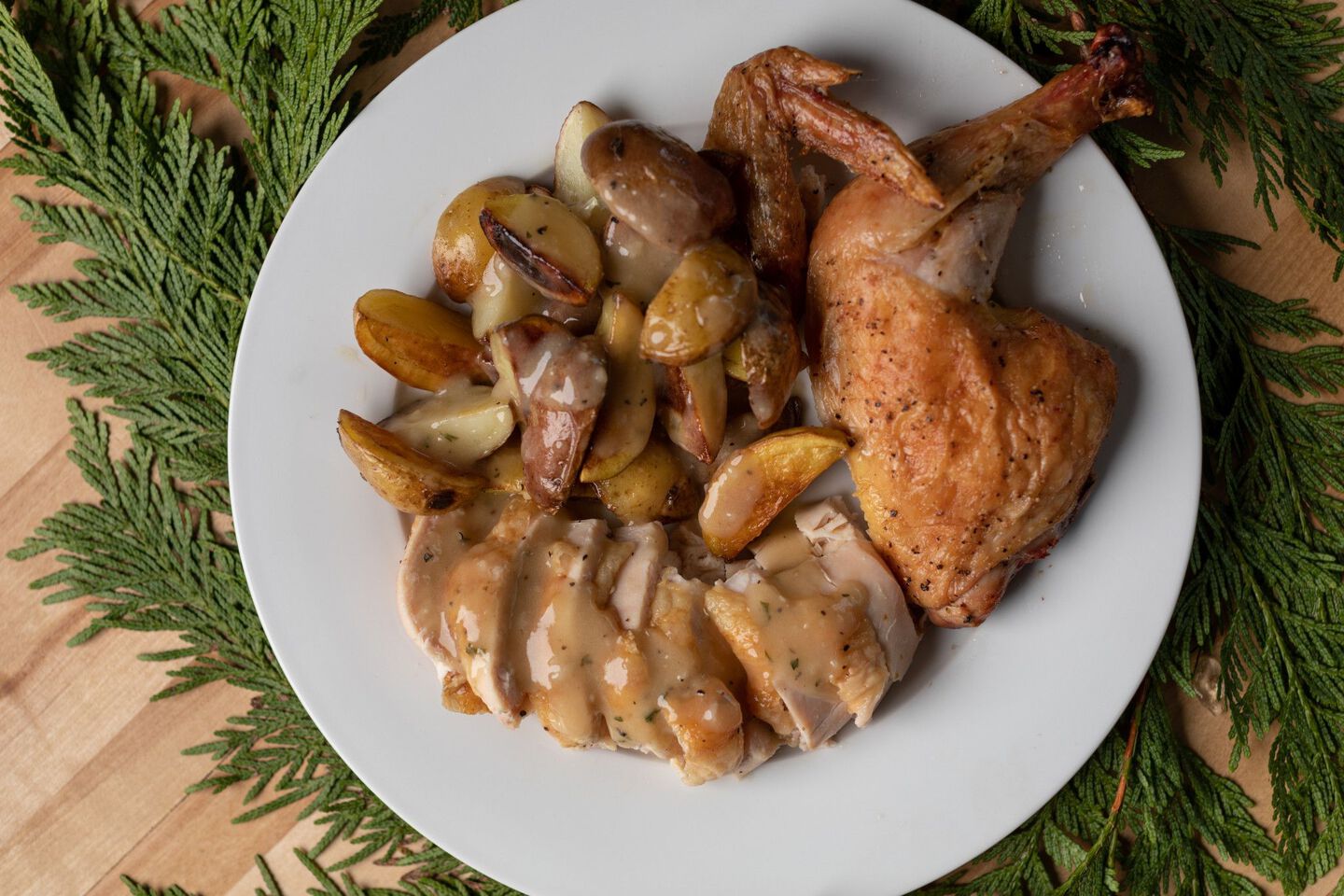 Ingredients
All Ingredients
1 (5 to 6 pound) roasting chicken
Kosher salt to taste
Freshly ground pepper
8 Tablespoons butter, melted
1 large bunch fresh thyme sprigs
6 cloves garlic, peeled and cut in half crosswise
1 teaspoon fennel seed, crushed
1/2 lemon, juiced
1 large yellow onion, cut into 2-inch chunks
4 carrots, cut into 2-inch chunks
2 celery stalks, cut into 2-inch chunks
2 cups chicken stalk
Instructions
Roasted Butter Herb Chicken
step 1
Preheat pellet grill to 350 °F.
step 2
Remove the chicken giblets and put aside in a roasting pan. Rinse the chicken inside and out. Spatchcock the chicken by cutting out the backbone and pressing flat. Put the backbone piece in the roasting pan with giblets. Liberally salt and pepper the outside and inside of the chicken. Let the chicken sit and brine while you make the butter baste.
step 3
Melt the butter in a small skillet with thyme sprigs, 2 garlic cloves, fennel and juice from 1/2 lemon. Let simmer for about 3-4 minutes. Brush the outside and inside of the chicken with butter and sprinkle again with salt and pepper. Make sure to get under the skin on the breasts.
step 4
Place the onions, carrots, celery, and remaining 4 cloves of garlic in the roasting pan with the giblets and backbone, cover with 2 cups chicken broth. Place the roasting pan, with the vegetables on the bottom rack of the pellet grill and place the chicken on the top rack above the roasting pan, so all the juices can drip down into it.
step 5
Roast the chicken for 40 minutes and baste heavily with the remaining butter. Continue to roast the chicken until the probe or a thermometer reads 160 °F. Remove chicken and allow to sit for a few minutes to come up to 165 degrees.
step 6
Carve and serve with gravy.