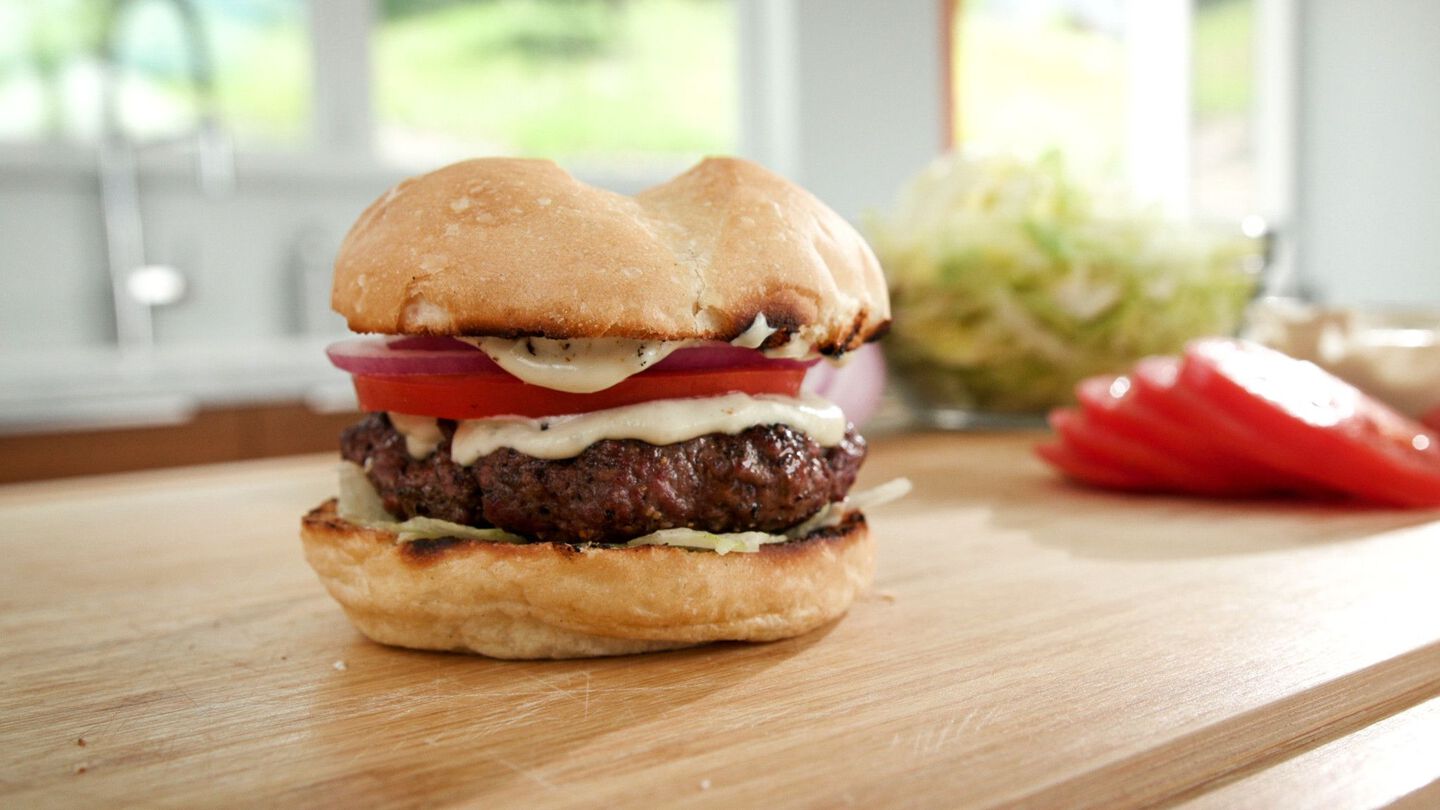 Ingredients
Blue Cheese Sauce
5 ounces blue cheese crumbles
8 ounces heavy cream
1 Tablespoon butter
1 Tablespoon flour
2 slices of bacon, cooked and diced
Burgers
1 pound ground beef
Shredded iceberg lettuce
2 tomatoes, sliced
Red onion, thinly sliced
Salt and pepper to taste
4 hamburger buns
All Ingredients
1 pound ground beef
Shredded iceberg lettuce
2 tomatoes, sliced
Red onion, thinly sliced
Salt and pepper to taste
4 hamburger buns
5 ounces blue cheese crumbles
8 ounces heavy cream
1 Tablespoon butter
1 Tablespoon flour
2 slices of bacon, cooked and diced
Instructions
Red, White, and Blue Burger
Step 1
Melt butter in cast iron skillet and add the flour. Stir to combine and cook until golden brown, about 3 minutes.
Step 2
Add cream and whisk until smooth. Reduce heat to medium-low and allow rue to thicken until desired consistency. Add the blue cheese crumbles and stir to combine.
step 3
In a separate pan, cook bacon until crisp. Remove to a paper towel to drain. When sauce is ready and the cheese is melted, add bacon pieces to the sauce and stir.
Step 4
While sauce is simmering, form and season the burger patties.
Step 5
Preheat grill or griddle to medium-high heat. Grill patties until internal temperature reaches 125 °F for rare, 135 °F for medium rare, 145 °F for medium and 160 °F for well done. Flip patties halfway through cook time.
step 6
Toast buns on BBQ box or griddle if desired.
Assembly
Start with the blue cheese sauce on the bottom bun then add lettuce, patty, more blue cheese sauce, tomato, red onion, and sauce on the top bun.