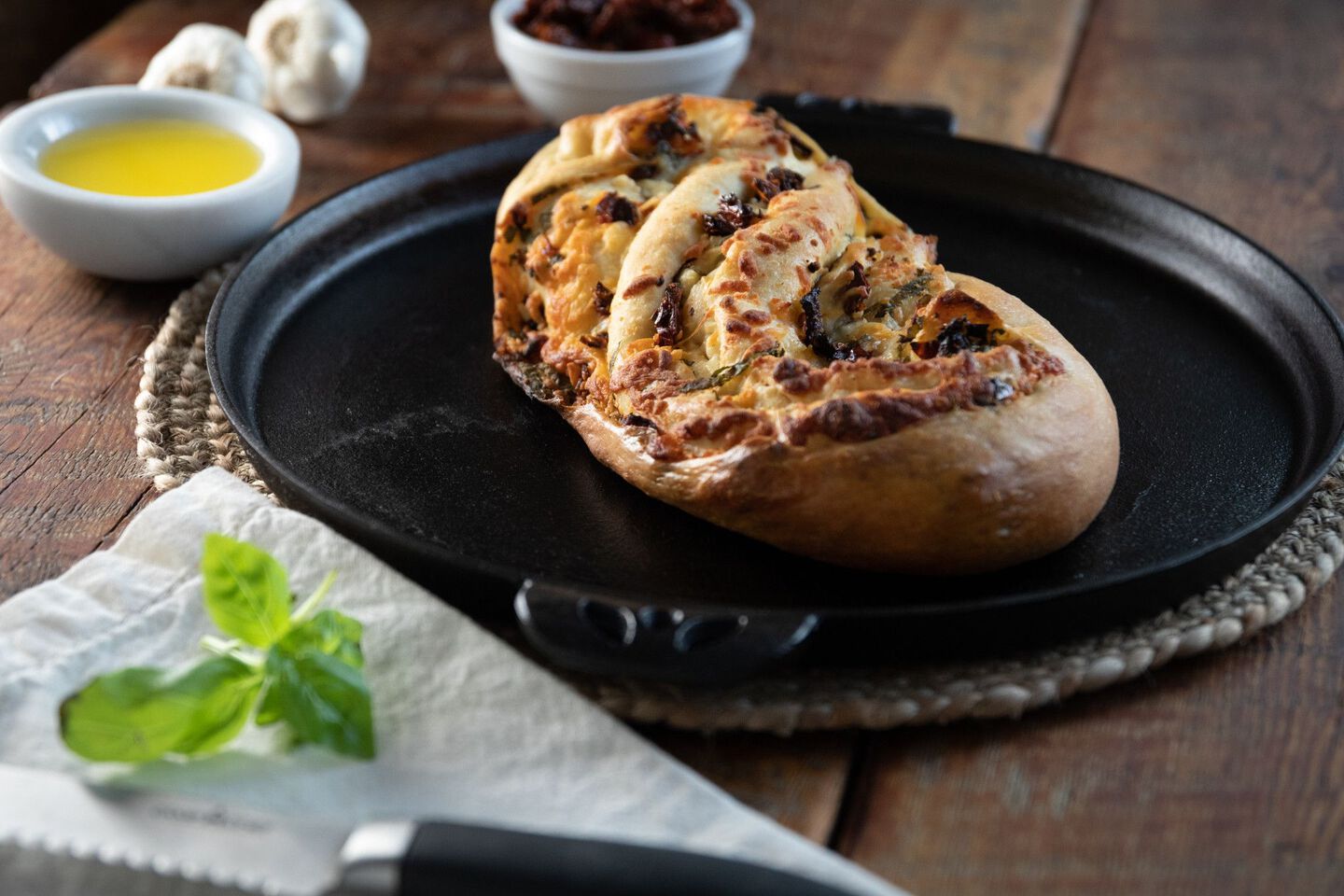 Ingredients
for the dough
1/2 cup milk
1/3 cup hot water
3 Tablespoons olive oil
2 teaspoons instant yeast
2 teaspoons kosher salt
2-3 cups unbleached bread flour
for the filling
2 Tablespoons butter, melted
4-6 garlic cloves, minced
3/4 cup Italian cheese blend, shredded
1/2 cup oil packed sun-dried tomatoes
1/3 cup fresh basil, chopped
All Ingredients
1/2 cup milk
1/3 cup hot water
3 Tablespoons olive oil
2 teaspoons instant yeast
2 teaspoons kosher salt
2-3 cups unbleached bread flour
2 Tablespoons butter, melted
4-6 garlic cloves, minced
3/4 cup Italian cheese blend, shredded
1/2 cup oil packed sun-dried tomatoes
1/3 cup fresh basil, chopped
Instructions
the dough
step 1
Your liquid needs to be lukewarm, so by adding hot water to the cold milk, you will not need to heat it up in a pan. Mix the milk and hot water in a medium size bowl or bucket. Stir in the olive oil, yeast and salt. Add in the flour a cup at a time mixing as you go until you have a smooth, soft dough. The dough should still be a little sticky.
step 2
Cover with plastic wrap and let rise until double in size, about 40-60 minutes.
the filling
step 1
Drain the sun-dried tomatoes, patting them dry. Cut them into smaller pieces. Mince the garlic cloves, chop the basil, measure out the cheese and melt the butter.
step 2
Gently scrape the dough out of the bowl or bucket onto a lightly floured surface. Flatten and stretch into a 22" x 8" rectangle. Spread with melted butter, then garlic, cheese, tomatoes, and basil.
step 3
Start with one long edge and roll the dough into a log. Pinch the edges to seal and place it seam down on a cast iron pizza pan, the ends will hang off the sides of the pan.
step 4
Using kitchen shears, start 2-inches from the end and cut the log lengthwise down the center going 1-inch deep, to within 2-inches of the other end.
step 5
Now form a "S" shape by bringing in the ends, tuck both ends under the center and pinch them together forming a figure 8.
step 6
Cover with plastic wrap that has been sprayed with non-stick spray and let rise until double, 45-60 minutes.
step 7
Preheat pellet grill to 375 °F.
step 8
When grill is heated to around 350 degrees °F, uncover bread and place on the top rack of the pellet grill or if using a pellet grill without the top shelf place bread on the bottom of the jerky racks. Bake for 30-35 minutes, tenting it with foil after 15-20 minutes to prevent over-browning the toppings.
step 9
Remove bread and allow to cool for 10 minutes. Serve warm or at room temperature.