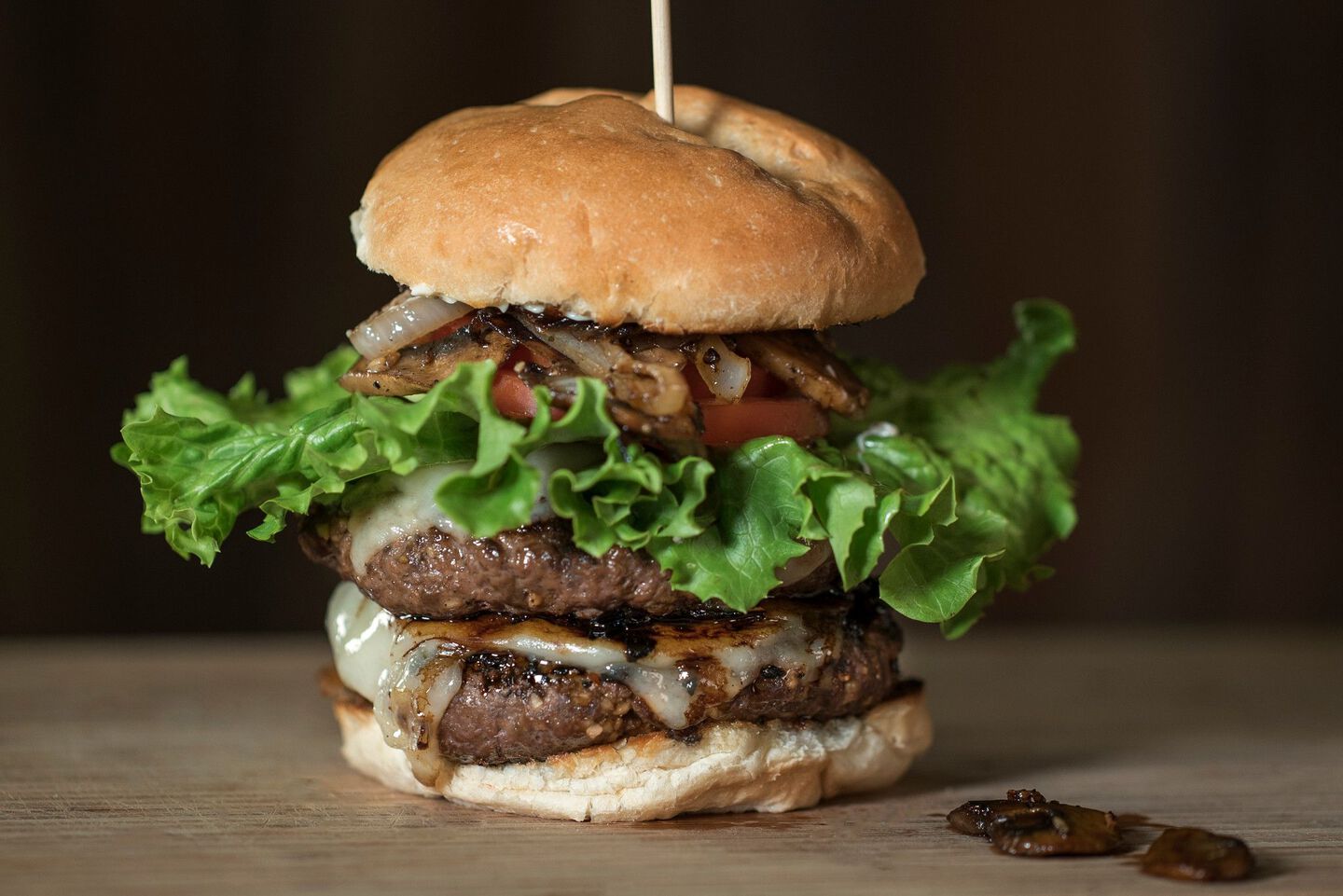 Ingredients
steak seasoning
3 Tablespoons cracked pepper
2 Tablespoons kosher salt
2 Tablespoons paprika
2 Tablespoons onion powder
2 Tablespoons dried garlic
1 Tablespoon dried basil
1 Tablespoon dried rosemary
1 teaspoon red pepper
Burgers
1 pound ground elk
3 Tablespoons garlic, chopped
2 Tablespoons steak seasoning*
Swiss cheese
Lettuce
Tomato, sliced
4 hamburger buns
All Ingredients
1 pound ground elk
3 Tablespoons garlic, chopped
2 Tablespoons steak seasoning*
Swiss cheese
Lettuce
Tomato, sliced
4 hamburger buns
3 Tablespoons cracked pepper
2 Tablespoons kosher salt
2 Tablespoons paprika
2 Tablespoons onion powder
2 Tablespoons dried garlic
1 Tablespoon dried basil
1 Tablespoon dried rosemary
1 teaspoon red pepper
1 yellow onion, sliced thin
4 Tablespoons butter, divided
2 cups mushrooms, sliced
4 Tablespoons garlic, minced
Mayonnaise
Instructions
Elk Burger
Step 1
In a small bowl mix ingredients of steak seasoning. Set aside.
Step 2
In a medium bowl, combine ground elk, garlic and steak seasoning. Form into 4 patties. Press the centers of the patties down so that the burgers don't get to thick in the middle when you grill them. Refrigerate for 15 minutes.
step 3
Grill patties until internal temperature reaches 125 °F for rare, 135 °F for medium rare, 145 °F for medium and 160 °F for well done. Flip patties halfway through cook time. The last few minutes of cooking, add a slice of cheese to patties and let the cheese melt.
Step 4
Grill buns until toasted
Assembly
Bottom bun, mayonnaise, lettuce, grilled onions, burger, mushrooms, tomatoes, mayonnaise and top bun.
Grilled Mushrooms and Onions
Step 1
While burgers are in the refrigerator, heat a skillet over medium heat. Melt 2 Tablespoons butter. Add mushrooms and season with salt and pepper. Cook mushrooms for about 10 minutes, adding garlic to mushrooms after about 5 minutes.
step 2
While mushrooms are cooking preheat additional skillet or use the same one as mushrooms if large enough. Melt 2 Tablespoons butter. Add onion and season with salt and pepper. Cook onions until they become translucent and slightly browned.